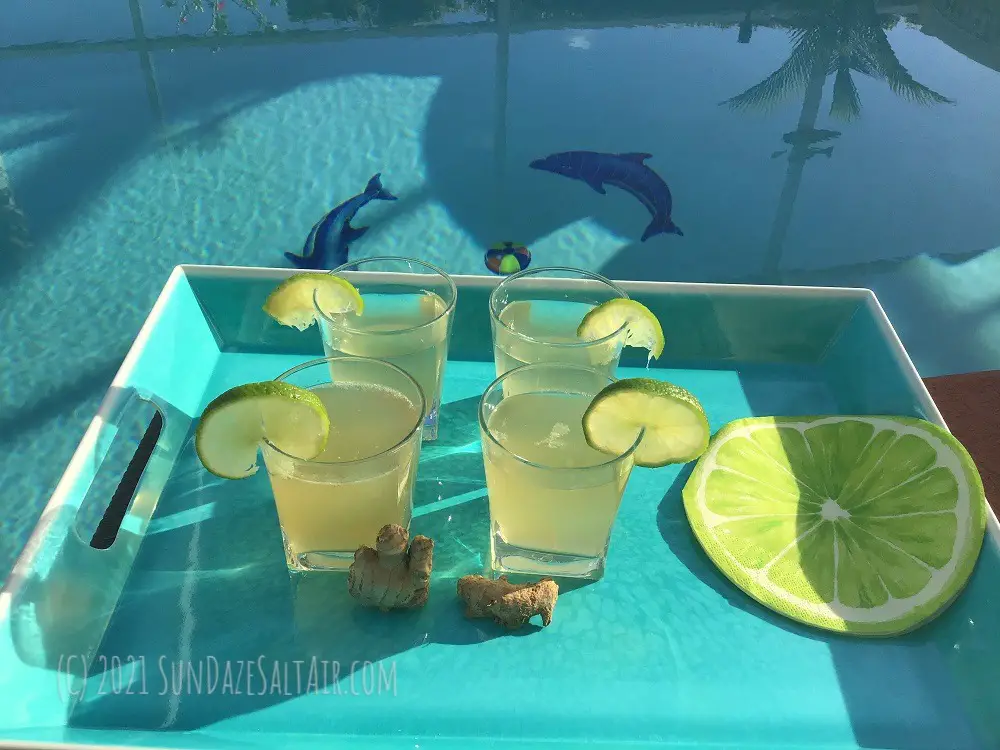 Easy Homemade Ginger Ale Sweetened Naturally – How To Make It & Why You Should
DIY Homemade Ginger Ale With Real Ginger, Spices & Lime... Invigorating, Refreshing & Healthier Than Store Bought
Why ginger ale?  Well, as one of the best "classic" soft drinks, the unique flavor of ginger gives its namesake ale a distinctive warm, spicy, yet invigorating taste no other soft drink has.  But, this recipe is no ordinary mix of ginger, sugar and water.  What truly makes this ginger ale something special is the combination of ginger with other earthy and exotic spices like cardamom, allspice and vanilla.  It's that blend of rich and spicy flavors that takes this ginger ale over the top, and will make guests ask for seconds.  Throw in a splash of zesty lime or lemon juice and you have the ultimate refreshing summer soda with a kick.
More like a tonic than a soda, ginger ale is known for its ability to quell nausea and a queasy stomach, however, the spice actually boasts a host of purported medicinal uses.  The scent of ginger alone can make you feel wide awake and as if you are clearing your head - or at least your sinuses.  Sinus-clearing benefits aside, homemade ginger ale is easy to make if you have the spicy ingredients on hand; just combine carbonated water with the ginger and spice-infused simple syrup and a splash of citrus.
Plus, unlike store-bought versions, this ginger ale recipe is naturally sweetened with sugar that you control, providing peace of mind that your drink is both additive and chemical free.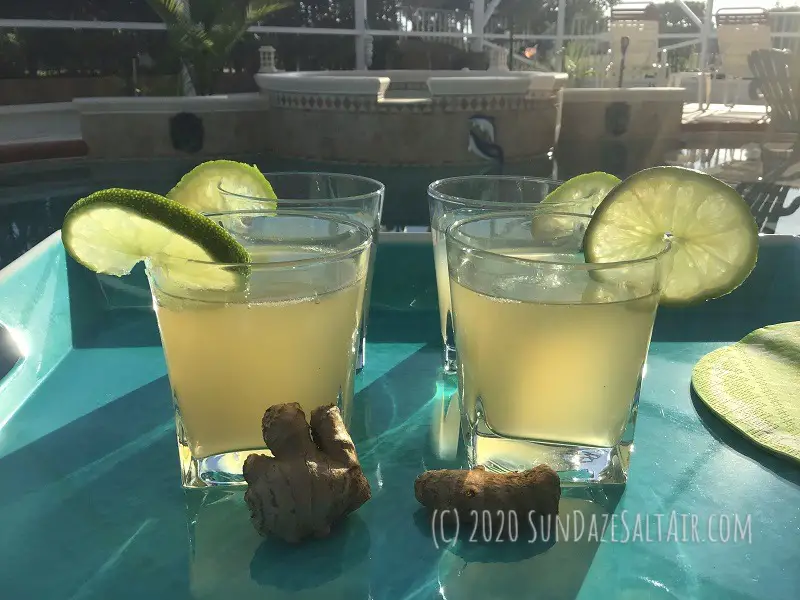 Why Turbinado & Brown Sugar?
This recipe calls for turbinado and brown sugar instead of regular refined sugar.  Why?  Since both are natural brown sugars that are less processed than refined or granulated sugar, they possess a deeper, rich caramel flavor that lends itself well to the taste of ginger ale.  This rich flavor may require less sugar overall, so be sure to taste the syrup and adjust as needed.  However, white sugar can just as easily be used with substitution recommendations of a 1 to 1 ratio.  Either way, feel free to adapt the amount and type of sugar to suit your taste buds and sweet tooth.
Why Homemade?
In the past, anytime a craving arose for that warm, spicy zing only ginger ale can provide, I would find myself scouring the soft drink aisle of my local grocery store.  Unfortunately, I would invariably leave empty handed.  After reading one ingredient label after another, I came to realize that it would be near impossible to find a store-bought ginger ale both free of high fructose corn syrup, light on sugar and heavy on ginger flavor.
Know & Control What You Are Drinking
While I believe in moderation, I have made a conscious effort in recent years to avoid soft drinks and sodas - except on rare special occasions.  Having (mostly) sworn off most commercially available soft drinks, this homemade ginger ale satisfies a soda craving with a ton more flavor than sugar.  Containing real ginger, a bunch of spices, as well as sugar and fresh lime, you get all the zesty, ginger goodness with ingredients you don't have to feel guilty about.  With something as deliciously addictive as ginger ale, the fewer questionable ingredients, the better.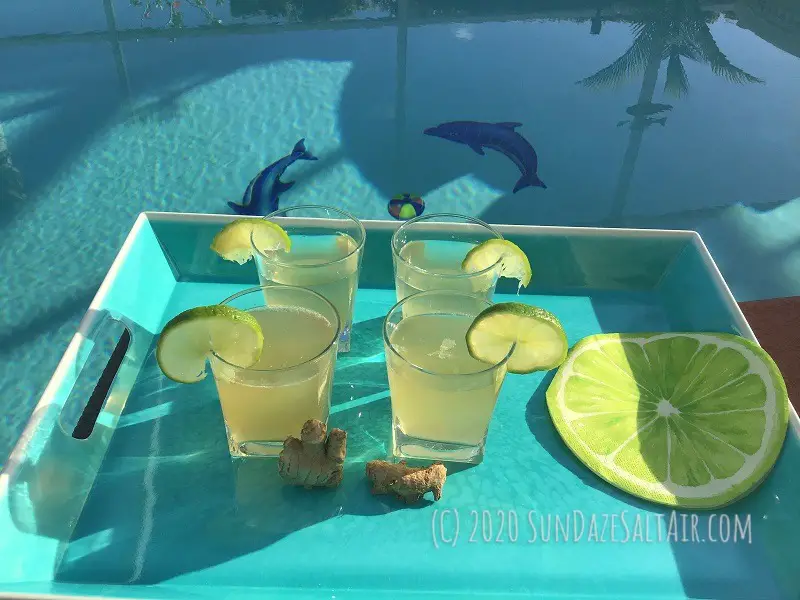 Keep Ginger Syrup On Hand For When A Craving Strikes For
Easy Homemade
Ginger Ale Sweetened Naturally
Health benefits aside, there is something quaint and personal about offering a guest a drink that didn't just come from the grocery store shelf.  As with anything homemade, there is unique quality that makes guests feel more welcome and special than simply popping open a store-bought can.
Invigorating and effervescent... qualities we crave in life, and apparently, in a pick-me-up soft drink.  All these attributes make homemade ginger ale the ideal libation to enjoy in the hot summertime or... who are we kidding?  Anytime.  Because... why wait till summer to enjoy it?  Whip up a batch of ginger syrup right now to keep in your fridge and indulge anytime a ginger craving strikes.
Now, if you haven't already skipped ahead to the recipe, feel free, unless you want to read more about my appreciation for all things ginger....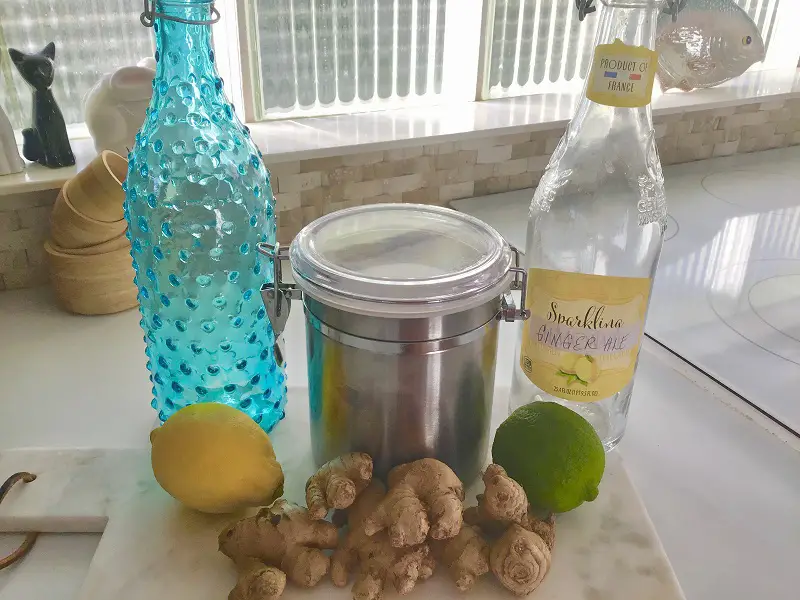 ********
In Praise Of Ginger - Medicinal Uses & More
Even as you begin slicing ginger the first thing you should notice is the aroma...  And the fact that you actually feel it in your sinuses.  Stuffy nose?  No more.  Ginger, especially in the form of tea is a known remedy for sinus congestion as it contains the anti-inflammatory gingerol which reduces inflammation in mucus membranes.  Consequently, it loosens clogged nasal passages, ultimately relieving sinus pressure.  But, there's more...
Ginger lozenges for your throat; ginger tea and ginger ale for your stomach, to quell nausea; ginger for your immune system and a speedy recovery from a cold or flu; ginger for cardiovascular health; ginger for lowering cancer risk; ginger scents for energy... the list of purported medical benefits of ginger goes on and on!  Ginger is actually a flowering plant with, ahem, roots in Southeast Asia, and is widely considered one of the tastiest and healthiest spices in the world.
Ginger Zing - An Invigorating Scent
My affinity for ginger actually extends beyond the realm of food and drink to the area of fragrance.  Yes, notes of ginger can lend any perfume a light, bubbly and citrus-y element.  Seriously, there are few better scents to be enveloped in during the heat of summer than the effervescent notes of ginger.  As a matter of fact I will probably do a post on my favorite ginger-scented perfumes in case anyone else out there also wants to smell like a ginger ale.  But in the meantime, we can at least drink our ginger....
********
Easy Homemade Ginger Ale Made With Ginger Syrup
This homemade ginger ale leads with the taste of warm spices and ginger rather than being overpowered by sugar or artificial sweeteners, plus the added zing of a twist of lime (or lemon) makes this version hit all the right notes.
Serving suggestion 1: With a spicy yet effervescent kick, this ginger syrup is so versatile that you can use it on everything from ice cream to cake and pancakes -- and even fish and salads.
Serving suggestion 2: Serve homemade ginger ale alongside Easy, Best Hummus Without Tahini as a poolside snack.
Ingredients
For ginger syrup:

1 and 1/2 to 2 cups peeled fresh ginger, sliced into pieces
1 cup turbinado sugar (or granulated sugar)
1 cup light brown sugar
2 vanilla bean pods, split
2 teaspoons cardamom
1 teaspoon allspice berries
1/2 teaspoon nutmeg
3 cups water
For ginger ale:
8 ounces sparkling water, club soda or seltzer
2 to 3 tablespoons ginger syrup, to taste
1 tablespoon freshly squeezed lime juice, to taste
Ice
To garnish:
Lime wedges
Mint
Crystallized (candied) ginger pieces (optional)
To make ginger syrup: 
In a medium saucepan combine sugar, water, and the chopped ginger, vanilla beans, cardamom, allspice and nutmeg.  Bring to a boil, then reduce heat to low, allowing to cook at a low simmer, partially covered, for 45 minutes.  Occasionally stir to dissolve sugar.  If you are using it, now is also a good time to add a few sprigs of fresh mint to steep in the syrup.
At this point, the sugar should be dissolved, and the mixture should be reduced and thickened to a thin, syrupy consistency.  Remove from heat and allow to cool to room temperature leaving all solids to steep as it cools.
Once cooled, strain the syrup through a fine strainer or sieve into a bowl, squeezing out and discarding ginger and all solids.  Refrigerate ginger syrup in an airtight bottle or jar for up to one month for best results.
**Tip: If you are so inclined, feel free to eat the cooked pieces of ginger like a snack rather than discarding them.
To assemble ginger ale:
Add some ice and 8 ounces of sparkling water to an 12 ounce glass.  Stir in 3 tablespoons of ginger syrup, and 1 tablespoon of freshly squeezed lime juice, or more to taste.  Garnish with lime wedges, a sprig of fresh mint and some crystallized ginger candy if you have it.
Notes:
Store a bottle of the ginger syrup in your refrigerator so you always have it on hand, ready to stir up a glass to greet guests all summer (or year) long.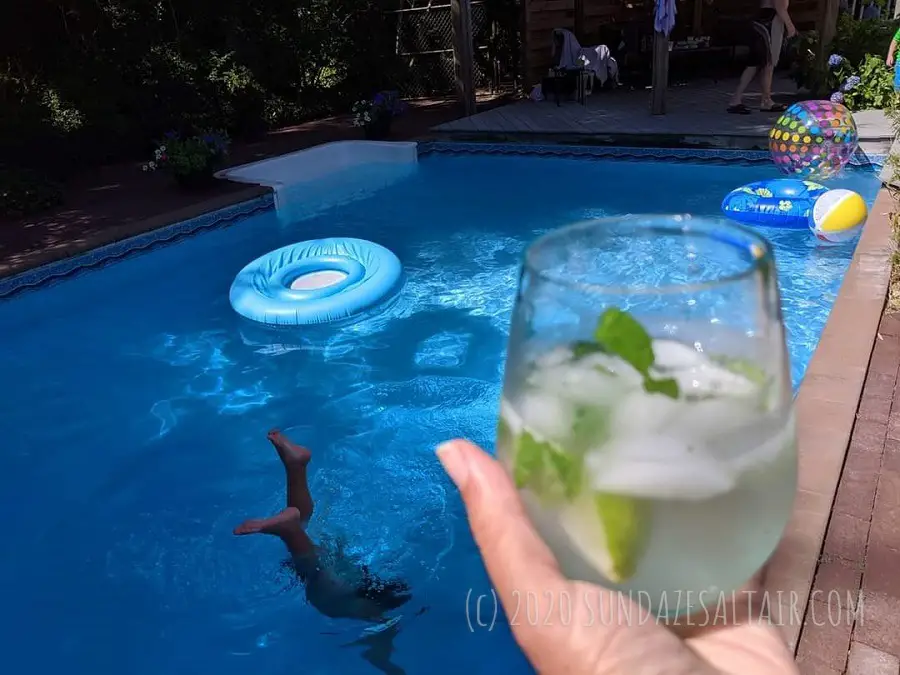 ********
Have you tried making homemade ginger ale to have on hand for guests or when a craving strikes?  Let us know down below!