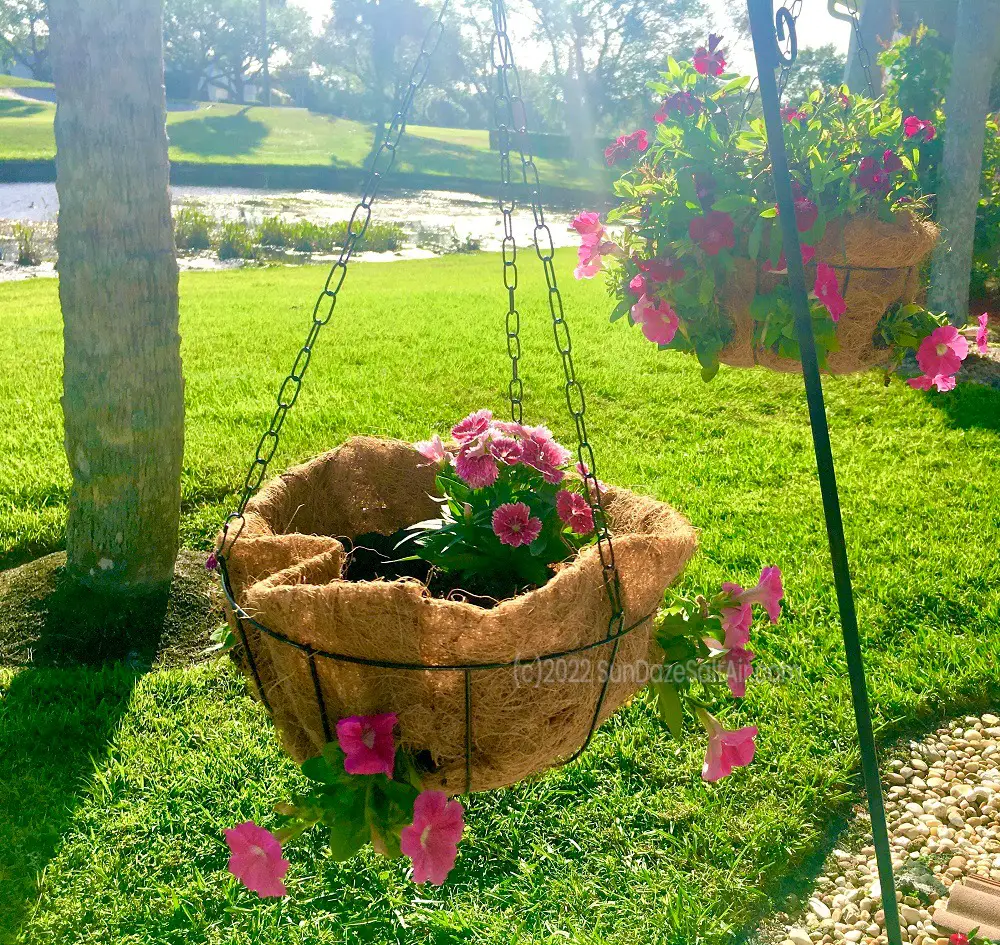 How to Make Beautiful Hanging Flower Baskets Like Disney Using Coconut Coir Liners: 11 Tricks for Amazing Flower Baskets
Tips & Tricks to Create Magnificent Hanging Baskets Like Disney At Home
If you have ever been to Disney, you may have noticed hanging flower baskets that are basically big, gorgeous orbs of flowers with no visible baskets in sight.  Full and lush, such bountiful blooms are similar to the stunning flowers that grace balconies in Bavaria.  Either way, the look may seem impossible to achieve at home unless you are a professional gardener.  Believe it or not, there are simple pro tricks to help you recreate such stunning hanging flower baskets in your own yard.  One of which is that underneath those mammoth flowers, there is often a coconut coir fiber liner supporting them.  This is just one of the secrets to creating eye-catching flower displays like those on display in theme parks.  If you'd like to learn more professional tricks to create beautiful flower baskets like those at the "most magical place on earth," keep reading…
Come along with me as I try tricks the pros use to recreate spectacular hanging flower baskets like those at Disney…
**Find out why every home & garden needs the magic of an arbor entry here…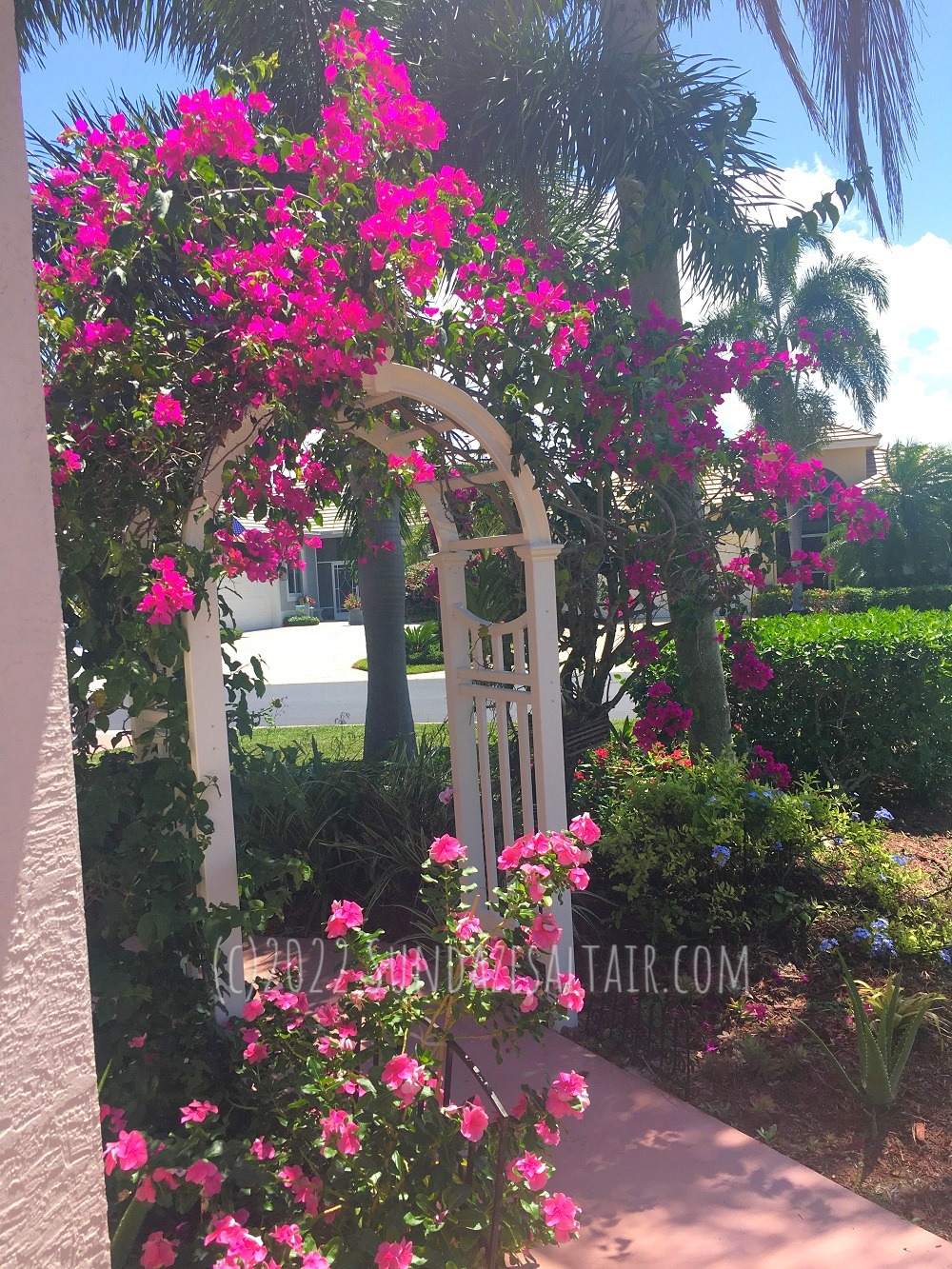 **"Lightscape" your home & garden with the best colorful landscape lighting ideas here…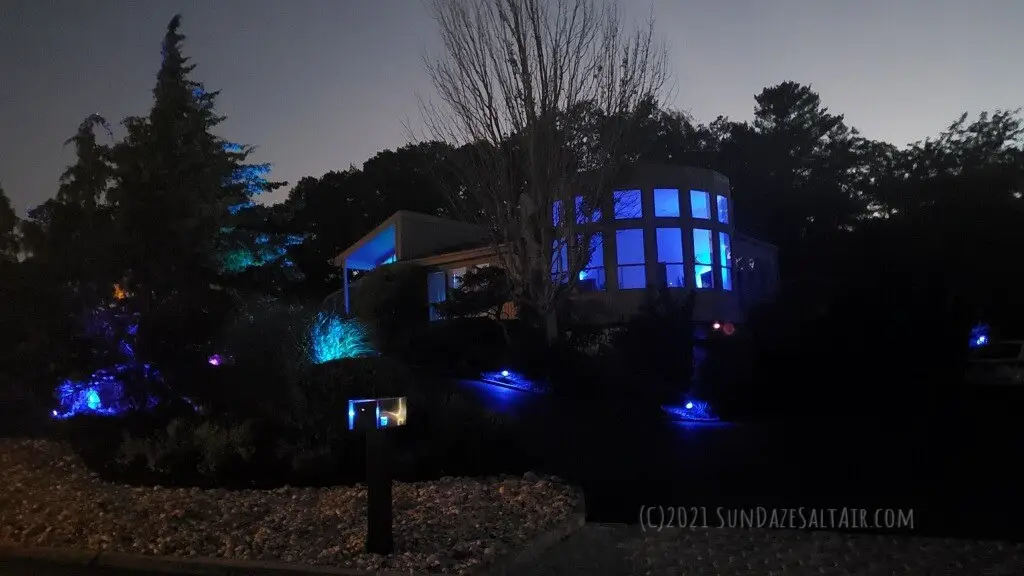 **Discover how to turn an old, worn wreath into an island-inspred tropical wreath here…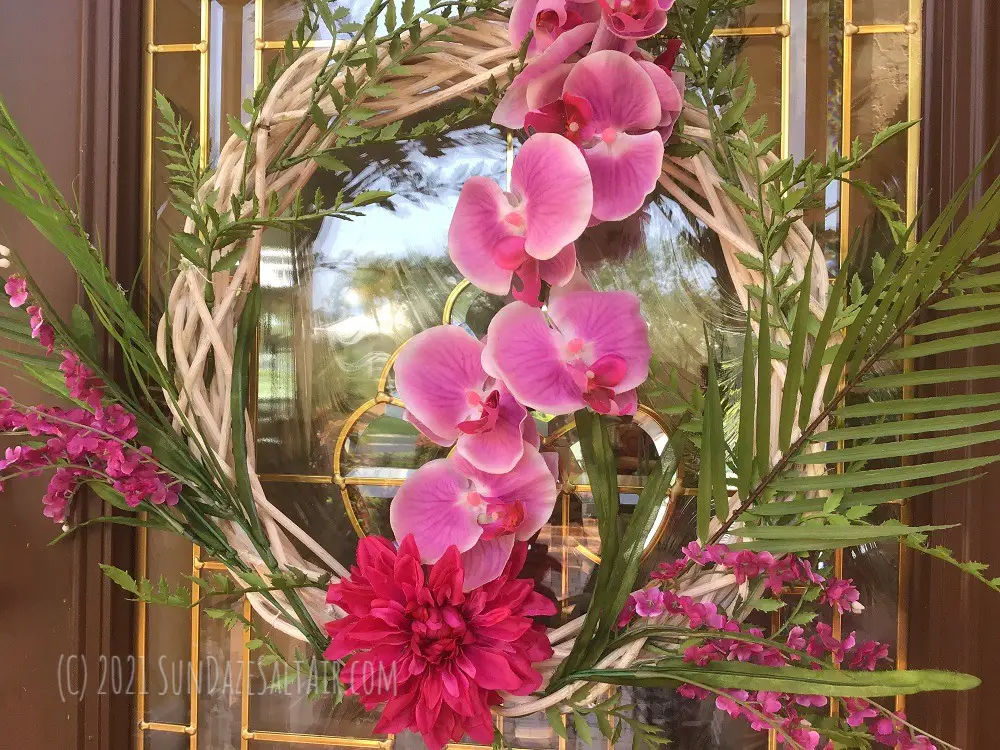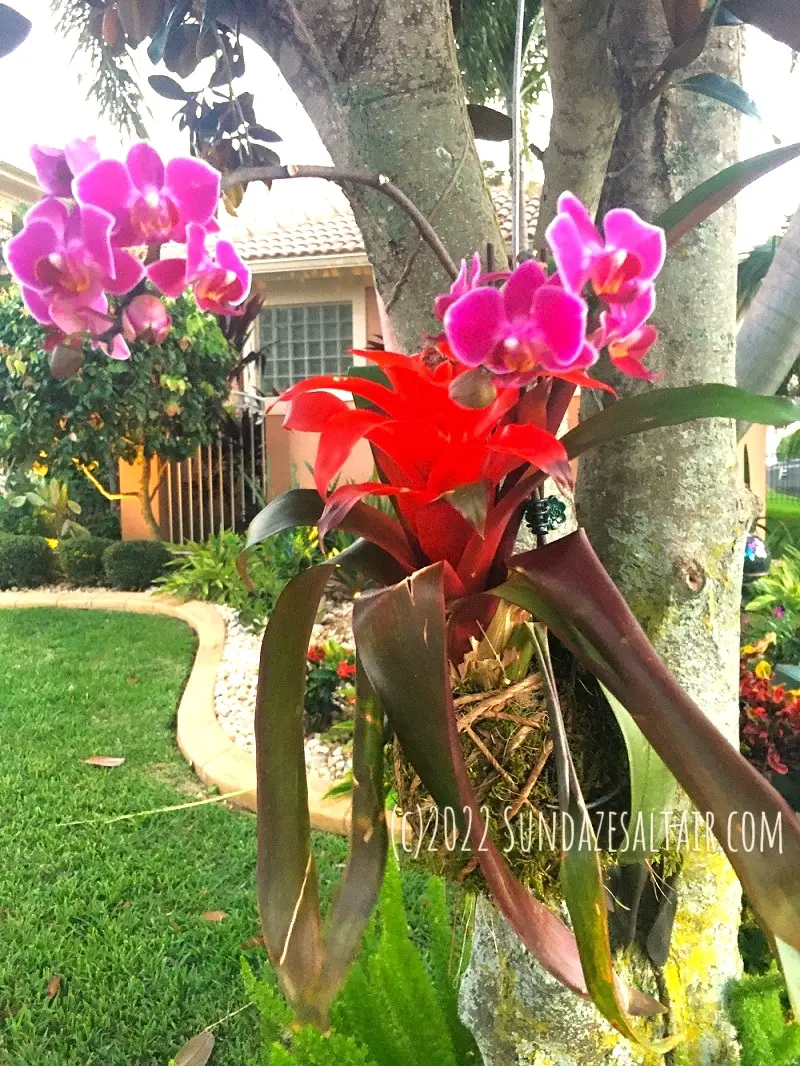 **Note: This post contains affiliate links for which a small commission may be earned if you decide to make a purchase through a link.
Tricks to Create Hanging Flower Baskets Like Disney
Trick #1: Why Hanging Flower Baskets? Maximum Visual Impact
Bring Your Floral Creations Eye-Level for Instant Impact
Why plant all your floral masterpieces in the ground when you can hang them where everyone can see and appreciate them?  There are few better ways to make a visual statement that to have your floral creations at eye-level.  You and your guests should not have to always look down to see your awesome floral displays.
Add Color & Seasonal Style on a Dime
Floral hanging baskets are a relatively inexpensive way to add "eye candy" to your home and garden due to the sheer variety of plants, colors and textures.  And don't forget to change your basket arrangements for different seasons.
**TIP! Many "trailing" plants actually do better in baskets than growing in the ground.  Keep reading to find out which ones…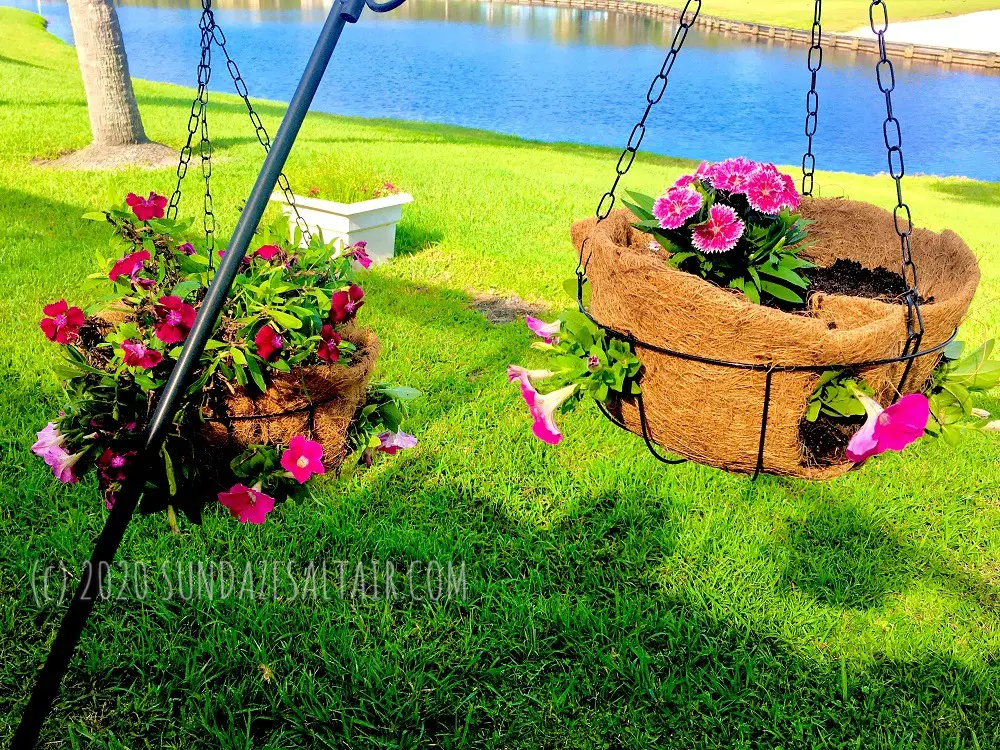 Trick #2: Hanging Wire Baskets
In order to achieve the large hanging orb of flowers effect, there are two basic things you will need– a wire basket (with a hanger) and a coco fiber liner.  Alternatively, you may use a sphagnum moss "shell" that is sufficiently supported.  Then, simply follow the directions below to insert your plants around your basket for a gorgeous globe of flowers.
If you don't have wire baskets, is it possible to create a similar effect with regular hanging baskets?  Believe it or not…
Trick #3: Can You Use Regular Hanging Baskets? If You Select the Proper Plants…
If you only have regular hanging baskets lying around, you may be able to achieve a similar orb of flowers effect.  How?  The secret is that you must use long-trailing flowers such as the Petunias suggested below.  And, of course, follow all the other tricks for spectacular blossom-filled baskets…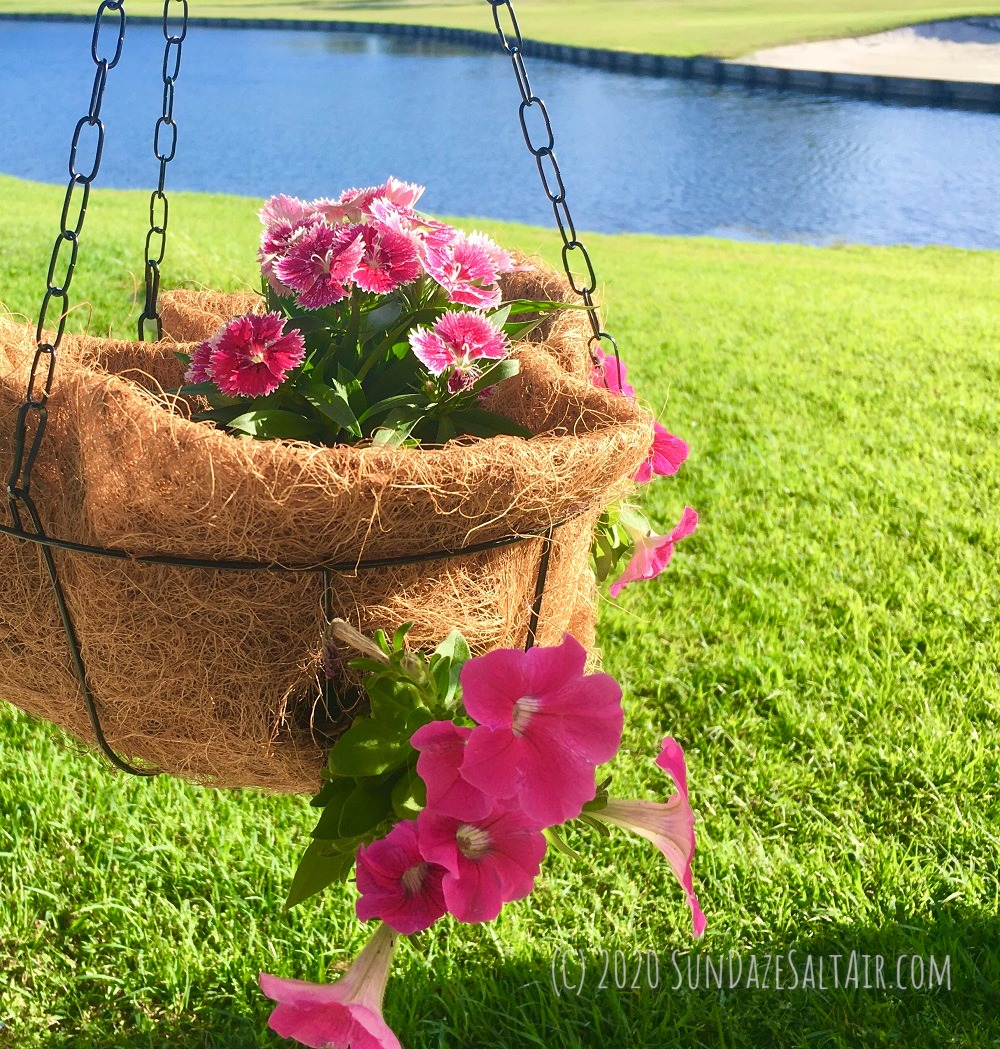 Trick #4: Experiment With Color
When assembling your hanging flower baskets, be sure to experiment.  Sticking with one color family will lend major visual impact but variety is the spice of life…  Even including different sizes and colors of the same flower, such as different but complementary hues of Petunias or Ivy Geraniums, can take your arrangement to the next level.
**TIP! Don't underestimate the visual impact of white.  Try using all white flowering plants to brighten up shadowy walkways and other dull spaces.
Trick #5: Not Just Flowers — Add Foliage & Herbs to Hanging Baskets For Modern Texture & Color
Leafy Foliage & Herbs Add Interest & Dimension to Baskets
Consider adding asparagus fern, ivy, spider plant, bleeding heart & purple heart, etc. as side fillers between the flowers in your baskets.
Remember, a variety of attractive leafy foliage helps create distinct color and texture combinations to make your baskets stand out from the all-flower baskets…
**TIP!  Seasonal flowers, herbs and leafy foliage let's you adapt your style to changing seasons, as well as set a holiday mood in your garden.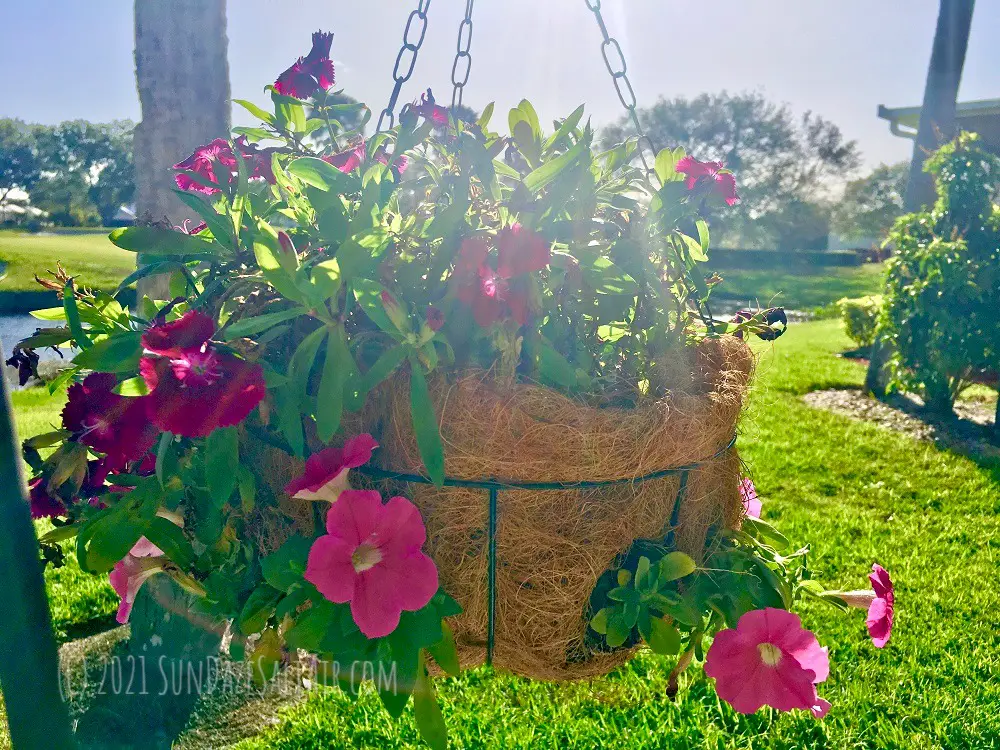 Trick #6: Certain Types of Flowers Grow Better in Hanging Flower Baskets
Many plants that grow in a "trailing" fashion, such as Million Bells, Ivy Geraniums, Petunias, especially "Supertunia," "Wave," "Ramblin' Hybrid" and "Surfina," Impatiens, Dianthus, Coleus, Torenia, Fern, Ivy, etc., love to grow hanging from a basket rather than just out of the ground.
**TIP! Long-trailing plants like trailing Petunias may only need to be planted in the top of your basket and will grow full over the edges.  Shorter trailing plants like Purple Verbena, Lantana, Bacopa and Fuchsia may need to be planted on the top and all around the sides for that coveted full-looking display.
Trick #7: Coconut Coir Fiber Liner Benefits for Hanging Flower Baskets
Coconut coir, also known as coconut fiber or coco basket liners are a durable, natural way to grow one-of-a-kind flower displays in wire baskets.  They provide both drainage and air circulation for healthy plants, as well as support.  These flexible liners provide form and shape, while allowing flowers to grow through and around the basket.
As you will see, cutting small holes strategically through the liner enables flowers to grow from every angle of the basket, not just from the top.
Are There Drawbacks to Coconut Coir Liners for Hanging Flower Baskets?
Coconut fiber liners tend to lose moisture fast, causing them to dry out not long after you water them.  Soaking the liner in warm water for ten minutes or until they are saturated prior to planting will provide initial hydration.  However, since the liner wicks away moisture, any flowers you plant will need to be watered once, or even twice, daily during hot summers.  Keep reading for more watering tips…
Trick #8: Prevent Coconut Fiber Lined Baskets from Drying Out So Fast
In addition to frequently watering your plants, help prevent your coconut fiber liners from drying out by adding a layer of moisture-trapping plastic.  Discover how to do this below under, "How to Plant Wire Hanging Baskets Using Coconut Coir Liners Step-By-Step."
Trick #9: Water, Water, Water Your Hanging Baskets
Hanging flower baskets dry out super quick already in the hot summer sun.  There is less soil to begin with, plus, as we learned above, coco liners dry out fast.  In order to achieve plenty of lush healthy blooms, the last thing you want is for your flower baskets to dry out.  Dryness not only destroys your plant's roots, but a poor root system begets weak flowering.
**Scroll down to Trick #10 to discover a product that helps your potting soil retain more moisture…
**TIP! How Do You Water Hanging Flower Baskets in the Summer?
In addition to adding a plastic layer for additional hydration, as described above in Trick #8, make sure you water you hanging baskets thoroughly and frequently, especially in the heat.  During hot summer days (with temperatures over 70° F), water your baskets at least once a day.
To do so, place your baskets on the ground and give them a deep and even soaking until the water runs out of the bottom of the basket.  Water twice a day if it gets really hot out or if your flowers start to look limp and dry.
**TIP!  Make sure you place your flower baskets on the ground when you water because, as you will discover, watering makes them heavy.  Also, know that when your baskets feel light, it might be time to water.
**TIP!  As your plant grows, it will need more water and nutrients, meaning you may have to water twice a day by the end of summer.
Trick #10: Try Adding Water-Holding Polymer Crystals to Prevent Flower Baskets from Drying Out So Fast
Some potting soils already come with these included, but if your potting mix doesn't, you can always add some.  Consider a product like "Soil Moist" which attracts and retains moisture in your soil rather than having it drain right out every time you water…

Trick #11: Add Fertilizer to Hanging Flower Baskets
Because you have to water them so often, plus the porosity of the arrangement, means any nutrients will quickly drain out, much more so than with potted plants.  To combat this, add a slow-release 15-15-15 fertilizer to your soil when you plant, and then add a balanced 20-20-20 fertilizer when you water two or three times a week.
TIP! Nitrogen In Soil Is a Secret to Promote Cascading Flowers in Your Hanging Baskets
Nitrogen, which you will find in 20-20-20 fertilizer, is one trick to promoting cascading flowers that spill out of your baskets as well as cascading vines.  Also, look for more of this in your fertilizer for more flowers….
TIP! Phosphorous Helps Promote Blooming Flowers in Your Baskets
Fertilizer Recommendations:
**TIP!  Evaluate your blooms and if they are not as lush as you like, consider gradually adding liquid fertilizer more frequently.  Some prolific gardeners of bountiful blossoms have been known to feed their hanging baskets as often as every day for the lushest blossoms around.  Try a 20-20-20 fertilizer for essential bloom-inducing nutrients, then switch to one with more phosphorous for more flowers.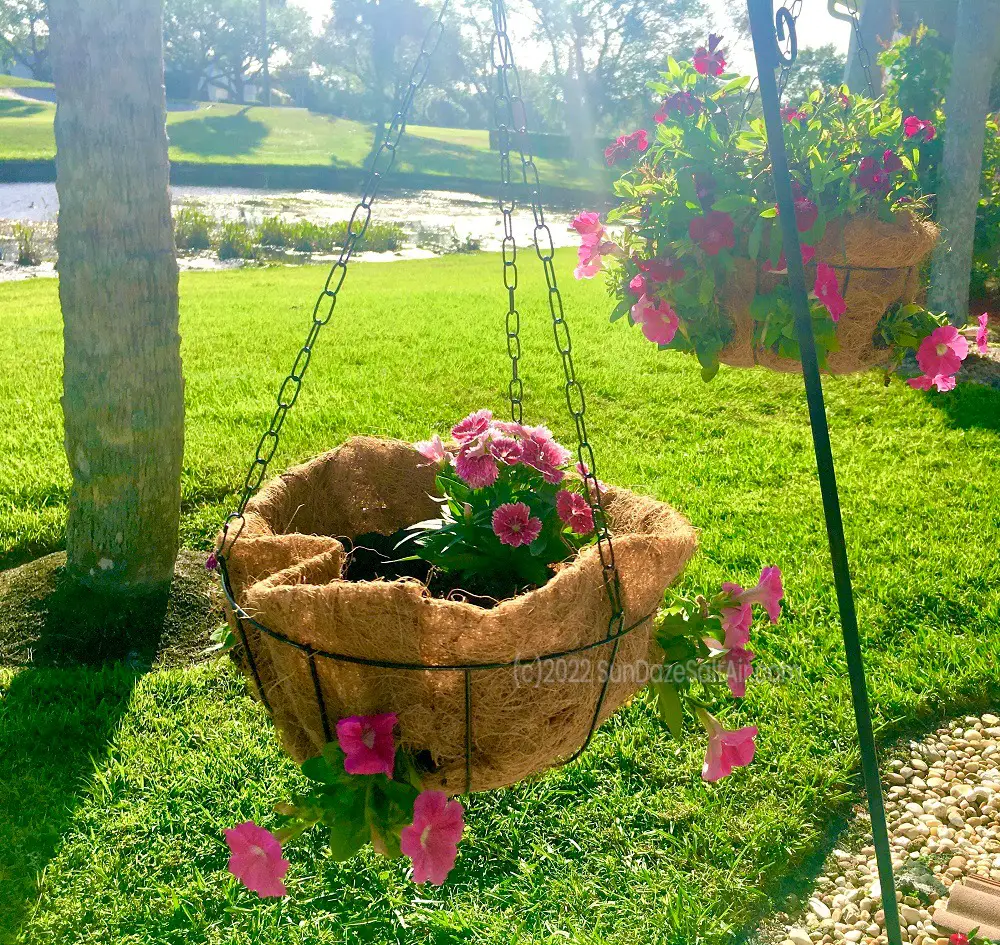 How to Plant Wire Hanging Baskets Using Coconut Coir Liners Step-By-Step
Supplies You Will Need:
Wireframe hanging baskets or planter stands;
Coconut coir fiber liners trimmed, if needed, to fit basket frame;
Plastic bags with drainage holes added (or even diapers) to line the coconut coir for added hydration;
Scissors or knife;
Soil with compost added for a rich fertile soil, such as Master Nursery Gardener's Gold Potting soil;
Seedlings of flowering trailing plants or herbs such as Geraniums, Petunias, Impatiens, Dianthus, Million Bells, Begonias, Coleus, Torenia, Fern, Ivy, etc.  Also, consider shorter trailing plants Purple Verbena, Lantana, Bacopa and Fuchsia;
1 Tablespoon of slow-release fertilizer such as 15-15-15 fertilizer like the one below;
Directions to Create Beautiful Hanging Baskets From Coconut Coir Liners:

1. Hydrate the Coconut Coir Liner:
Soak the coconut coir fiber liner in water for a few minutes until it is completely saturated.
2. Press & Size:
The hydrated coconut liner should now be quite pliable.  Press the liner into the wire basket until it conforms to its shape.  Coconut coir disk liners are sold in a variety of sizes; however you can always cut large ones to fit your basket.  Once pressed in place, you may use scissors to trim the liner if it overhangs the wire basket too much.  However, a little excess overhang folded over the rim is not a bad thing as it will soften your basket's rim.
3. Add a Layer of Plastic for Hydration:
As discussed above, if you live in a drier climate or just want to ensure your flowers don't dry out, adding a plastic layer over your coconut liner will slow drainage to hold moisture longer.  If you decide to add this layer, do the following…
Take a plastic grocery or garbage bag and cut it like a round disk shape to fit the bottom of your basket.  You may even use a small baby diaper for this purpose.  Whatever you use, make sure to use scissors or a knife to poke a few drainage holes in the plastic so excess water drains properly.
4. Mark & Cut Holes Around the Coconut Coir Liner for Your Plants
Mark the spots to create the holes where you will insert your shorter trailing side plants.  You can use a felt-tip marker or the tip of your scissors or knife to mark the spot with a dot.  Try to space each dot evenly around the basket a few inches down from the rim.  Then use your scissors or knife to carve small cross-shaped slits at each dot about 2.5 to 3 inches by 2.5 to 3 inches in diameter.
**TIP! Remember, these side holes or slots will allow you to view plants from every angle no matter how high you hang your baskets.  To accomplish this, create holes large enough to insert your plant's roots.
5. Add Your Soil Mix
You may prepare and add some of your moistened soil and compost mix to the basket now, pressing it in gently along the bottom of the basket.  Add the rest of your soil mix after you have inserted all your plants.
6. Prepare & Insert Your Plants Through the Holes of the Coconut Coir Liner
Gently moisten your plant's roots so they are pliable and easy to work with.  Decide which plants you want to place all around your basket, usually the shorter trailing plants.  You could also use the same plant all around, of course.  Longer trailing plants are ideal for the top "centerpiece" as they will grow over the sides.
Carefully remove your plants from any containers and shake off some of the excess dirt around the root ball so they fit inside the holes.  You may want to wrap the root balls in a thin paper towel or saran wrap just to make them easier to insert from outside the basket.  This makes them easier to pull from inside.  Then simply discard the paper or wrap.
Continue inserting the plants all around the basket, alternating different plants if you like, until you achieve your desired effect.
7. Add Your "Centerpiece" Flowers on the Top
Add a bit more of your soil mix to cover the roots of the side plants, then add your centerpiece trailing plants such as Geraniums, Petunias, Impatiens, Dianthus, Million Bells, Coleus, Torenia, etc.  You will likely only need to position one plant in the center as it will grow in.  A plant from a 4-inch container will eventually fill in the basket.  Of course, feel free to experiment and create a "mixed basket" arrangement.  Add soil to within an inch or so of the rim, firming the soil around the base of each plant.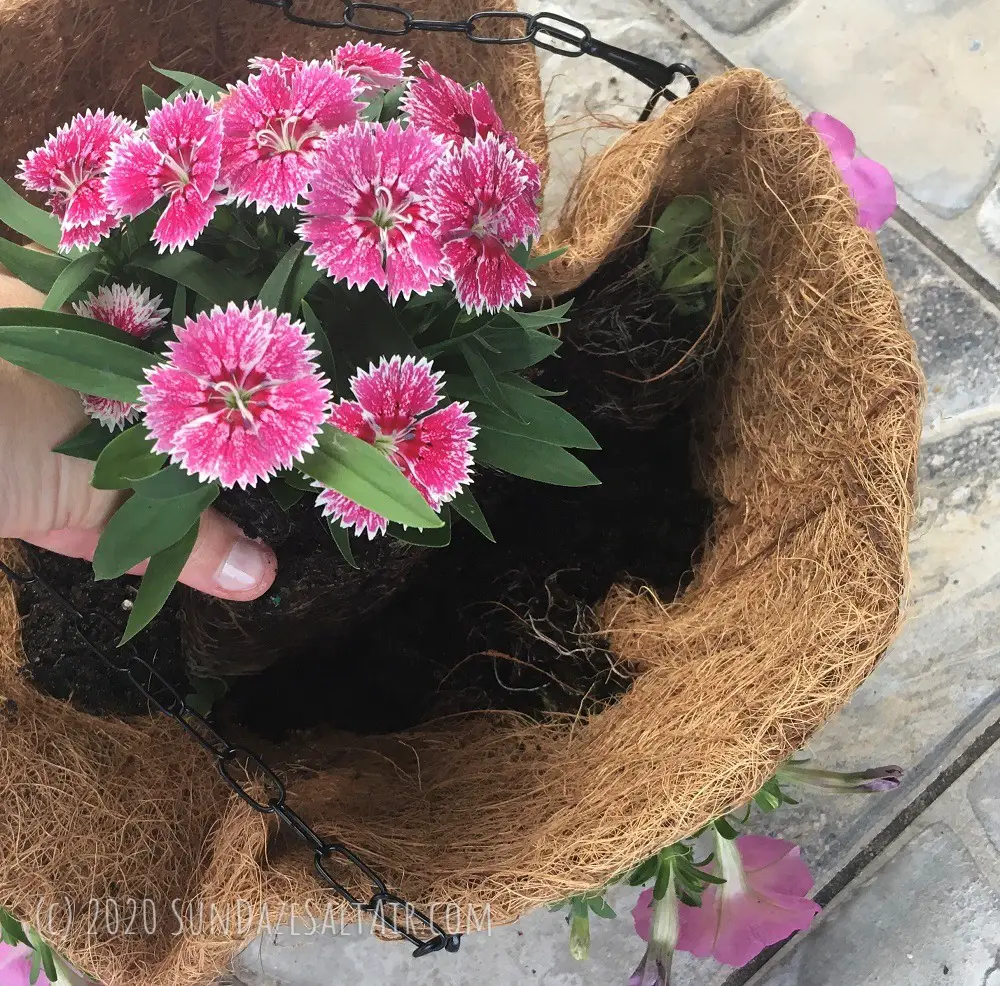 8. Add Your Slow-Release Fertilizer
Sprinkle about a tablespoon of slow-release fertilizer beads around the top of your soil, such as the 15-15-15 one mentioned above.
9. Water
Water the seedling plants right away.  Don't forget to check their moisture levels every day, and water as needed.
10. Evaluate & Enjoy Your Floral Masterpiece
Check your basket from all angles to make sure you are happy with the variety of plants, colors, and textures.  Remember that the side plants will eventually grow out, and the centerpiece will also fill out and grow down.  Now, hang your baskets and watch them grow into a full "head" of blossoms.  The end result may look like there isn't even a basket there — just a gorgeous hanging orb of flowers!
Conclusion: How to Make Beautiful Hanging Flower Baskets Like Disney Using Coconut Coir Liners- Bookmark & Share These Tricks
If you've followed these tricks and tips, you should have some show-stopping Disney caliber hanging baskets soon.  Make sure to bookmark this page so you can always maintain a consistent hanging basket care and fertilizer routine.  And don't forget to share them to inspire others to grow their own amazing orbs of Disney-style flowers.
********
Have you tried growing Disney-style hanging flower baskets in your garden?  Share your favorite tips & flowers in the comments!