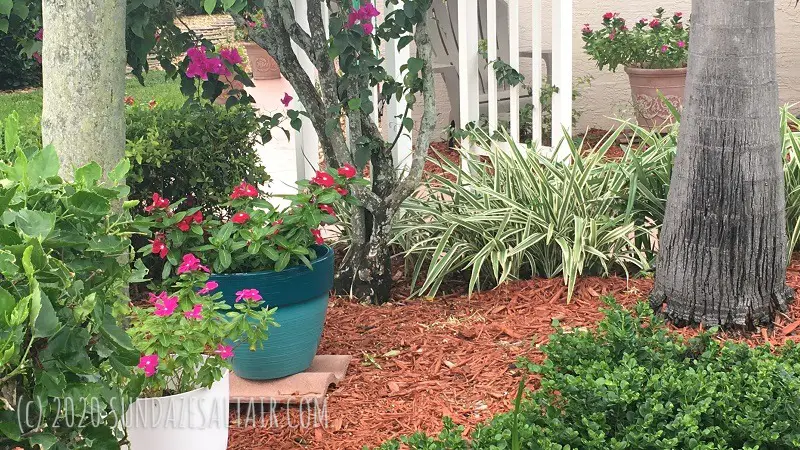 Celebrating Summer At Home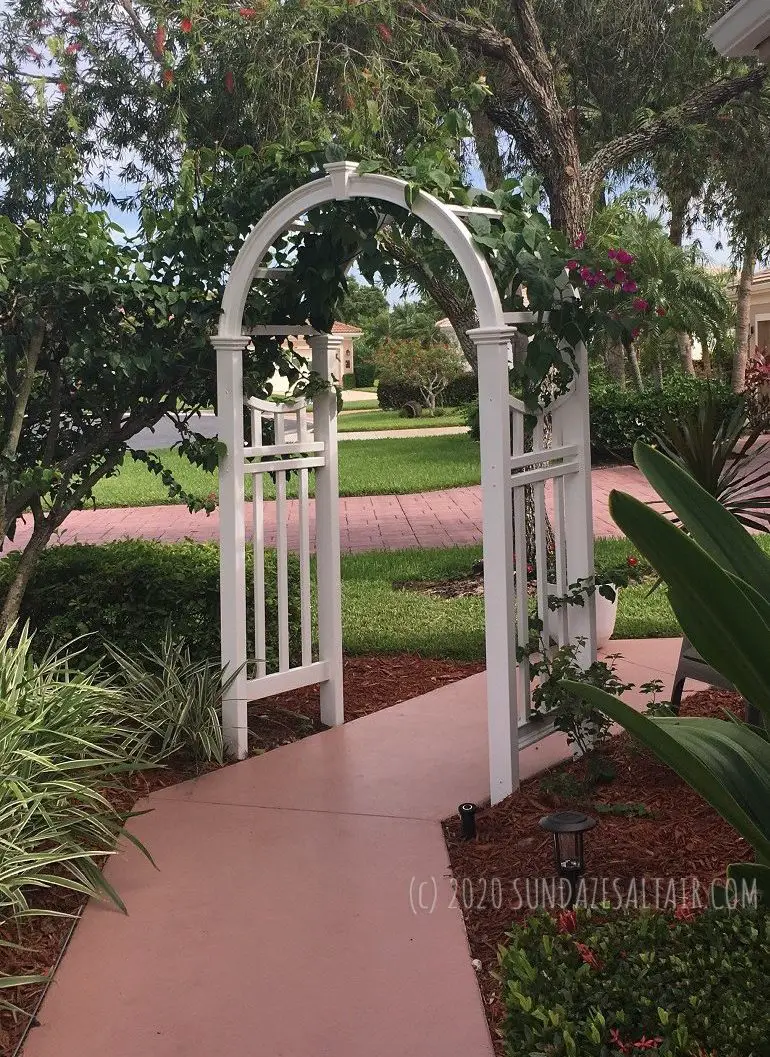 Home In Bloom
As we have all been confined to our homes these last few months, our usual endless parade of summer fun options (or any fun options really) have sadly become a thing of the past.  From curtailed summer barbecues and cancelled vacation trips to distant memories of beach blanket picnics past, we have been forced to find new and creative ways to live and work, let alone celebrate summer.
With even that sacred bastion of summertime relaxation, public beaches, now closed in many places, never have we spent so much summertime at home... But before we all stumble into some type of collective great depression, let's use this time to make the best of what we can.  And let's start with one of the few places we can safely enjoy some fresh air these days -- our yards and our gardens.
Also, with finances tight for so many of us, one of the easiest and cheapest forms of home improvement is planting - whether seeds, flowers, plants- just put something in the dirt.  Nature will pretty much do the rest, so no fear if you are all thumbs and none of them are green.
Easy Garden Ideas To Transform Your Outdoor Space Fast
If you are lucky enough to have some greenspace, whether a sprawling suburban backyard or a city terrace or patio, use this time to make it your sanctuary - whatever that means to you, and whatever your space allows.
Arbor // For a larger space, one of the best ways to enhance your yard or garden is to add some structures to it.  And there are few things more charming or inviting to a garden than an arbor.  With a curved, scrolling structure, the addition will add a rustic artfulness or elegance to any yard or walkway.   If you are feeling ambitious, you can try making one, or you can buy one and assemble it like I did.  The striking structure becomes a statement and centerpiece, turning a boring walkway into a charming garden path or, with the addition of an Adirondack-style chair, a place to linger on a hot summer day with a book and iced tea.  Make sure you pair up your new arbor with the addition of a beautiful climbing plant, like the hardy, tropics-loving Bougainvillea if you live in the sub-tropics, or something more like Wisteria if your garden resides in a more temperate zone.  The Bougainvillea or Wisteria will eventually climb its way over your arbor making for a lush and scenic archway entrance, and cozy, shady escape from the sun.
Container Gardening & Potted Plants // If your outdoor space is more modest, you still have plenty of possibilities to transform your surroundings.   All you need to start are some ordinary planters.  I searched high and low for a lightweight, modern white planter, and was thrilled to finally find these.  Then go find some flowers in your favorite colors from your local garden center, and with a few simple garden tools and some potting soil, let the magic begin.  In no time, you will see your efforts rewarded as you watch these basic planters transform into a vessel for new and colorful blooms.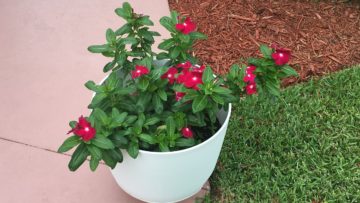 I personally love some potently purple or magenta Impatiens, for their low-maintenance hardiness and versatility. With just a little care, they will suddenly blossom from almost nothing into an explosion of color, brightening your space with their cheerful hues.  Not to mention, you get to play in the dirt.  And who doesn't love that?  And before you know it, you have forgotten everything else in the world - even if for just a few moments.
"You get your hands in it, plant your roots in it, dusty head lights dance with your boots in it."
-Florida Georgia Line, "Dirt"
Pop of Color – Try Turquoise Blue Planters To Offset Pink and Purple Blooms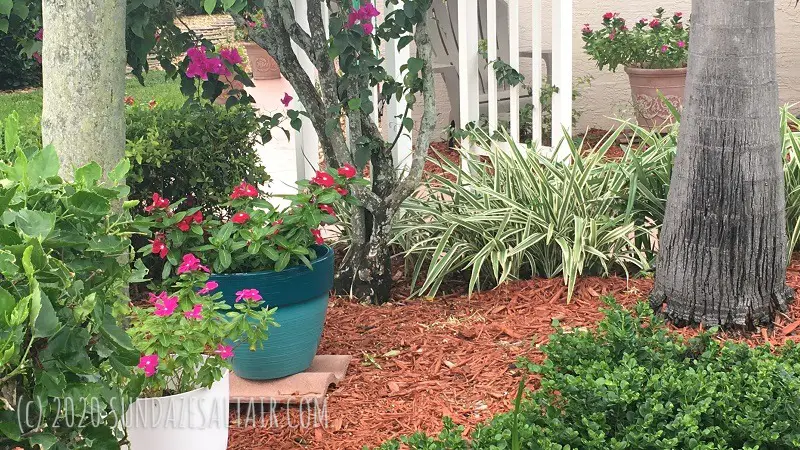 Charming white arbor over walkway next to flowering bougainvillea in tropical setting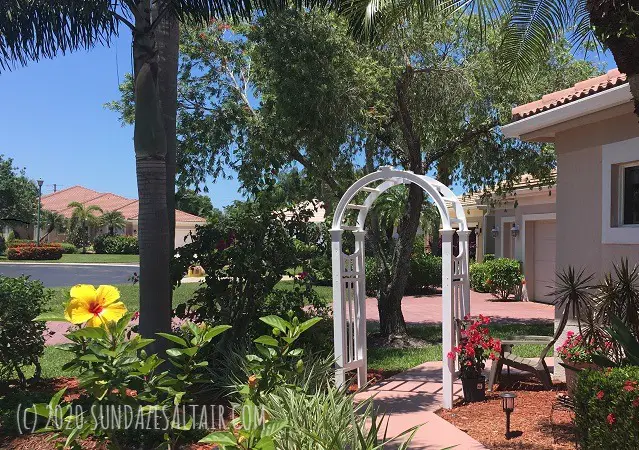 Make an unassuming walkway the pathway through a lush canopy of bougainvillea... Whatever your surroundings, find the beauty in the small things... envision it and bring it to life.  The very act of creating it alone will life the spirits, not to mention the added beauty gracing your home...  With home basically now our workplace and default staycation destination, these small creations are more important to our well-being than ever.