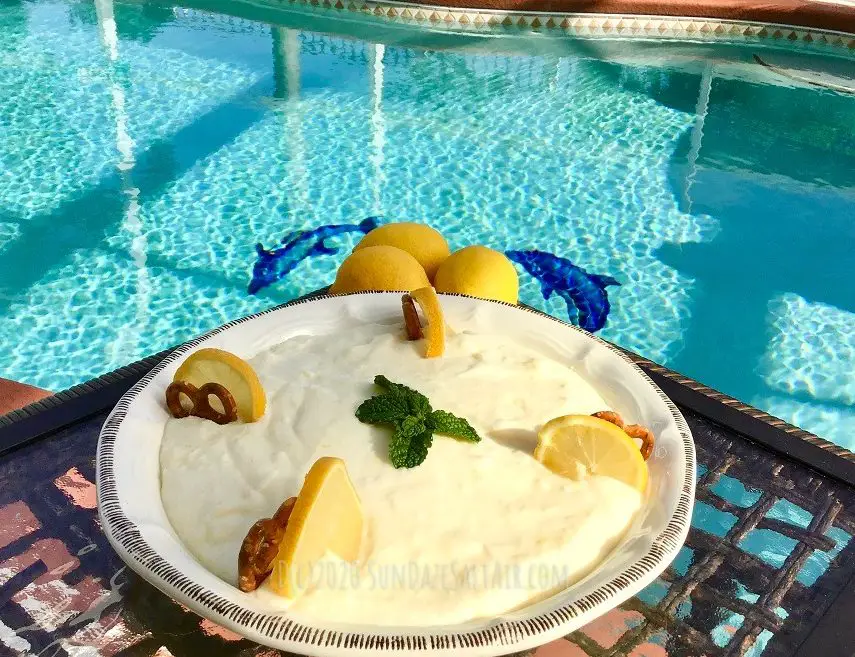 No-Bake Lemon Ricotta Icebox Pie In A Pretzel Crust – The Perfect No-Bake, Delicious Summer Dessert For Your Next Backyard Party
The Ultimate No-Bake Lemon Icebox Pie For Lemon Lovers With Ricotta Cheese & A Crunchy Pretzel Crust - Lower In Calories But Not In Flavor
Recently I was invited to a backyard party where I promised to bring along a dessert.  Before I knew it, the day had arrived and I hadn't made a thing.  Rather than panic, I decided to turn to a dependably delicious No-Bake Lemon Ricotta "Icebox" Crunch pie with a pretzel crust.  Not only is it relatively fast and easy to make, only requiring chilling time to set, but you don't even have to turn on an oven -- a great relief on steamy, hot summer days.
As far as taste goes, well, this "knock your socks off" full-of-flavor pie is proof that just because it's no-bake doesn't mean it's lacking flavor compared to a baked dessert.  No-bake, chilled, creamy, and sinfully delicious yet somehow relatively light and lemony at the same time?  Yes, please.  This pie is everything you want in a dessert on sweltering days, whether at a backyard gathering or a picnic by the sea.
Desserts To Please Lovers Of Tangy, Lemon-y Treats
For me summer is always synonymous with a craving for light-er and often lemon-flavored desserts -- and this is definitely lemon-y.  Happily, it turns out that everyone at the party that day were lemon lovers too, making the Ultimate No-Bake Lemon Ricotta Icebox Crunch Pie a big hit, with so many requests for the recipe that I decided to include it here.  If you are also a fan of lemon desserts and how they embody summer all year round, you may want to check out another delicious, but even richer and more luxurious lemon dessert at Best-Ever Homestyle Lemon Custard Pudding Cake.
Check out this post for the best Frosted, Whipped Lemonade Like Chick-Fil-A But Better: A Lemonade Creamsicle Made Naturally...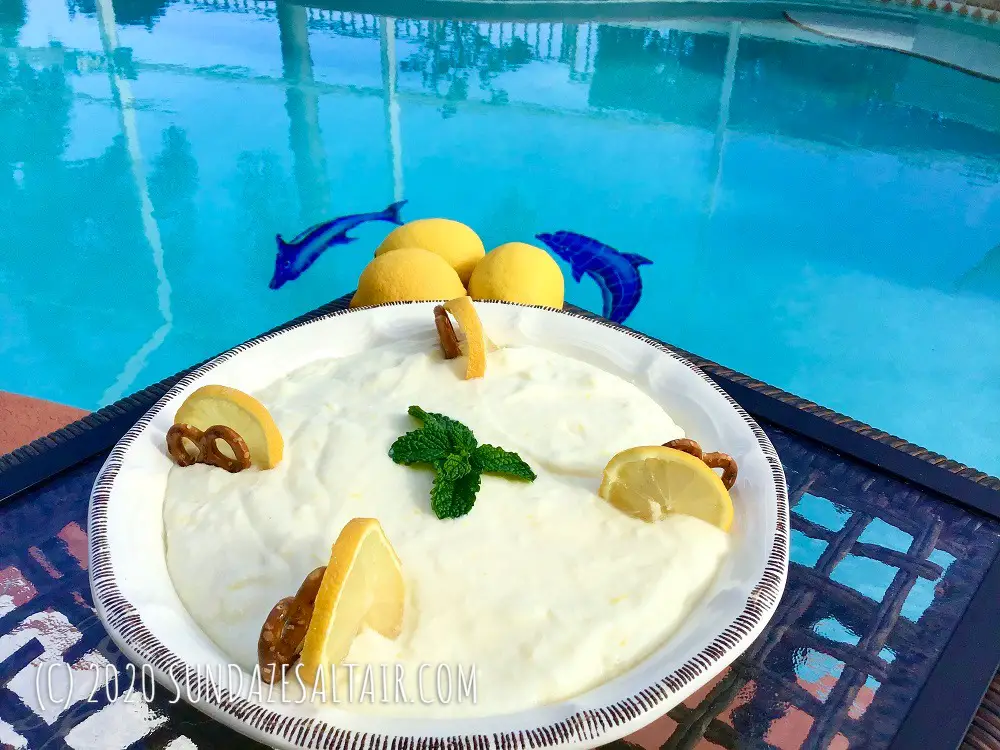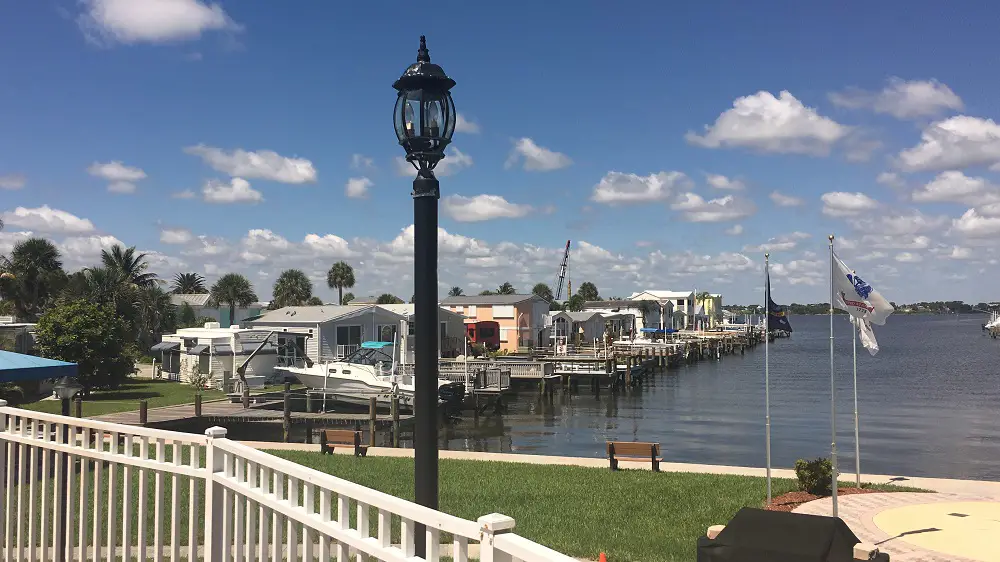 **Note: This post contains affiliate links for which a small commission may be earned if you decide to make a purchase through a link.
The Ultimate No-Bake Lemon Ricotta Icebox Crunch Pie For Lemon Lovers With A Pretzel Crust - How To Make A Dessert Lighter Yet Still Full Of Flavor
Sure, I could have just ran to the supermarket and grabbed a dessert from the bakery section.  But, I already knew there would be a few of the usual, highly processed, sugar-y suspects on the dessert table, so that wouldn't do.  Having been subjected to lots of rich and overly sweet desserts all during the winter and holiday season, summer is the time to lighten things up.  Of course, you don't want to lighten things so much that you lose flavor, because then what is the point, right?
Now, this is no "diet" dessert, as there is butter in the crust and some sugar throughout.  However, instead of heavy cream, egg yolks, and vegetable oils, the basis of this pie is full-fat ricotta cheese, which provides enough fat to add that all important unctuous flavor.
Use Plain Gelatin & Egg Whites To Lighten Yet Volumize
The ricotta is then combined with plain gelatin and whipped egg whites which volumizes yet lightens the cheese.  Combine that with lemon juice and just enough sugar, and the ricotta transforms into a perfect no-bake summer dessert.  Of course, if you prefer a sweeter, less tangy lemon pie, you could always tweak the sugar to suit your taste.
So, here you have the ideal, light, summer-y dessert for anyone who loves creamy, lemony desserts but has no time to be indoors baking.  And, judging by the reception this gets every time, it seems there aren't many who would disagree.  Tangy yet slightly sweet with a buttery, slightly salty crust, this dessert pleases all parts of your palate.
**For a 9 inch ceramic pie plate that is as pretty as the pies you make, this gorgeous nebula blue plate stands out from the rest....
Enough talk, let's get to no-baking...
The Ultimate No-Bake Icebox Pie For Lemon Lovers With Ricotta Cheese & A Pretzel Crust
With the delightful combination of tart and slightly sweet and salty, this dessert is light and airy enough to serve on even the hottest summer day.  Or any time when you want to finish off dinner without resorting to typically heavy, cloyingly sweet cakes.
Serving Suggestion
Once placed in the refrigerator, allow at least an hour to chill so the pie is more solid.  It is equally delicious without chilling time, just a bit messier on the plate.  You can easily make this dessert ahead of time and keep it refrigerated. This dessert refrigerates, and even freezes, well. 
You can also make the crust the night before and refrigerate it.  For an even faster pie, you may use a store-bought pretzel crust when really in a rush.
Ingredients                  Yield: One 9-inch pie
For the crust:
3 cups salted pretzels
3.5 tablespoons granulated sugar (or 2 tablespoons of brown sugar & 1.5 granulated)
1 1/2 sticks (or 12 tablespoons) unsalted butter, melted & slightly cooled
To make the crust:
Have your 9-inch pie plate close by and ready.  Combine the pretzels and sugar in the bowl of a food processor and process them until they are a medium fine grain; or, for a more fun method, you can place the pretzels in a large Ziploc or sandwich bag and crush them with a rolling pin until they resemble medium fine crumbs.  I like to leave some chunkier pieces of pretzel to add texture to the crust.
Once the pretzel crumbs are the desired texture, stir in the melted butter, making sure to coat the sugar and crumbs so everything is moistened.  If using a food processor, process briefly to evenly incorporate the butter into the crumbs so there are no dry crumbs.
Pour the crumb mixture into the pie plate.  Evenly distribute them over the bottom of the plate using a tablespoon, or a flat-bottomed mug or measuring cup to smooth the crumbs.  You can also take a large sheet of plastic wrap and cover the crumbs, pressing down using your hands to spread the crumb mixture evenly into the bottom of the plate.
For the lemon filling:
1 packet of unflavored powdered gelatin
3/4 cup lemon juice
1 and a 1/4 cups ricotta cheese (10 ounces)
3/4 cup granulated sugar plus 4 level tablespoons
Dash of salt
3 egg whites
1 to 2 tablespoons of grated lemon zest
To garnish:
Lemon slices, shavings of lemon zest, mint sprigs, mini-pretzels, and/or fresh homemade Whipped Cream
To make the lemon filling:
Empty the contents of the gelatin into a medium large bowl or bowl of a food processor.  Pour about 1/3 cup of the lemon juice over the gelatin powder to cover it, and allow it to stand for about five minutes.  In a small saucepan, heat the remaining lemon juice just shy of boiling, then carefully pour the hot lemon juice over the gelatin.  Let it cool slightly for a few minutes and then use an electric mixer or food processor to blend the juice and gelatin until the gelatin is completely dissolved, about one minute.  The result should be smooth, well-combined and clear.
To the lemon juice-gelatin mixture, add all the ricotta cheese, 3/4 cup of sugar and a pinch of salt.  Using the processor or hand mixer, blend the ingredients until well-combined, about one minute.  Stir in the lemon zest, and refrigerate the mixture for about fifteen minutes, long enough for it to cool and thicken slightly.
Once the lemon mixture is cooled and thickened, remove it from the fridge.  If it's too chilled, allow it to stand a few minutes to warm up to room temperature.
Whip & Fold The Egg Whites Into The Lemon Filling
In a large bowl, beat the three egg whites until soft peaks form.  Gradually add the remaining 4 tablespoons of sugar to taste, beating the whites until they turn glossy and peaks form.  Using a spatula, spoon the egg whites into the chilled lemon ricotta mixture, folding them in until completely combined.
Pour or spoon the filling into the pretzel crust.  Refrigerate the pie for at least an hour or two to set it and keep it chilled until ready to serve.  Garnish with lemon slices, mini-pretzels, sprigs of mint, or berries.  You can also serve with a swirl of homemade whipped cream like this perfect homemade recipe at the bottom of this page...
**Warm up chilly autumn days with this Better Than Starbucks - The Easiest & Best Hot Salted Caramel Apple Cider, for the perfect cozy autumn drink on crisp Fall days...