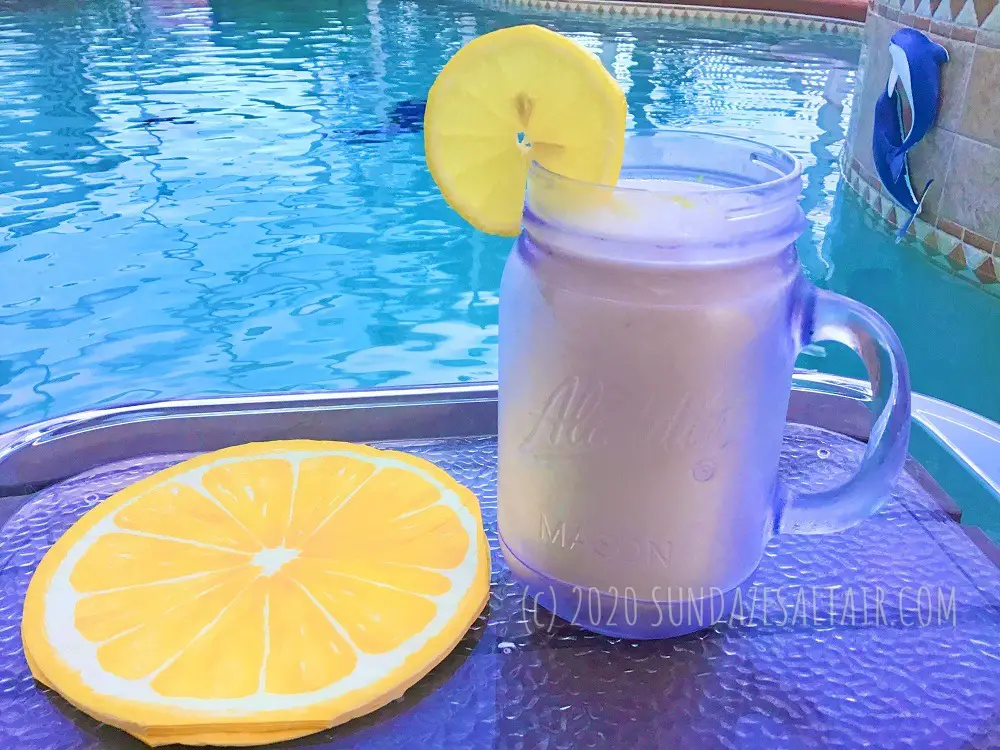 Frosted, Whipped Lemonade Like Chick-fil-A But Better: A Lemonade Creamsicle Made Naturally
The Most Delicious Version of a Creamy, Frozen Lemonade Using All-Natural Ingredients
I can't think of too many occasions when a creamy yet refreshing frosted version of a lemonade is a bad idea.  A couple months ago, a friend of mine was praising the creamy, lemon-y goodness that is the Chick-fil-A frosted lemonade, and imploring me to create a homemade version of it – a Frosted Whipped Lemonade Like Chick-fil-A but better…  Well, here we are in the midst of the hottest time of the year, and there is no time like a summer heatwave to whip up a frosty version of America's favorite summertime beverage.  It seems lots of other people think so too, or so I hear, as apparently the idea of a frosty, whipped lemonade is becoming somewhat of a trend.
Well, I don't subscribe to trends here, but I do subscribe to drinks that are tangy, cool and refreshing in the summer heat while satisfying like a creamy, delicious dessert.  And any reader of this blog knows we love lemon-y desserts of both the no-bake variety here…. and the lemon custard pudding cake variety here.
However, this is not just another version of a whipped, frosted lemonade, dare I say, this is the best, most delicious version, and it's made with all-natural ingredients, including pure maple syrup, which makes it even better…  And, no, don't worry, it doesn't taste maple-y at all…
A Frosted, Whipped Lemonade, AKA a Lemonade Creamsicle, Made with All-Natural Ingredients
This tastes like a lemonade Creamsicle, achieving that perfect balance of tart and sweet without being at all cloying.  One of the reasons is that I use the aforementioned rich 100% pure maple syrup as the sweetener, and I believe this ingredient is what sets this version apart from the rest.  As I was creating the recipe, I figured, while I am at it, let's make this frosted, whipped lemonade the absolute best version by using only natural ingredients, including real lemons loaded with Vitamin C.  Then I add the secret ingredient, an easy homemade version of sweetened condensed milk made with maple syrup, and a simple lemonade is transformed into a creamy, delicious refreshing treat worthy of "dessert" status.
Why Use Pure Maple Syrup as a Sweetener?
Not only does maple syrup impart a rich, slightly caramel taste, meaning you can use less of it, it is also lower on the glycemic index than refined sugar.  This means maple syrup will impact your blood sugar levels more slowly than refined sugar, which is an important consideration for those of you trying to control your sugar levels.  Pure maple syrup also happens to contain small amounts of trace minerals, such as manganese and zinc, which are very important for many bodily functions, and which you should try to obtain through a balanced diet.  Don't just take my word for it though, read about it here and even more importantly, discuss concerns about sugar consumption with your doctor.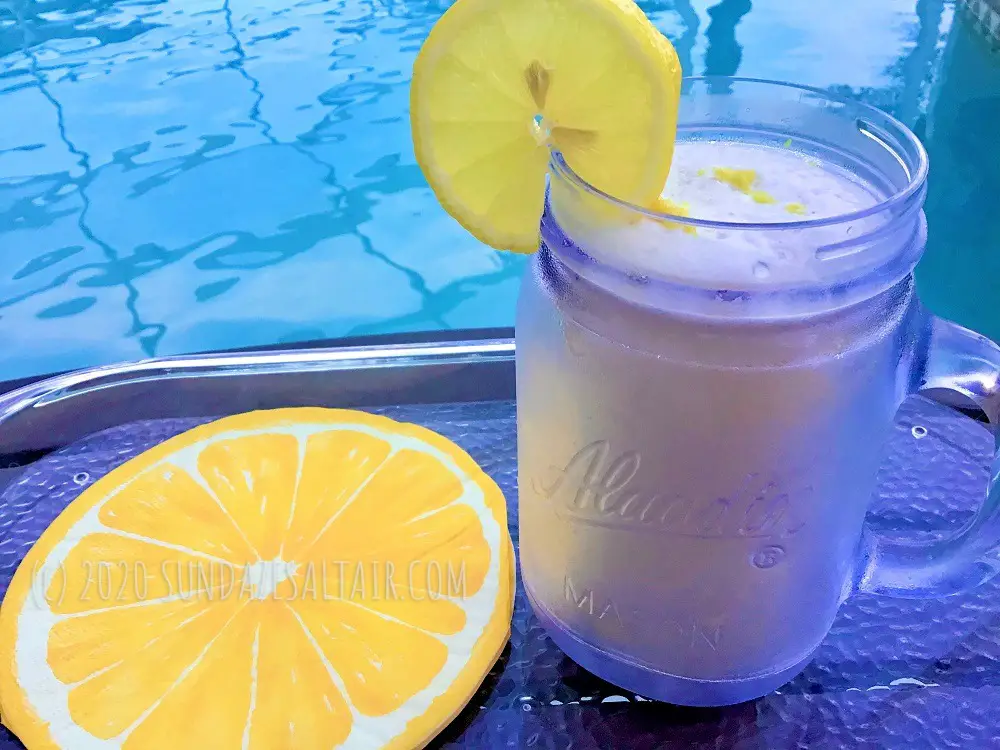 Why Make Homemade Sweetened Condensed Milk from Scratch When You Can Buy It in a Can?
First, homemade sweetened condensed milk is not hard to make at all — it's actually really easy.  Second, DIY-ing it gives you control over the ingredients you consume.  In addition to the reasons for using pure maple syrup discussed above, most versions of store-bought sweetened condensed milk also contain high fructose corn syrup and usually non-organic cow's milk.
Choose Your Sweetener of Choice & Your Milk
Therefore, if you prefer maple syrup, honey or even real sugar as opposed to high fructose corn syrup, as well as non-dairy milk in your sweetened condensed milk, making your own from scratch allows you all of these options…  You get to choose not only the sweetener of your choice, but also the type of milk you prefer.
Of course, no one will confuse this with a "health drink" but at least it contains ingredients you control, minimizing the guilt factor as much as possible for a creamy dessert-like drink.
So, let's get started with this all-natural tart yet slightly sweet and creamy libation with lots of lemons (& Vitamin C) & the easiest homemade sweetened condensed milk made with maple syrup….
TIP! Use this Natural Version of Condensed Milk Over Cake, Cookies, Oatmeal, Fresh Fruit, You Get the Idea…
By the way, this homemade sweetened condensed milk is so good, you will want to use it in your coffee, oatmeal, over cakes and ice cream, and whatever else you can think of.  Hint… you may want to make extra and store it in your fridge to always have it on hand.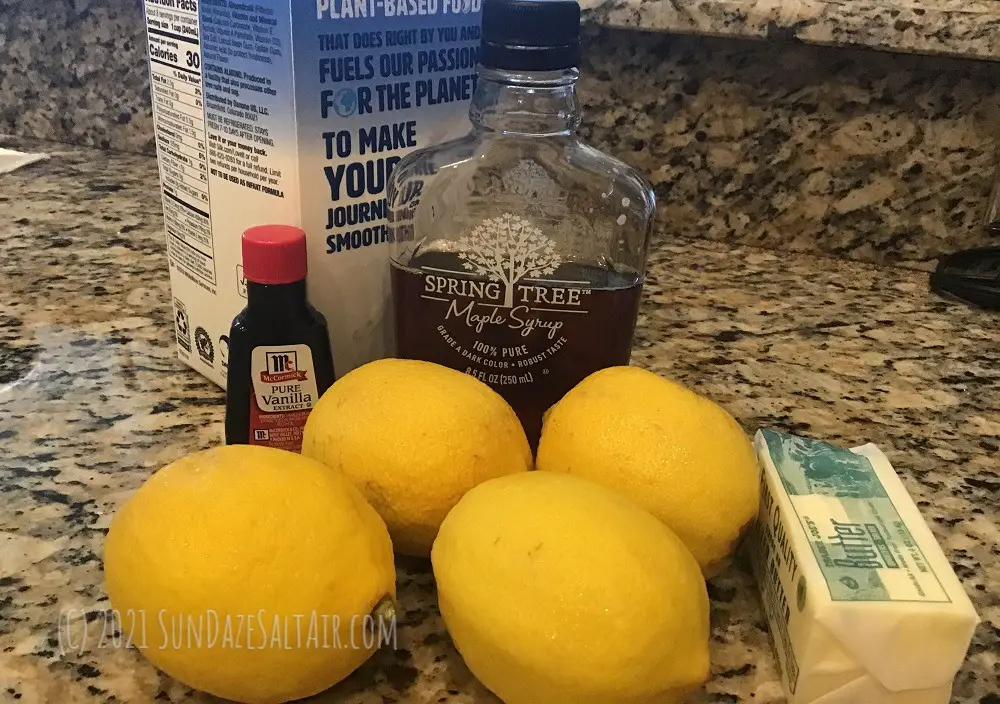 Frosted, Whipped Lemonade Like Chick-Fil-A But Better with All-Natural Ingredients AKA A Lemonade Creamsicle
Ingredients                                                         Serving size:  Two, if you are lucky
Sweetened condensed milk:
2 cups organic whole milk (or your milk of choice)
1/2 cup maple syrup
1 tablespoon butter
1/2 teaspoon pure vanilla extract
To assemble:
1/2 cup freshly squeezed lemon juice (from 3 to 4 organic lemons)
2 cups crushed ice
3/4 cup homemade sweetened condensed milk
1-2 teaspoons grated lemon zest
Instructions
Place the glasses in your refrigerator or freezer now so they will have a "frosted" look when you are ready to serve your drinks.
Combine milk and maple syrup in a medium-sized saucepan.  Simmer over medium-low heat, whisking occasionally to prevent curdling.  Continue to whisk and simmer over medium-low heat until milk has reduced by about half, approximately 25 minutes.  Once reduced, remove the pan from the heat and stir in your butter and vanilla.  Let stand to cool completely.  Use a grater or zesting tool to zest about 1 to 2 teaspoons of organic lemon peel.
To assemble:
Add the ice to your blender.  You want enough ice to give your lemonade a frosty, frozen consistency.  Pour the lemon juice over the ice, along with the completely cooled condensed milk.  Add some of the grated lemon zest and blend everything just long enough to crush the ice and combine all flavors.  Taste the results and if you prefer a sweeter flavor, add more sweetened condensed milk and blend once again until combined.
Pour into your frosted glasses and garnish with a slice of lemon, any reserved lemon zest, and fresh whipped cream if you want to really indulge.  Now, enjoy the refreshing yet creamy, tart yet sweet, light yet rich flavors of your Frosted, Whipped Lemonade Creamsicle.
Make a Frosted, Whipped "Lemon Meringue Pie" in a Glass
Turn your Frosted, Whipped Lemonade Creamsicle into a Frosted, Whipped Lemon Meringue Pie with only two additional ingredients…  Capture the flavors of a lemon meringue pie by stirring in (or adding to a blender) some crushed graham cracker cookie pieces.  Then, top your drink with fresh whipped cream, and garnish with a lemon slice and more crumbled graham crackers… and voila!  Now, you can drink a lemon meringue pie.
With fall just around the corner, be sure to check out my Better Than Starbucks Hot Spiced Caramel Apple Cider for the perfect cozy autumn drink.
Don't Forget to Bookmark & Share this Recipe for Frosted, Whipped Lemonade Like Chick-fil-A But Better Made Naturally…
Be a good friend and share this recipe with anyone you know who appreciates tangy, cool and refreshing drinks in the summer heat that also happen to satisfy like creamy, delicious desserts…
Have you tried making this Frosted, Whipped Lemonade, aka Lemonade Creamsicle?  Let us know how it turned out in the comments!