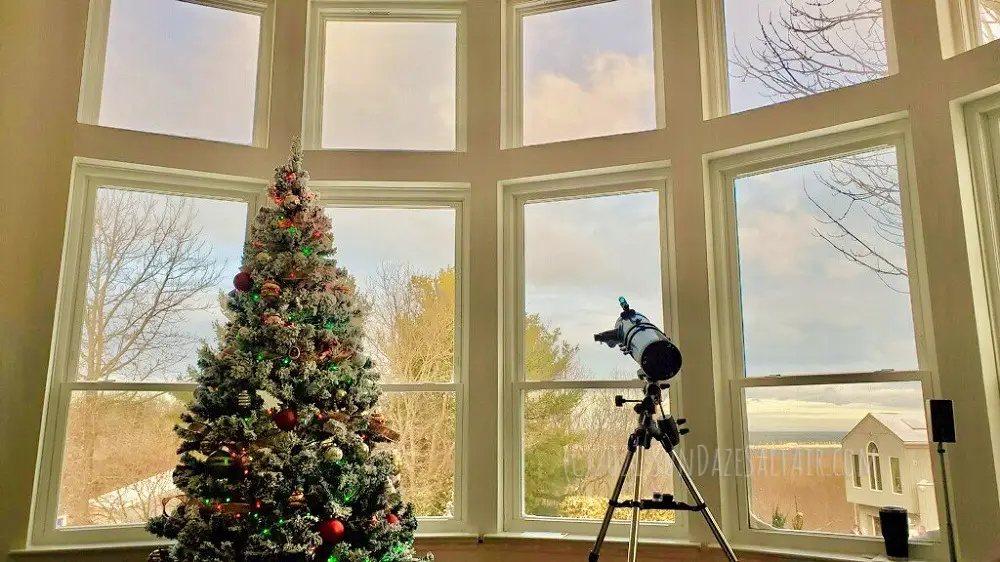 How To Decorate A Room With High Ceilings For Christmas
Six Tips Plus Inspiration To Make High Ceilings Soar For The Holidays
An icy chill grips the air… frost is on the windshield, and Halloween is over.  This can only mean one thing – it's time to decorate for Christmas, of course.  Christmas, the holiday season, and the winter solstice are all nearly upon us, so it is definitely time to deck the halls.  These days, however, our "halls" often include high, vaulted or cathedral ceilings.  While this feature of modern homes makes rooms feel extra large and open, ultra-high ceilings can pose challenges when it comes to holiday decorating.  On the bright side, all that extra space provides plenty of canvas to project your greatest Christmas and winter wonderland fantasies.  Let's find out how to decorate a room with high ceilings for Christmas to make the most of this architectural feature during the most wondrous, magical time of the year…
From holiday decor to color changing LED lights that sync or "dance" to your holiday Christmas song playlist, here are a few ideas to inspire you as you deck the halls…
For tips, tricks & ideas for making a room with high ceilings feel cozy & intimate anytime of the year, click here… 
**Note: This post contains affiliate links for which a small commission may be earned if you decide to make a purchase through a link.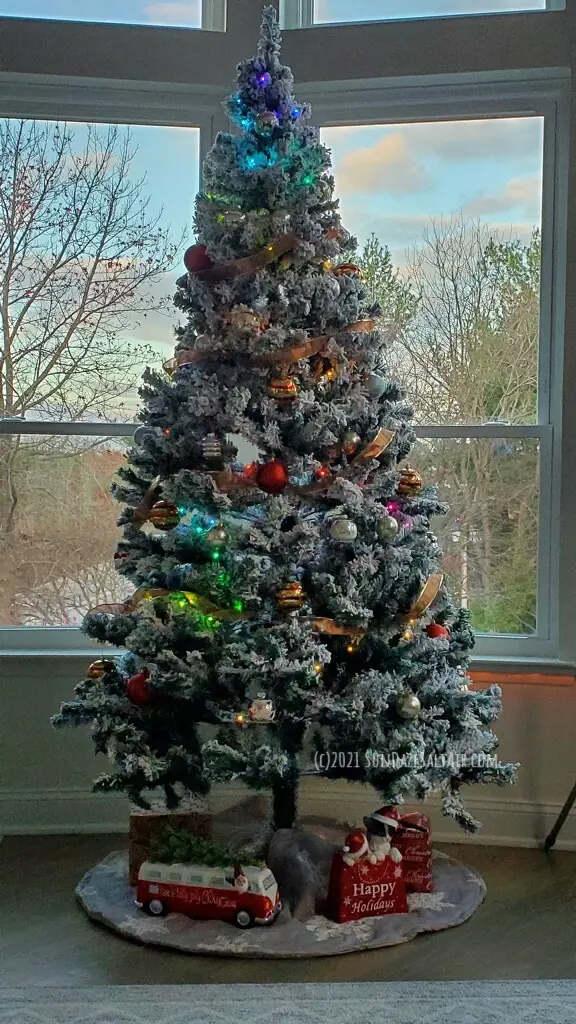 Consider a "Grinch tree" to decorate your room with high ceilings…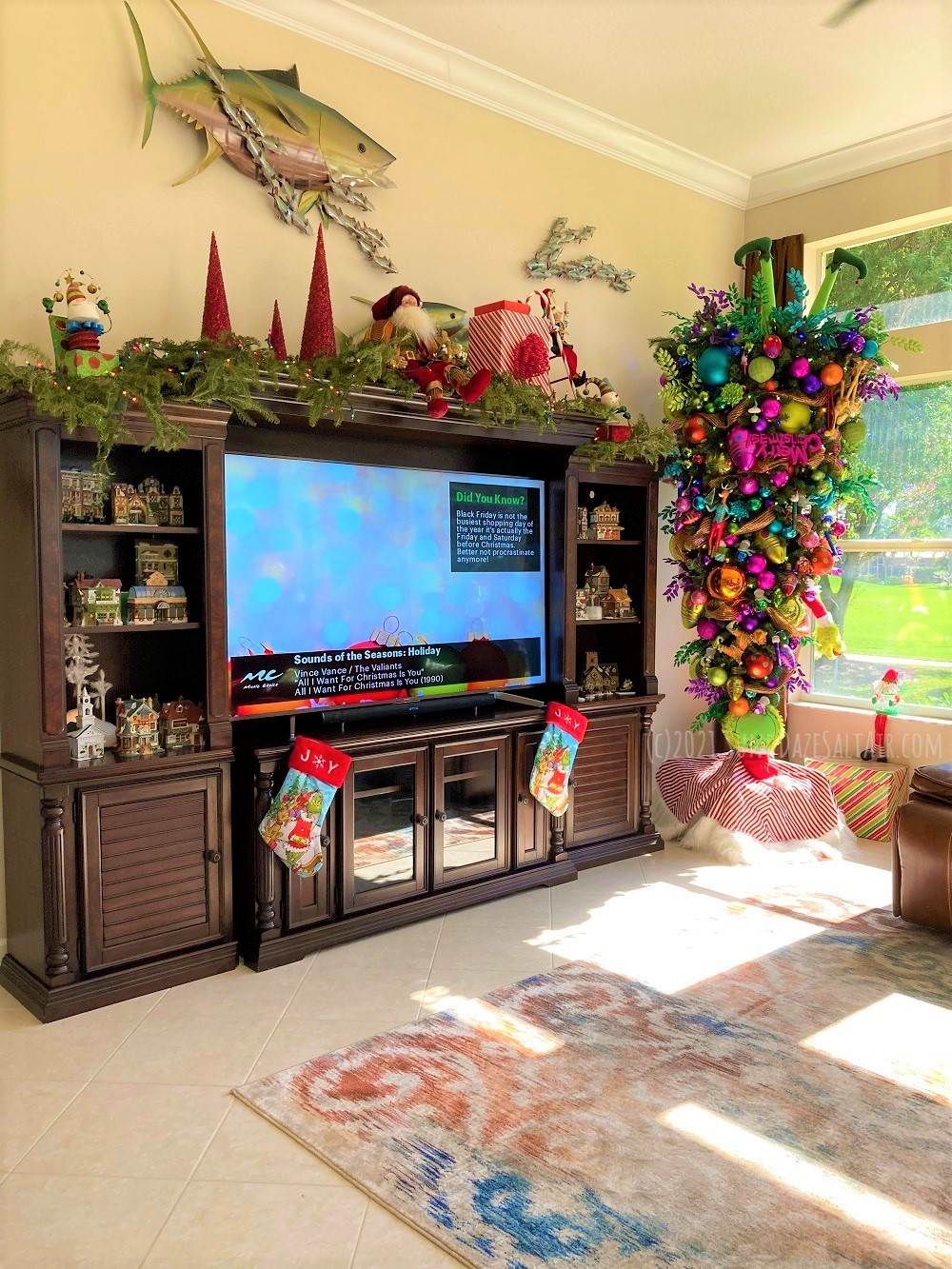 Make use of ledge space to decorate your room with high ceilings…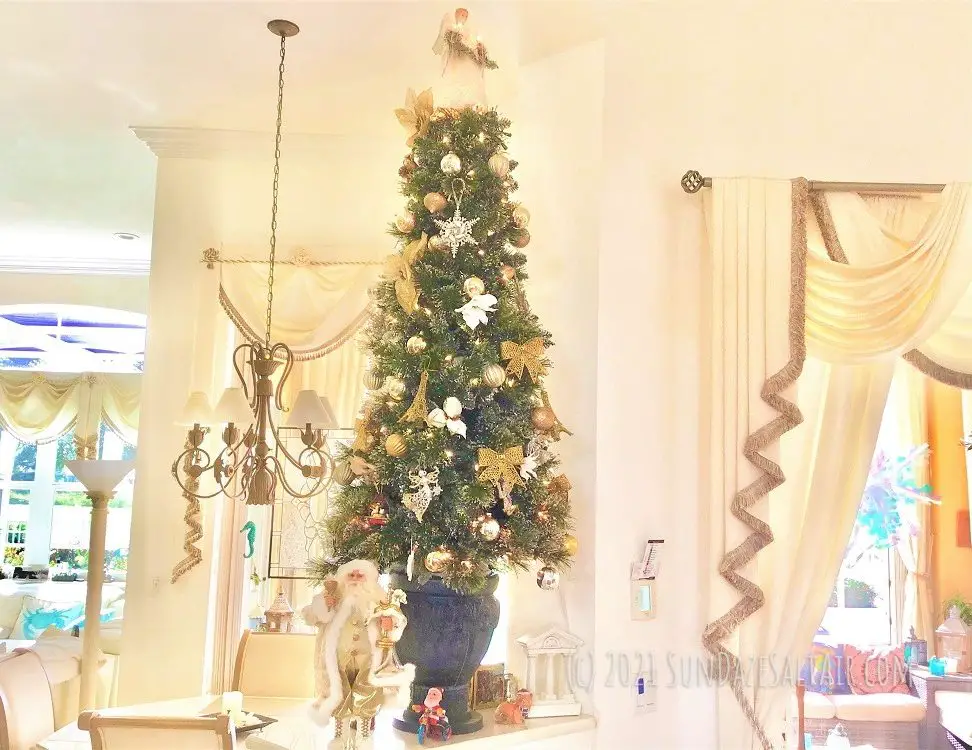 How To Decorate A Room With High Ceilings For Christmas & The Holiday Season…
From Christmas trees that disappear under vast ceilings to hard-to-string up Christmas decorations, there are a few drawbacks to ceilings so high they reach for the sky.  Happily, there are also creative ways to make the most of the extra space.
TIP #1: Decorate A Room With High Ceilings For Christmas With A Majestic Christmas Tree
One of the best things about having high ceilings is that they are practically designed for showing off the most magnificent Christmas tree you can find.  Just recall the Christmas trees that high-end department stores display every holiday season.  The atrium at the now-shuttered Henri Bendel in New York City used to have tourists from all over the world visit each year just to see its one-of-a-kind majestic Christmas tree exhibit.
Such a grand exhibit may be easy for a fancy department store, but how can you realistically translate this to your home?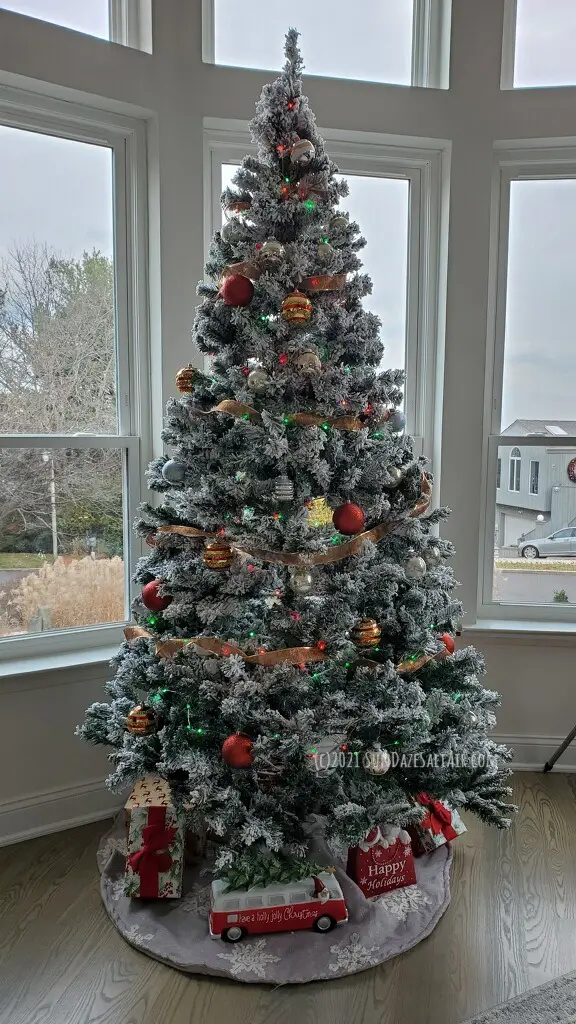 It's All About Proportions… Choose A Christmas Tree That Won't "Disappear" In A Room With High Ceilings
If you love that "Charlie Brown" Christmas tree, who cares what anyone else thinks?  But, if you want a grand effect to match a grand room, keep in mind basic rules of proportions.  For instance, large foyers and living rooms will look stunning with majestic trees, while bedroom corner tables or foyer ledges can host charming diminutive trees…
Place Smaller Christmas Trees On Ledges & Table Tops
Anything less than a large tree as your focal point may appear out of proportion in a high-ceilinged room.  However, smaller-sized Christmas trees look fantastic perched on ledges, tabletops and counters, filling empty spaces in a large room.  Small Christmas trees, like the dazzling fiber optic one pictured above and below, draw the eye down while adding a little extra magic to any room…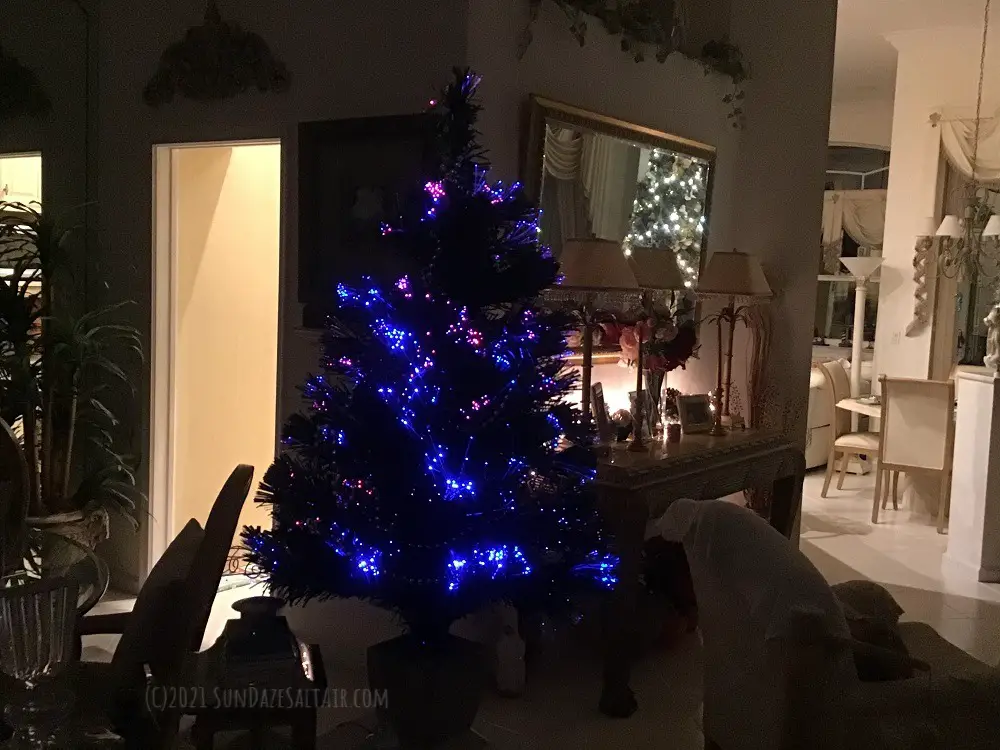 TIP! General Rules For Sizing Your Christmas Tree To Your Room
While there are obviously no set rules, for maximum impact in a room with high ceilings, make sure your main Christmas tree has both height and fullness.
The following general guidelines from Balsamhill.com can help you choose a Christmas tree that doesn't disappear in your rooms with high ceilings…
–Smaller trees, under 6 feet, are best for ledges and table-tops;
–Trees between 7 to 7.5 feet tall are best suited for standard 8 to 9 foot ceilings;
–Trees between 8 to 9 feet tall are best for rooms with high ceilings;
–10 to 14 foot trees are ideal for atriums or vaulted ceilings.
Tree-Topper Requirements For A High Ceiling
When you have an extra-large Christmas tree, make sure to leave at least a 12 inch clearance between the top of your tree and the ceiling to allow room for a typical tree-topper.
If you decide to use a tree-topper that doubles as a projector, keep in mind that a greater distance from the ceiling leads to a more awesome display.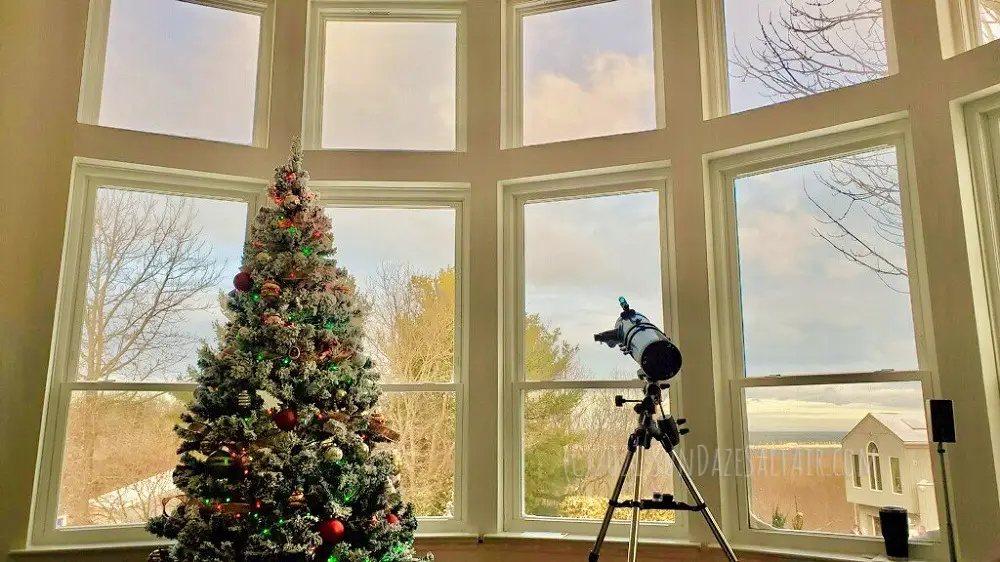 TIP #2: Turn Your Room With High Ceilings Into A Winter Wonderland
What is more synonymous with the wintry Christmas season than snowflakes, sparkling icicles, and of course, bright stars?  Depending where you live, you may be lucky enough to see some these winter wonders through the fogged view outside your window.  For the rest of us, especially those who live too far south to experience snow or ice, there are always snow and star-inspired ornaments…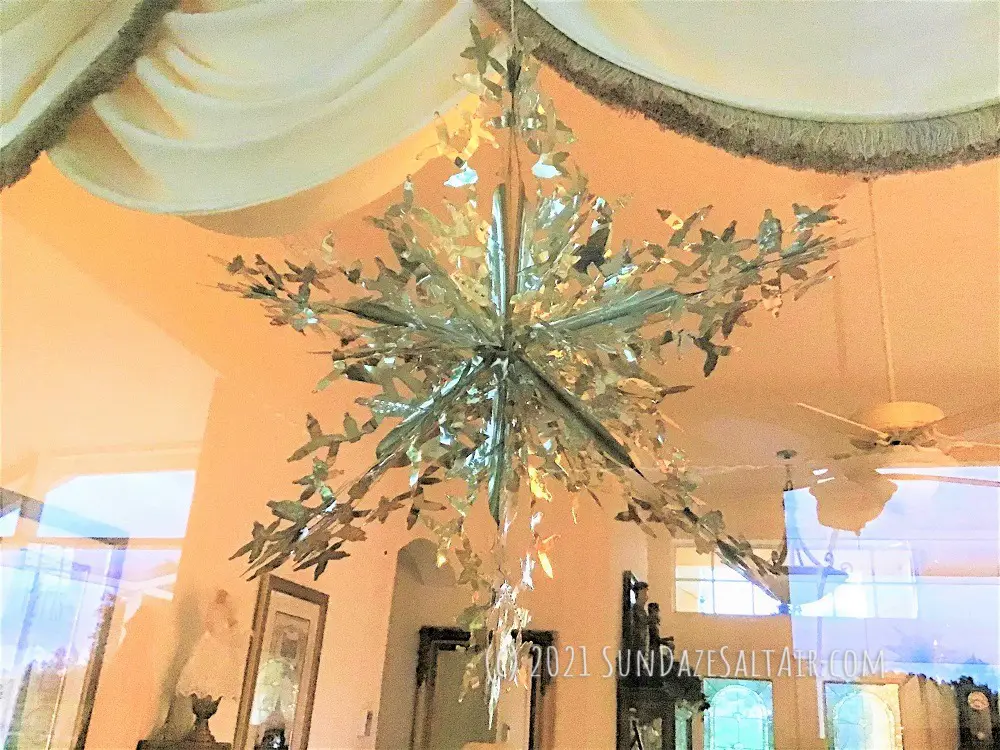 Hang Snowflakes, Stars & Icicles
Even if you don't have any glistening icicles or snowflakes outside your window, you can create a winter wonderland inside with a bit of resourcefulness.  If you are willing to use a ladder, your extra ceiling space definitely provides the heights required to realize the ultimate indoor snowflake-inspired scene worthy of a "Frosty" rerun.
**To learn the best way to hang your Christmas and holiday decor, scroll down to, "Extra TIP #6: How To Hang Stars, Snowflakes & Other Christmas Ornaments From Your Ceiling Without Damage."
For a similar silvery, light-reflecting effect to the snowflake pictured above, these holographic snowflakes are designed to mimic the iridescent radiance of sunrays reflected off real snowflakes…  
Snowflake & Icicle-Inspired Windows 
Large windows also serve as blank canvas that makes displaying holiday decor fairly simple.  Hooks with plastic suction cups easily attach to windows with a little water, making hanging snowflakes, stars or anything else relatively effortless…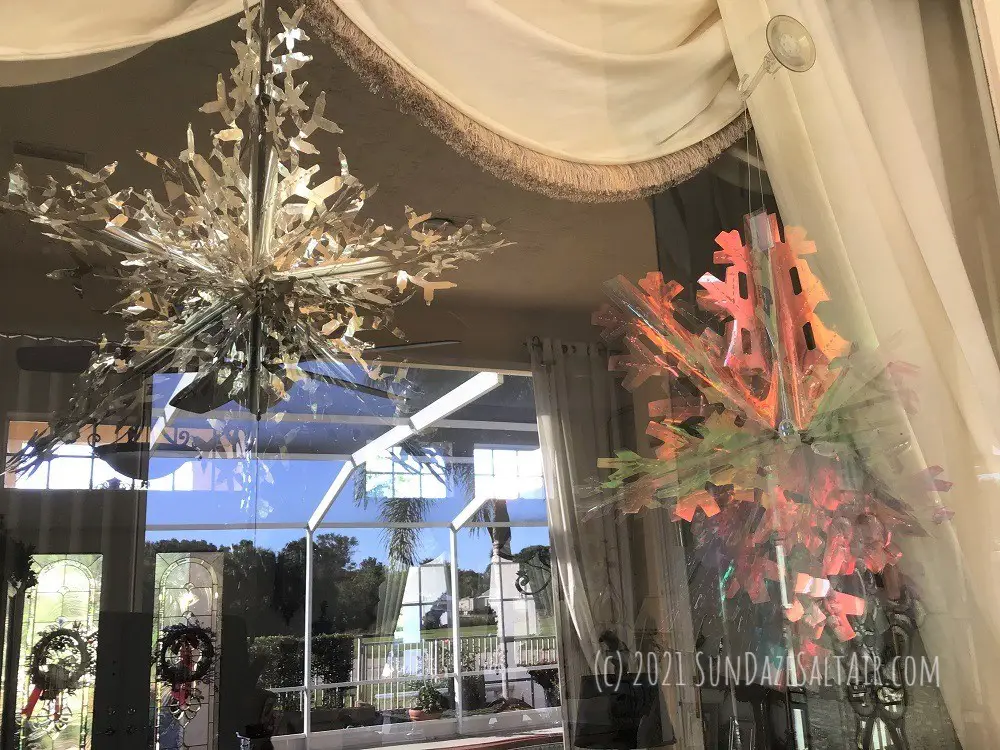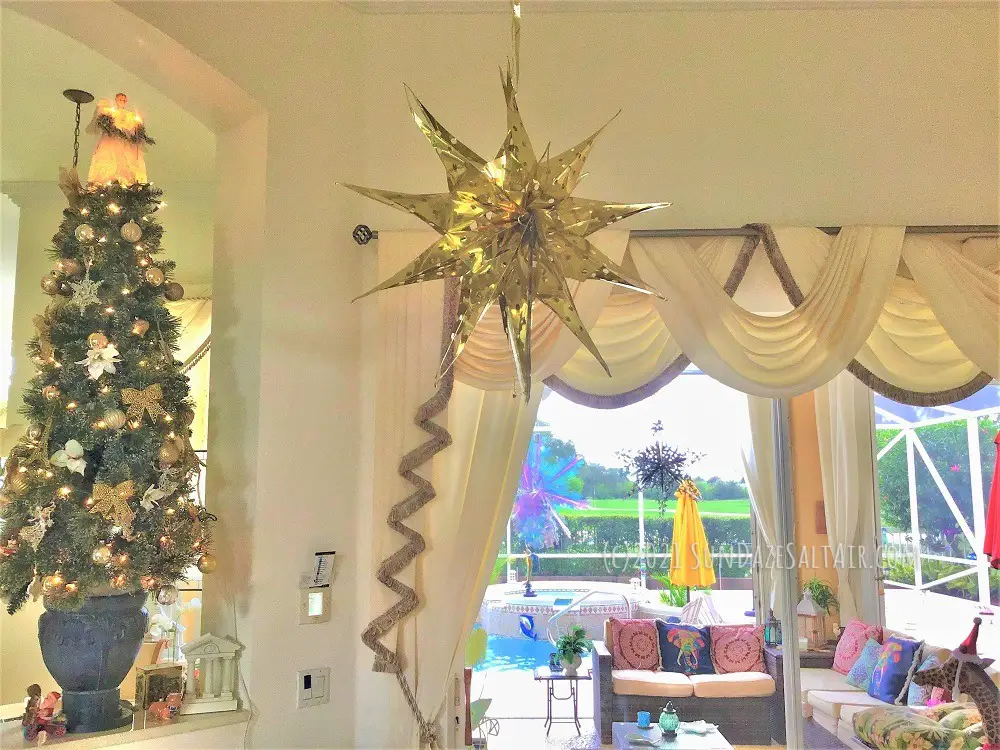 Choose Curtain LED Lights For Icicle-Inspired Windows
Romantic mood lighting is essential to making a room with high ceilings feel cozy.  LED lights that resemble icicles or snow bring that wintry magic indoors.
  As seen below, Christmas fairy twinkle LED curtain string lights create an icicle or snow effect visible both inside and outside your windows.  These lights come with a remote to easily adjust the warm dimmable lights…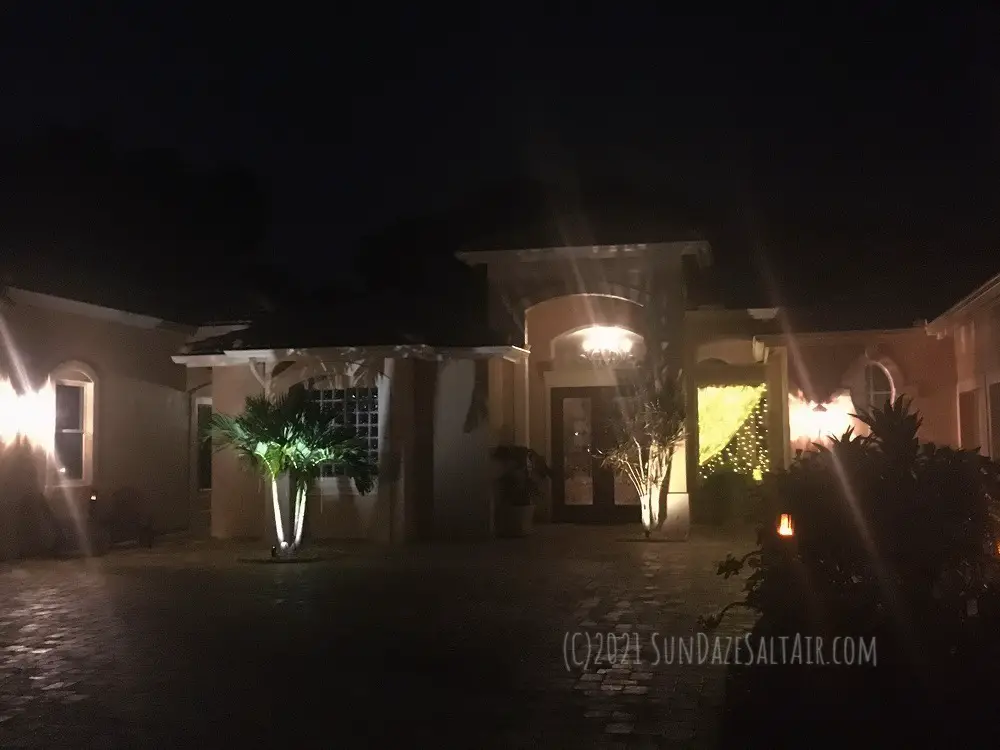 Try "Rain Drop" Or "Meteor Shower" LED Lights For Icicle-Inspired Windows
These eye-catching LED lights look like water shimmering down an icicle or "falling lights," and are mesmerizing and soothing to watch.  While sold as waterproof, installing them inside also provides an awesome "falling water" effect without concerns about weather exposure.  For a dazzling yet relaxing holiday lighting display, consider these lights…
TIP #3: Decorate A Room With High Ceilings For Christmas With Color-Changing LED Strip Lights That Sync & "Dance" To Your Christmas Song Playlist
Don't want to step on a ladder but want to add instant impact to a room with high ceilings?  Not only do these color changing LED strip lights create major mood lighting ambiance with millions of colors, they allow you to sync the lights to your favorite music…
Mimic The Blue Of The Night Sky Anytime With Strategically Placed LED Strip Lights
For those who don't want the hassle of hanging lights, color changing strip lights under windows are an easy way to set a cozy mood in a big room.  Then simply sync the lights to your favorite music to dance to the rhythm of any song on your playlist.  Easily adjust the colors and brightness with the touch of a button.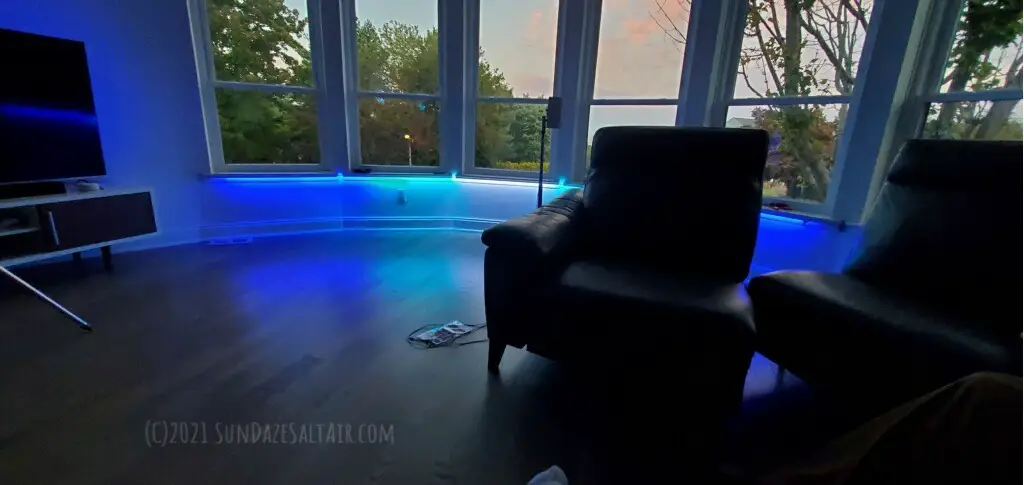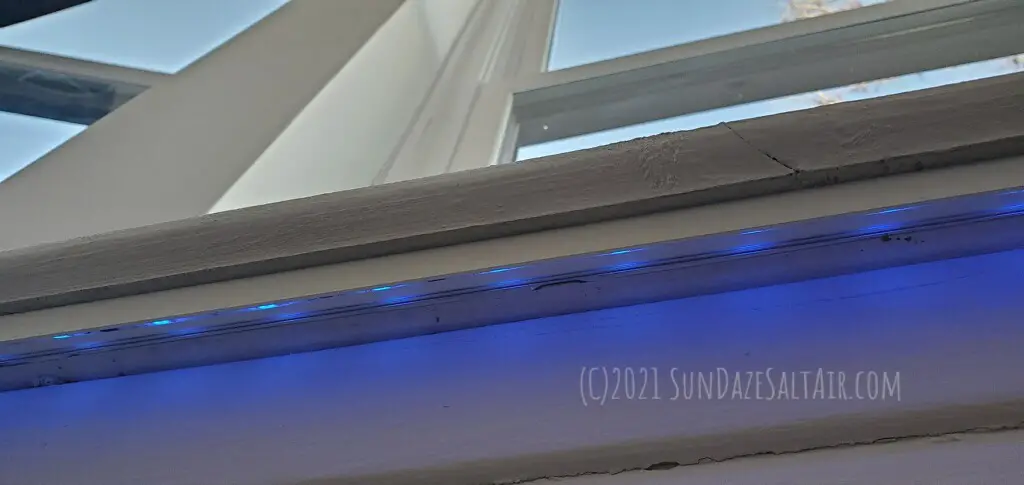 TIP #4: Decorate A Room With High Ceilings For Christmas With A Tree-Top Projector
Create A Snowy Winter Night Sky Using A Tree-Top Projector – No Hanging Or Ladder Required
Again, for those of us with especially high ceilings or who simply don't want to get up on a ladder, consider an ornament that doubles as a projector.   Christmas tree toppers that combine a Christmas star or snowflake with LED projector technology can produce the quaint and cozy feeling of snow falling from your ceiling.
TIP! Tree-Top Projectors Work Best In Rooms With Very High Ceilings
Keep in mind that the higher, more vaulted your ceilings, and the further they are from the projector, the more glorious the show.
A tree-top star that doubles as a projector can make you feel like you are living in a snow globe…
TIP #5: Decorate A Christmas Tree In A Room With High Ceilings With Color-Changing LED Lights
Use smart, color changing LED fairy string lights on your Christmas tree that you can easily adjust by remote control or voice control like those featured on the tree below…
Compatible with Alexa or Google Home, these affordable "smart" lights enable you to exercise control by voice or via remote…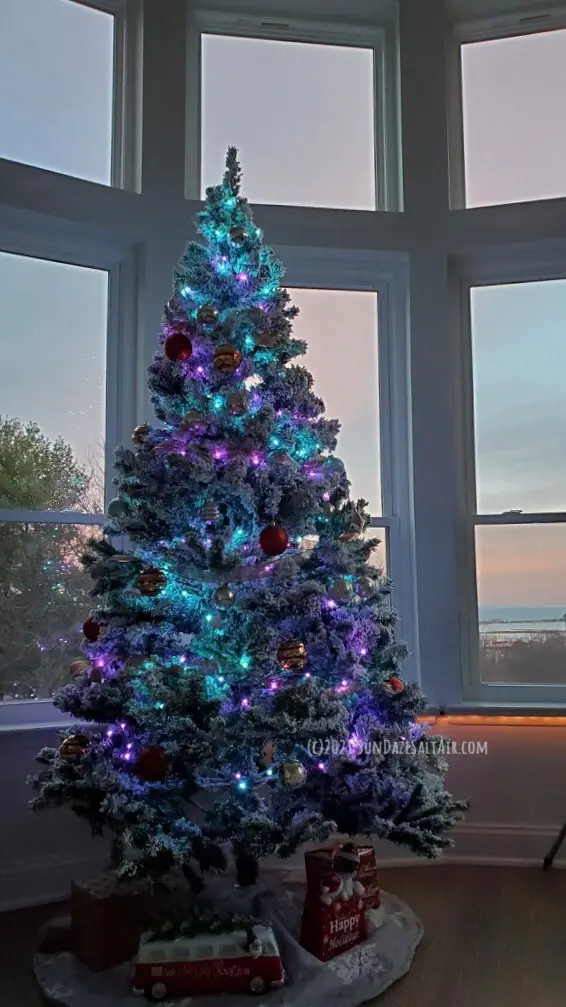 Extra TIP #6: How To Hang Stars, Snowflakes & Other Ornaments From Your Ceiling Without Damage
If you want to hang anything from the ceiling it needs to be sturdy enough for the weight load, while not damaging to your ceiling.  You will also likely want your hanging apparatus to be relatively discreet so the object appears to be suspended from the ceiling or floating in mid-air.  With these considerations in mind, here are a few options:
For Lightweight Items:
For lightweight items that can be hung by fishing line or streamers, consider using subtle adhesives like double-sided tape or mounting putty.
Mounting putty is wonderful for light objects and can be re-used the following year.  It can easily be stuck to your ceiling by applying a little pressure.  Disguise the putty by covering it with a doily, ribbon or bow.
Adhesive hooks like command hooks are another option for lightweight decorations.
For Midweight to Heavier Items:
You can choose Gaffer's tape for stronger adhesive abilities.  Made with fabric material rather than vinyl or plastic, it is less likely to harm the surface to which it is adhered than duct tape.  It is also less likely to leave behind residue when removed.
Heavier objects may require thumbtacks, hooks or even nails, from which fishing wire, string, yarn or twine can then be draped to suspend your ornaments from the ceiling.  Use silky ribbon to hide any unsightly wire.
Follow These Tips To Effortlessly Decorate A Room With High Ceilings For Christmas & The Holidays
Use these tips, tricks and inspiration and in no time, your high ceilings will transform into your own version of a winter wonderland.  Bookmark and share this page to make sure every large room has a little bit of coziness and sparkling winter magic this holiday season…
********
What are some of your favorite ways to decorate your rooms with high ceilings for the holidays?  Share in the comments!