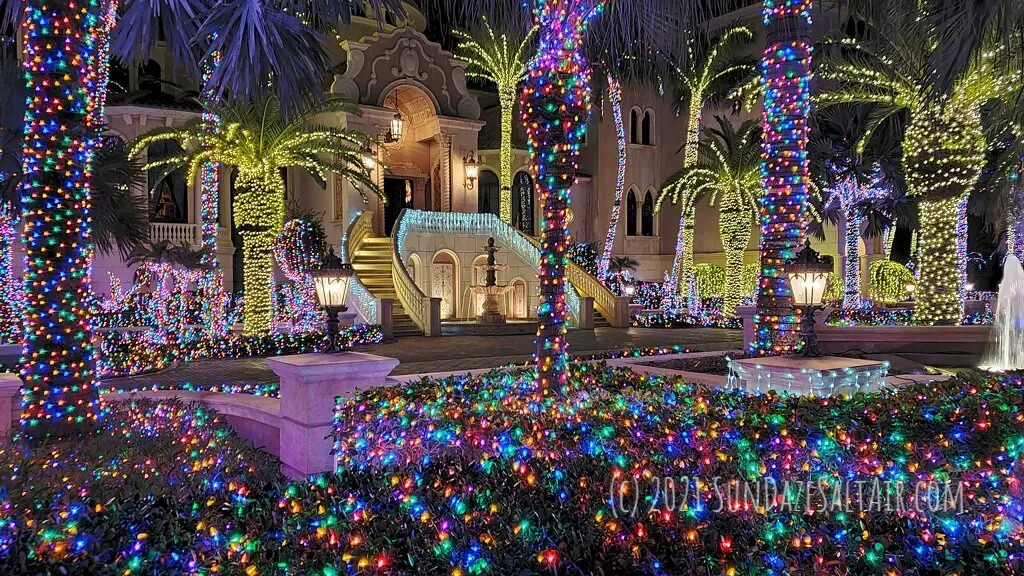 The Best Colorful Landscape Lighting Ideas With Color Changing Lights Plus Advantages Of LED Outdoor Lights To Illuminate Your Landscape
Light Up Your Landscape With Color… Advantages Of LED & Solar Plus Outdoor Lighting Ideas
You work hard landscaping your yard to boost your home's curb appeal in daylight hours.  But why should your home and garden only stand out in the daytime?  New outdoor multi-color LED and solar lighting options are simpler and less complicated than ever to both install and control.  The available options are not only easier to use but affordable, enabling any homeowner to create a professional-looking and colorful "lightscape" at any budget.  And I am not just talking about lighting up your landscape during the holidays — although energy efficient LEDs now make even the most spectacular displays more energy-saving and affordable.  Color-changing landscape lights allow you to boost your home's nighttime curb appeal year-round, changing colors and styles for the season or whenever your heart desires.
Let's look at some colorful lighting ideas, plus the advantages of LED and solar options to recreate the beautiful exterior lighting effects pictured here.
Find out how to add even more curb appeal & value to your home & garden with the addition of an enchanting arbor here…
**Note: This post contains affiliate links for which a small commission may be earned if you decide to make a purchase through a link.
Advantages Of Adding LED Color Changing Lighting To Your Landscape
There are as many ways to play with color changing lighting as there are reasons to incorporate it into your home and landscape.  Let's explore why you may want to add color changing LED lights to your property…
Outdoor Color Changing LED Lights Let You Get Creative With Color Strategically
Think of colorful exterior lighting as another way to creatively landscape your home but, instead of using plants or flowers to draw attention to your property, you are using colorful lights instead — let's call it "lightscaping."  LED lighting, in particular, allows for more precise, strategic and directional illumination of areas, enabling you to highlight your home's architectural features and any prized trees or plantings you may want to showcase at night.
Illuminate Trees, Fountains & Architectural Features With Strategically-Placed LED & Solar Lights
The directional capabilities of LED lights make it easy to illuminate outstanding features such as fountains, trees, arbors or statues, rather than simply brightening entire areas.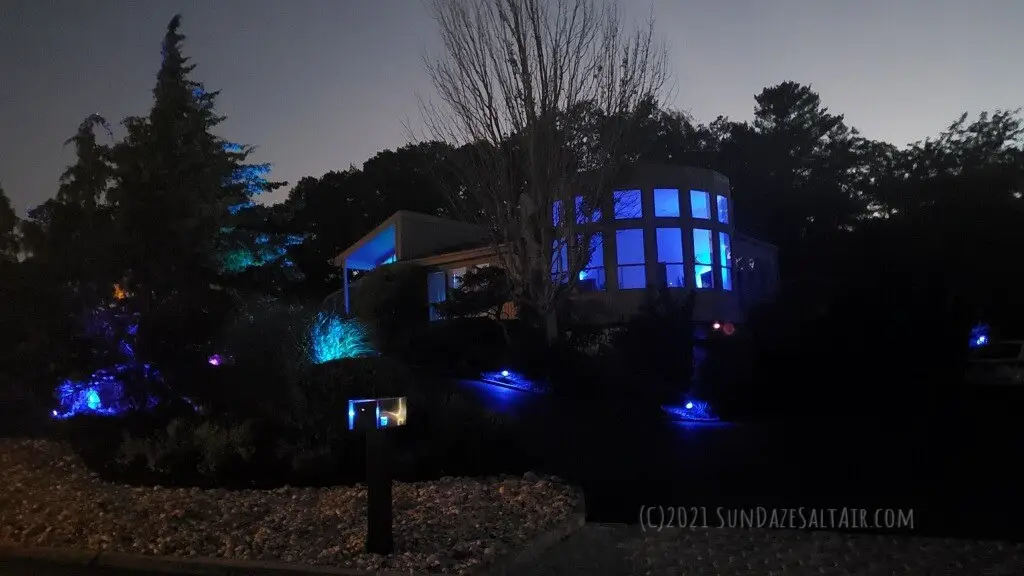 The color changing LED landscape lamps illuminating the contemporary home pictured throughout this post include 16 static colors with adjustable brightness & 4 dynamic light modes, which are easy to adjust by remote control…
LED Lights Enable A Wide Range Of Color Possibilities To Easily Manipulate & Change Colors 
Unlike other lightbulbs, LED, short for Light Emitting Diode lights, allows you to create a wide variety of colors on the spectrum for maximum versatility and creativity.  Each individual light-emitting diode is tiny making it relatively easy to combine colors to create the ideal shade.  Of course, most colored LEDs that are budget-friendly will have color combinations pre-determined by the LED's manufacturer.
Because they are so tiny, a standard color-changing LED contains three separate diodes in the same bulb casing.  Each of these diodes emits its own unique color, either red, green or blue.  When all three diodes are switched on at full intensity, white light is produced.  Adjusting the intensity of each diode enables a vast range of different shades and colors to be created.
Since LEDs tend to have a much better light output with a wider range of colors, you can achieve effects from the deepest, warmest red to the brightest, cool blue.
Smart LEDs Let You Control & Change Colors From A Remote Or From Your Phone
Over the past few years, innovative, "smart" LEDs have exploded in popularity.  "Smart" LEDs, of course, consist of innovative technology that allows you to control the color of your LED lights through a remote control or through an app on your smartphone or other "smart" device.
Needless to say, the wide array of color options plus the ease of control offers numerous opportunities to express your creative side to create dramatic landscapes to reflect every mood.  Which brings us to….
Outdoor LED Lights Make Holiday Home & Yard Decorating Easy
Gone are the days of dealing with tangled string lights or broken bulbs.  Adding outdoor lighting to your home has always been a festive way to celebrate the holidays, especially Christmas.  Now, the current vast selection of "smart" LED exterior lighting options gives homeowners an excuse to light up their landscape on other holidays as well.  LED's versatility makes it easier than ever to deck your home and garden out for any occasion with the varied color options. Celebrating holidays like Halloween in vibrant, living color with the flick of a remote or "smart" device has never been easier…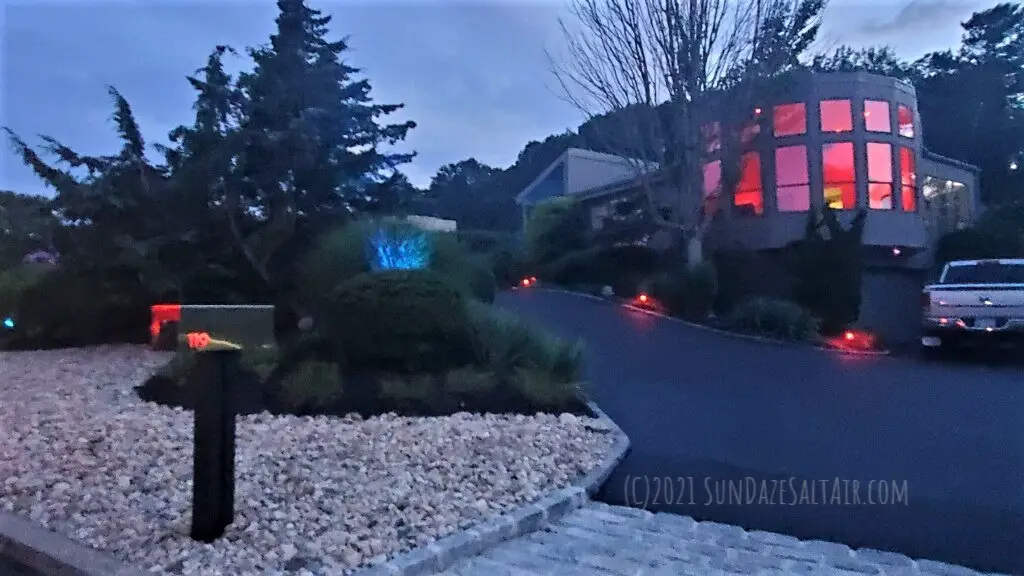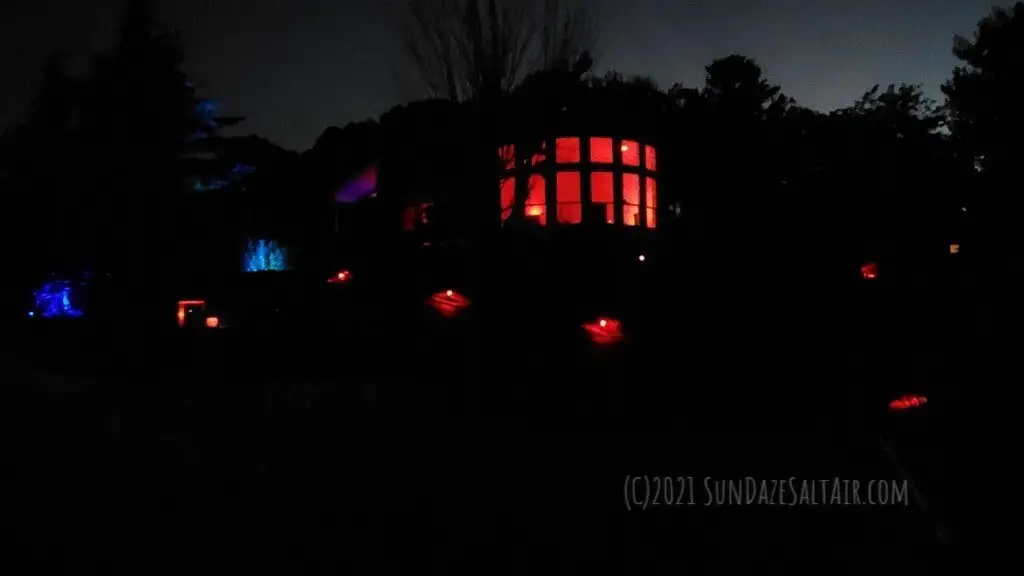 Give your home & landscape a spooky, foreboding effect this Halloween with remote-controlled color-changing LED lights…
Outdoor LED Lighting Enhances Home Security
Lighting the exterior of your home and landscape not only places the "spotlight" on beautiful property features you wish to emphasize, it can also enhance your home security.  Strategically placed lighting at doorways, entrances and paths can deter would-be burglars or intruders by brightly illuminating otherwise shadowy areas.  Using "smart" technology allows you to turn on your lights remotely from wherever you are so your property is well-lit and secure even if you are not around.
Exterior Lighting Extends Time Spent Outdoors
Whether colorful or not, durable, dependable outdoor LED lights can extend the amount of leisure time you and your family get to spend outside.  Durable exterior landscape lighting allows you to enjoy your outdoor living spaces, no matter the weather, even as the days grow shorter well into the autumn months.  Plus, the vibrant color options let you set the mood for outdoor parties and gatherings.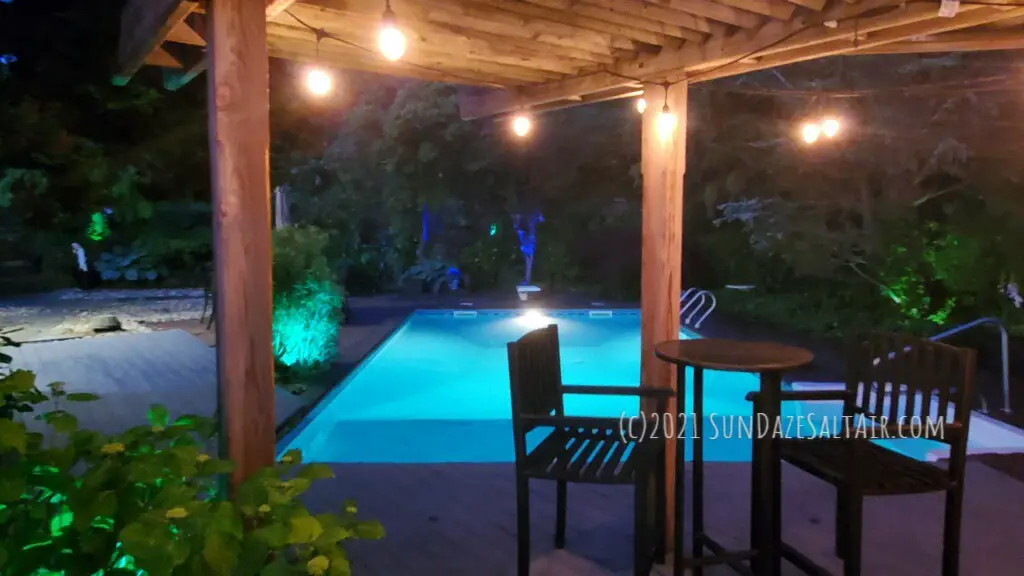 Outdoor Lighting Placement Tips
There a number of considerations to take into account whether you install a relatively simple DIY lighting system or hire professionals to do the job, but here are some exterior lighting placement tips to get started:
TIP # 1… How Many Outdoor Lights Will You Need For Your Home & Garden? Think A Few More Rather Than Less
While only you can determine the exact look you are going for, given your property size and other factors, one rule of thumb to achieve the most professional-looking lighting job is to go with a few more lights than you think you'll need.  From my experience and the experience of friends who installed their own exterior lights, it pays to add a few more fixtures to achieve maximum impact, balance and symmetry.
It's easy to underestimate the amount of lights needed to really illuminate your home and garden to make an impact at night.  This is especially true if you go only with solar lights, which are typically much less intense.
TIP # 2… Where Should You Place Outdoor Lighting?
Another tip for placing exterior lighting sources is to consider the need to place a light on either side of any larger or wider features you are trying to illuminate.  Not only does it add symmetry but two light sources shining on the object fully illuminate property features that you wish to stand out.  For narrower objects, one lighting source may be sufficient.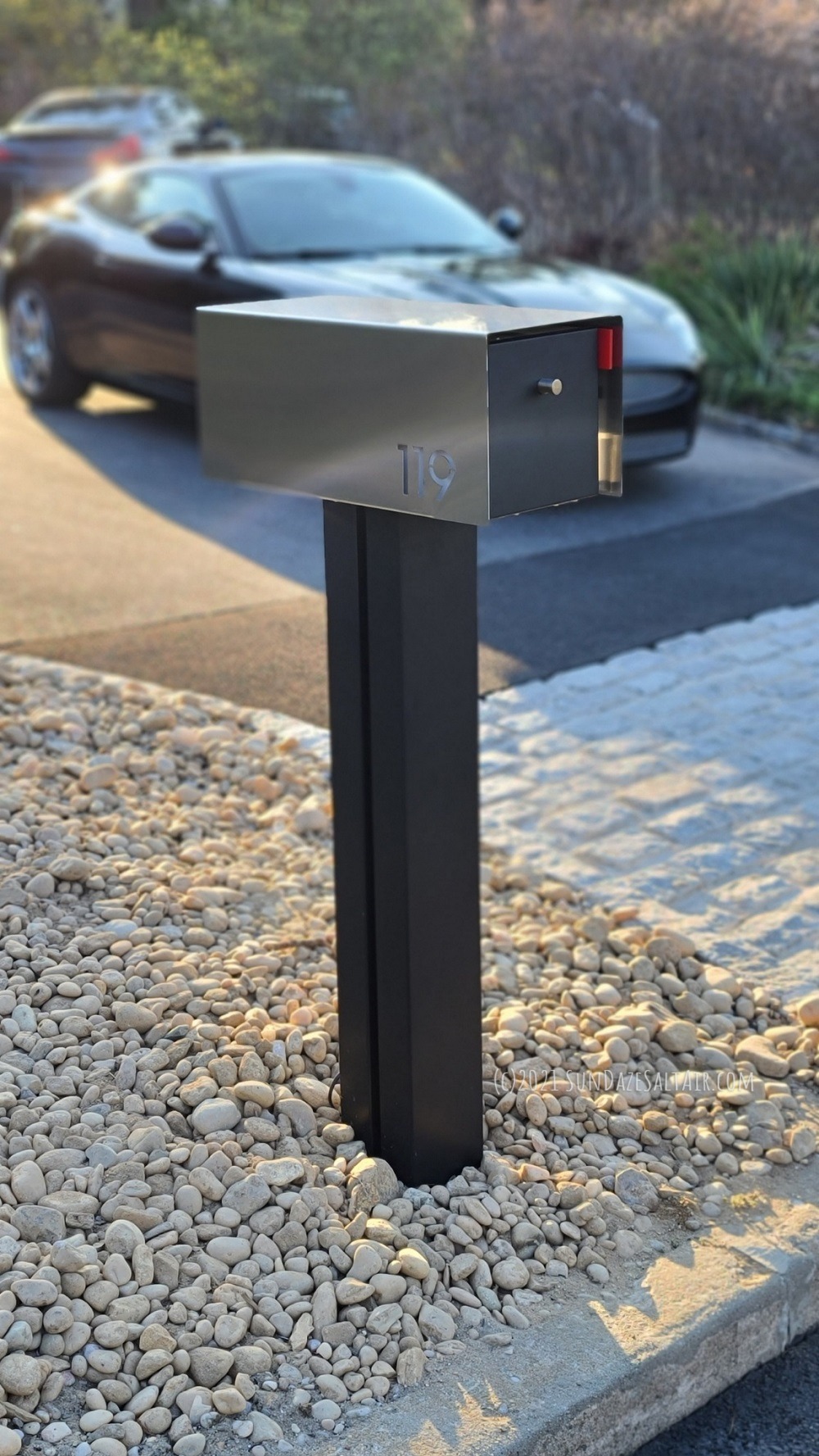 TIP # 3… How Far Away Should The Light Source Be From The Feature It Is Illuminating?
It goes without saying that lights that are placed too close to your object will not properly illuminate the entire object.  At the same time, lights placed too far away will cause the lighting effect to be too diffuse and washed out.  The solution is to place your light source a little over a foot to a foot and a half away from the feature you wish to highlight.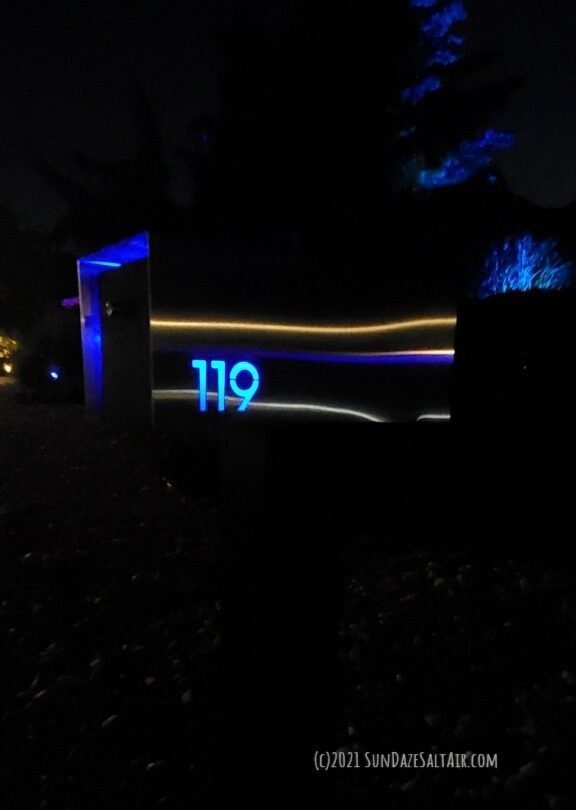 More Advantages To Using LED Lights To Illuminate Your Outdoor Spaces
Choose LED Color Changing Landscape Lights For The Wallet & The Environment
There are a number of benefits LED lights have over types of lighting including incandescent bulbs and CFLs (compact fluorescent lights).  First off, LED lights are highly energy efficient, producing more light with less energy.  Since they use less energy than their counterparts, over time this should translate to lower utility bills.  LEDs overall lower electricity consumption also means less waste from spent-bulb disposal, as well as reduced carbon emissions for the environment.
No Mercury, More Eco-Friendly 
LED Lights Contain No Mercury
Another important advantage LED lights have over other types of lamps is that they do not contain any mercury at all.  As a result, choosing LEDs should reduce dangerous mercury absorption in the environment.  This also means that, while you may need to take extra steps to dispose of other, mercury-containing bulbs such as CFLs, mercury-free LEDs can be disposed of without any extra precautions.
LED Lights Are Much Cooler Making Them Safer For Your Guests & Property
In addition to being energy-saving and environmentally friendly, LEDs also have the potential to be safer.
The fact that LED lights use a fraction of the energy of other types of bulbs means they generate less heat, making them cooler and easier to handle than incandescent bulbs and CFLs, both of which release most of their energy as heat.  In addition to being safer to handle, they also have an incredibly long lifespan.
LED Bulbs Last Longer – So Long You May Hardly Ever Have To Replace Them
Depending on usage, an LED bulb generally has a lifespan of roughly 40,000 to 50,000 hours versus 12,000 hours for an incandescent bulb.  Factor that in over time and considering the size of your property and you may well be saving a substantial amount of cash over the long-term…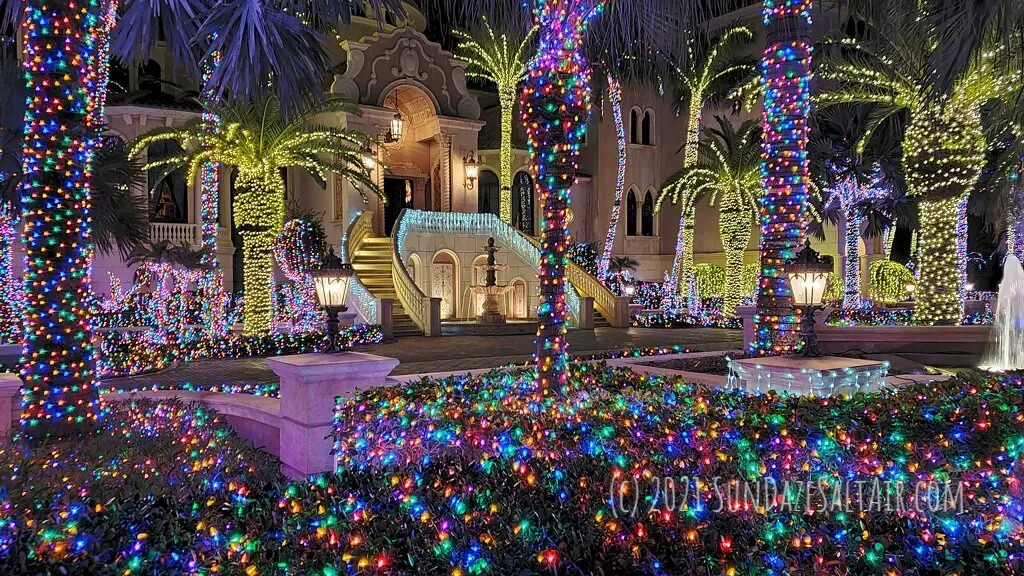 LED Bulbs Are More Durable, Lower Maintenance & Potentially Safer Around Children, Pets & Your Property
Not only will you save money, but you should also save time in maintenance and replacement.  With their longevity, you will need to spend less time monitoring your LED lights for burnt-out bulbs which frees up time to do other things.  LED bulbs are less likely to break than other types of bulbs, which is especially important in yard and garden settings where children and pets play freely and run around.
As mentioned above, LED bulbs generate significantly less heat than other types of light sources making them safer to place within the proximity of children, pets and your property as a whole.
Do You Live Someplace With Extreme Temperatures? LED Bulbs Function Well In Extremes
LED bulbs are also known to withstand temperatures of extreme hot or extreme cold better than other types of lighting sources can.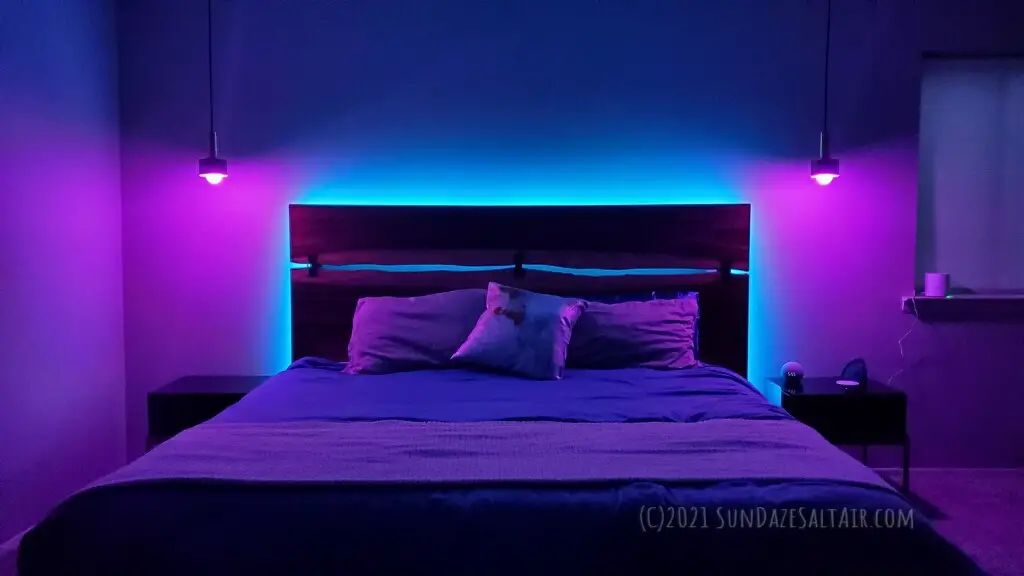 **Are LED Lights Dark Sky Compliant To Minimize Harmful Effects Of Light Pollution?
What Are Dark Sky Ordinances?
Well-lit cities and urban areas have struggled with nighttime light pollution for some time.  As a result, a growing number of communities have passed "Dark Sky" ordinances to help minimize the harmful effects of light pollution; particularly blue light which brightens the night sky more than any other color.  Blue light is also the same light emitted from your smart devices that you may find keeps you up at night.  It should come as no surprise then, that in certain concentrations, blue light has been shown to interfere with human sleep patterns and potentially even with migratory patterns and reproduction of wildlife.  You can read more here.
Outdoor Lighting Precautions To Minimize Light Pollution
Dark Sky regulations seek to protect the visibility of the night sky with common sense recommendations such as keeping lights on at night only as needed and ensuring they are no brighter than necessary.  Simple steps you can take include ensuring your exterior lights are off after a certain hour.  "Smart" LED technology, which allows you to control your lighting remotely, can help ensure your lights are always off by a reasonable time.
Also, keeping your light fixtures shielded to point downwards is another way to minimize excessive brightness.  "Downlighting" can actually enhance the aesthetic appeal of your property by creating a more subtle, eye-pleasing effect.
LEDs & "Dark Sky" Lighting Concerns
A light pollution-reducing advantage of LED lighting is that it can be dimmed as needed.  On the other hand, LED lights do contain larger amounts of blue light in their spectrum.  However, LED lights also tend to be lower in temperature which means less blue light is emitted in favor of more "warm" light.  As a result, running "warm," low-color-temperature LED lights would be an option to address any "Dark Sky" concerns.  While colorful lights are beautiful at night, remember to be considerate of your neighbors and wildlife.
Check with your city or town for more information about local "Dark Sky" ordinances in your area.
**Did You Know..?  LED Lights Don't Attract Insects Quite As Much…
While most of us are aware insects are attracted to lights, it turns out they are not equally attracted to all lights.  Rather, insects are specifically attracted to UV or ultra-violet lights and, it so happens, most LED lights do not emit UV radiation.  Since bugs are attracted to heat, the lower heat-emitting, longer wavelengths of LEDs make them less appealing to bugs.
As a result, choose warm-colored LED light bulbs in colors such as yellow or orange, both of which have longer wavelengths, and do not attract insects to the same extent as incandescent lights.  Knowing this should make summer nights spent in your outdoor living spaces that much more enjoyable — and pest-free.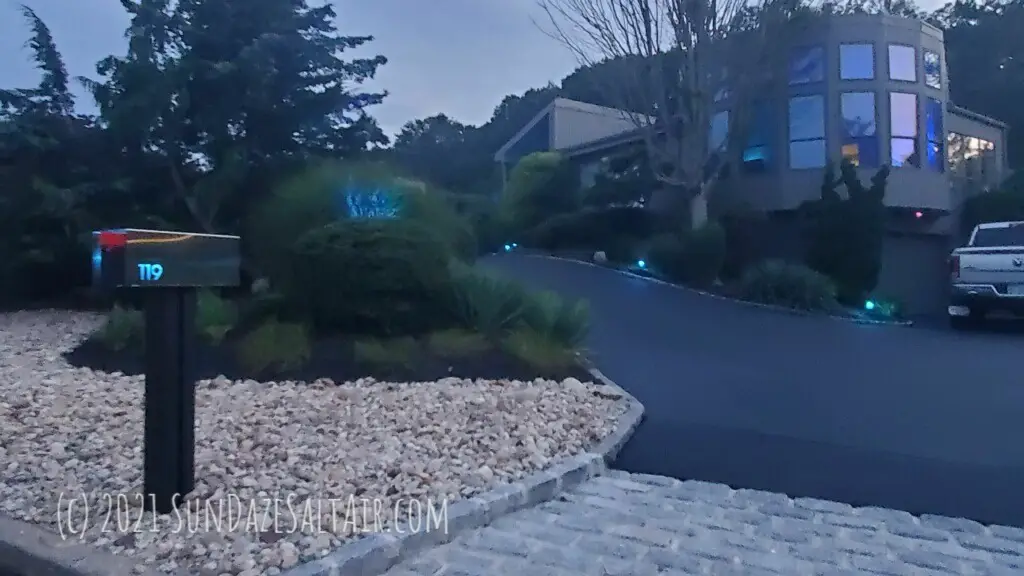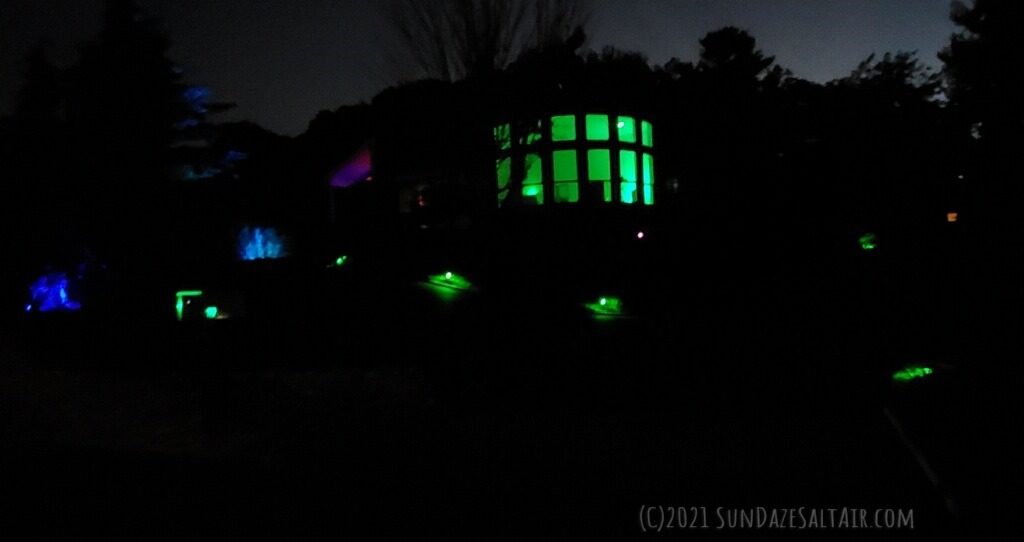 Why Not Choose Strictly Solar Lights For Your Outdoor Lighting Needs?
As the most available, clean source of energy, solar powered lights also offer ease of use and installation, plus an inexpensive cost.  All these factors make solar seem to be an obvious outdoor lighting choice.  However, there are a few drawbacks if you are considering going strictly with solar lights to light up your home and yard.  Since solar lamps depend on the weather, depending where you live, you may never get the high impact look of professional landscape lighting.
In general, solar light bulbs are not very strong and, as a result, often produce a dimmer, less intense lighting effect.  If you do choose to go with solar lighting, make sure to choose the larger spotlights which, while slightly more expensive, provide greater illumination.
For The Best Of Both Worlds Consider Solar-Powered LED Lights For Your Outdoor Color Changing Landscape Lights
Why Are Solar & LED Lamps The Best Combination For Outdoor Lights?
LED produces more light with less energy and heat.  In terms of solar lights, this means that less sunlight is needed in the day so your lighting can be powered even during the darkest hours of the night.
Consider combining the energy efficiency, power and durability of LED lights with the sustainability of solar power for the most energy-efficient and aesthetically pleasing outdoor nighttime lighting effects.  Since LED lamps are compact and sleek, your solar lights can remain relatively inconspicuous in your yard and lining your walkways.  LED's durability make them a perfect choice if you live in harsh outdoor climates.  Since they are not made of glass, LEDs can withstand  high winds, external impacts and other harsh conditions more than any other outdoor lamps.  Their durable nature plus their longevity add up to less frequent replacement which makes LED lamps prefect for outdoor solar lighting set-ups.
********
Any occasion or even no occasion is a perfect time to make your home a colorful showplace.  Do you use color to light up your home & landscape at night?  Share your favorite ways to use color & whether you prefer LEDs, solar or some combination in the comments…