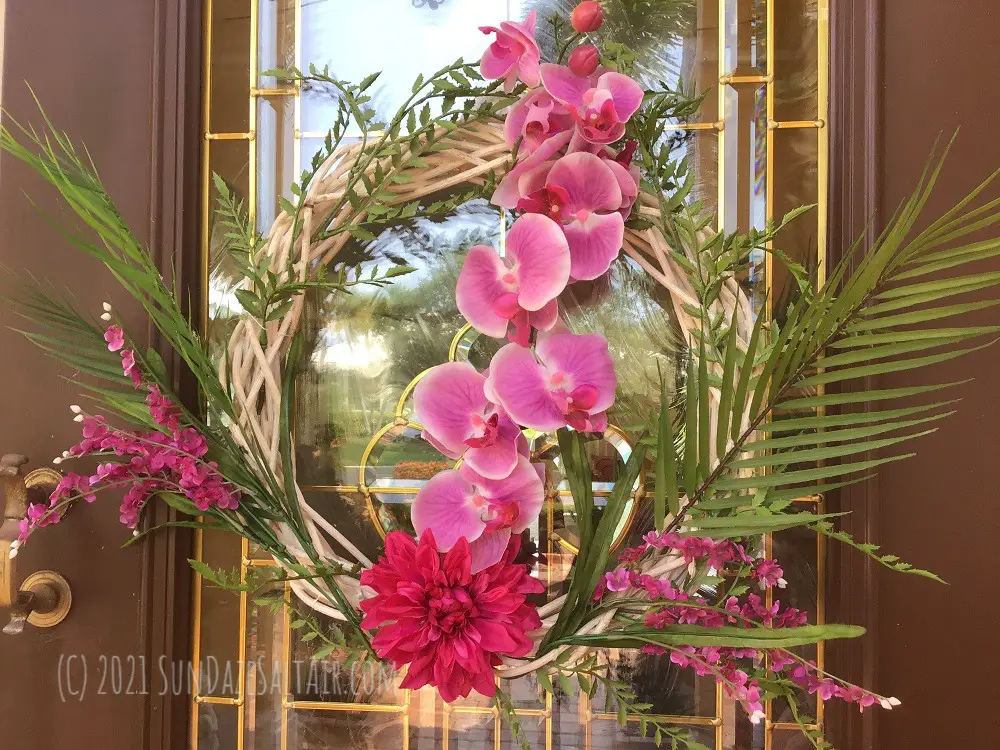 How To Make A Tropical Wreath
Nine Steps To Create A DIY Island-Inspired Wreath Easily & Inexpensively By Transforming An Old Wreath
It may be spring but summer is just around the corner, and what better way to welcome everyone's favorite season than with tropical, summer-inspired decor.  Few things are more evocative of summer than a favorite vacation on a tropical island paradise.  And what better time than now to create your own paradise at home starting with a one-of-a-kind, beachy yet elegant, island-inspired wreath for your front door.  In the this post, you will learn how to make a tropical wreath easily and inexpensively by transforming an old wreath.  But don't limit the sunny tropical island vibes to just your front door…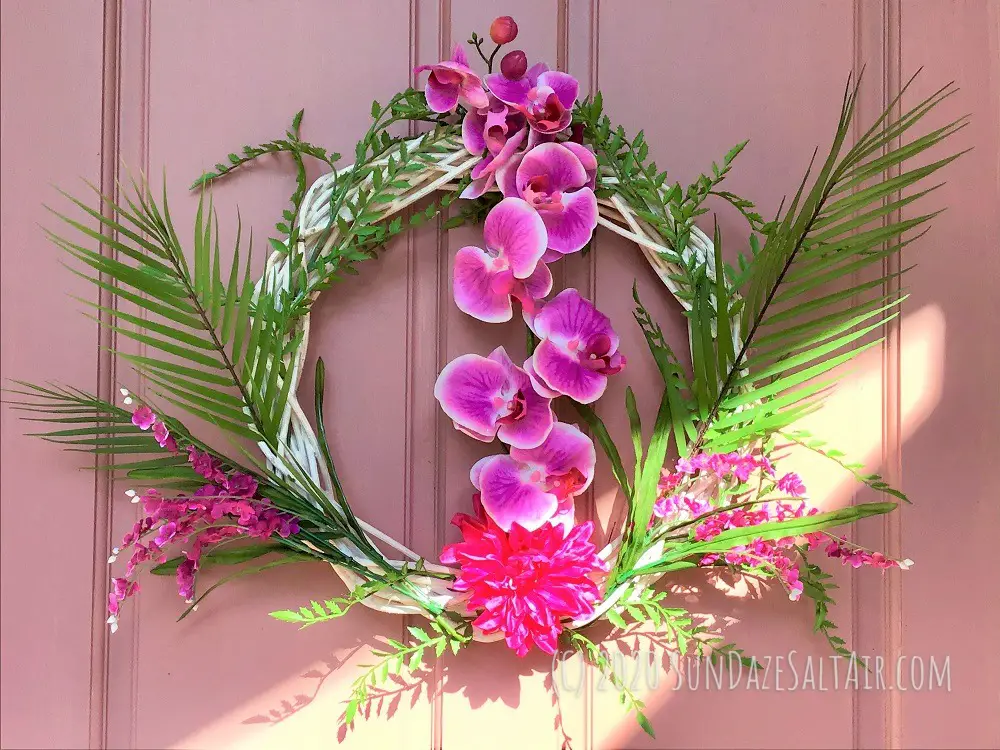 Bring Island Vibes To Your Home Or Next Party By Transforming An Old Wreath
You can place this tropical island-inspired wreath anywhere you want to evoke a tropical vacation vibe, such as on your lanai, at your next backyard luau, graduation party, or even at a summer wedding.  Plus, importing a breezy Caribbean ambiance is a breeze if you recycle any old, weathered wreaths you have lying around.
All it takes is a few supplies and a bit of imagination to gather up elements that remind you of your favorite tropical island destination.  You can even check out this post for some tropical orchid floral inspiration.  So, if you have any old, worn-out wreaths that you considered tossing — don't!  Just dust them off and get ready to transform.  Let's get started…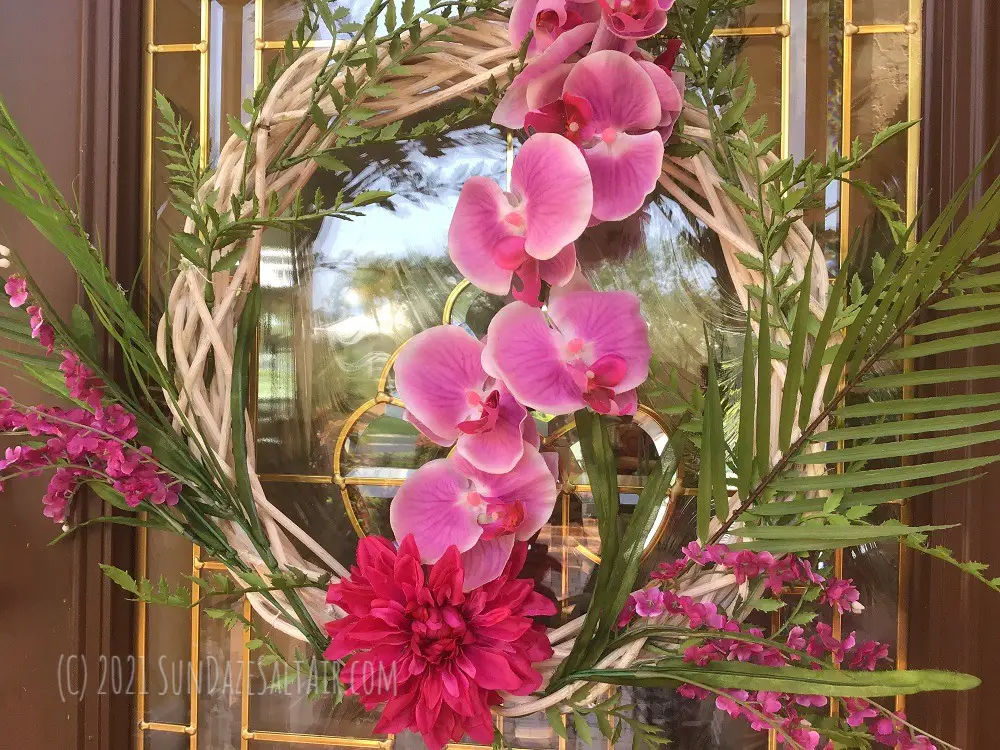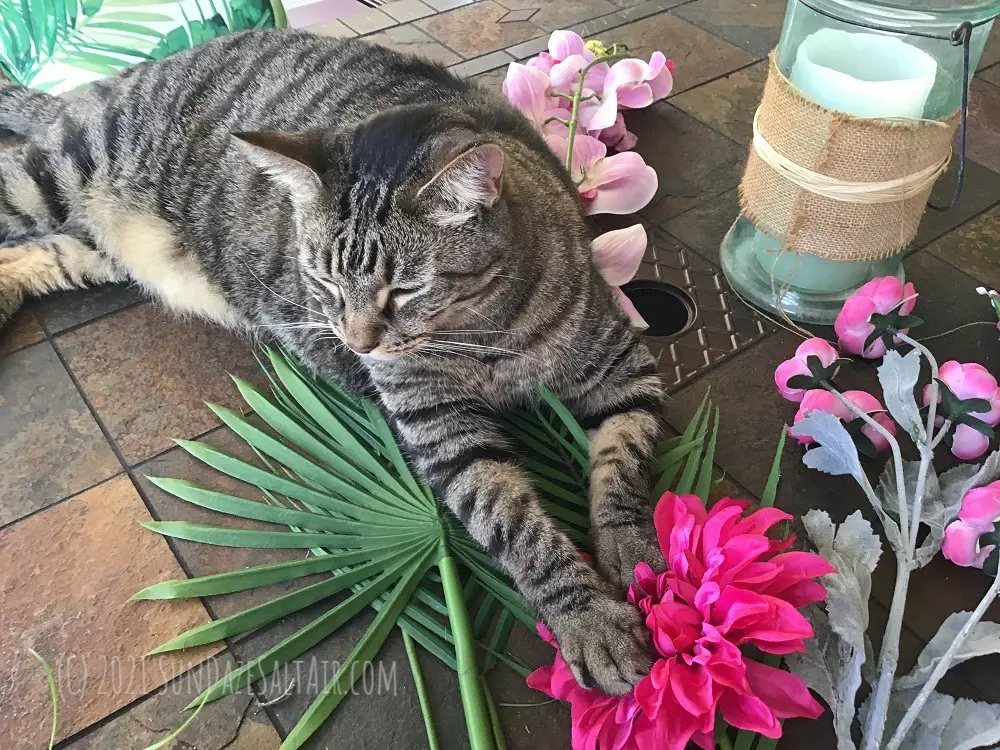 How to make a tropical wreath?  First, make sure any assistant you hire isn't just cute & furry, but doesn't fall asleep on the job…
********
Nine Steps To Make A DIY Tropical Wreath To Capture The Flora & Greenery Of An Island Paradise
Step 1: Select Your Wreath Form
All wreaths begin with a wreath form.  If you are using an old wreath, skip down to section 2, "Recycling An Old Wreath."  If you are purchasing a new one, select the wreath form of your choice, such as foam, twigs or wood form, but keep in mind that the more artificial your choice, the more you will need to conceal it with foliage and flora.  Once you have your purchased wreath, skip down to section 4 below.
I chose to recycle an old, weathered natural wood form wreath that is painted white, which stands out and presents an attractive rustic look even when peeking through the assorted greenery and flowers.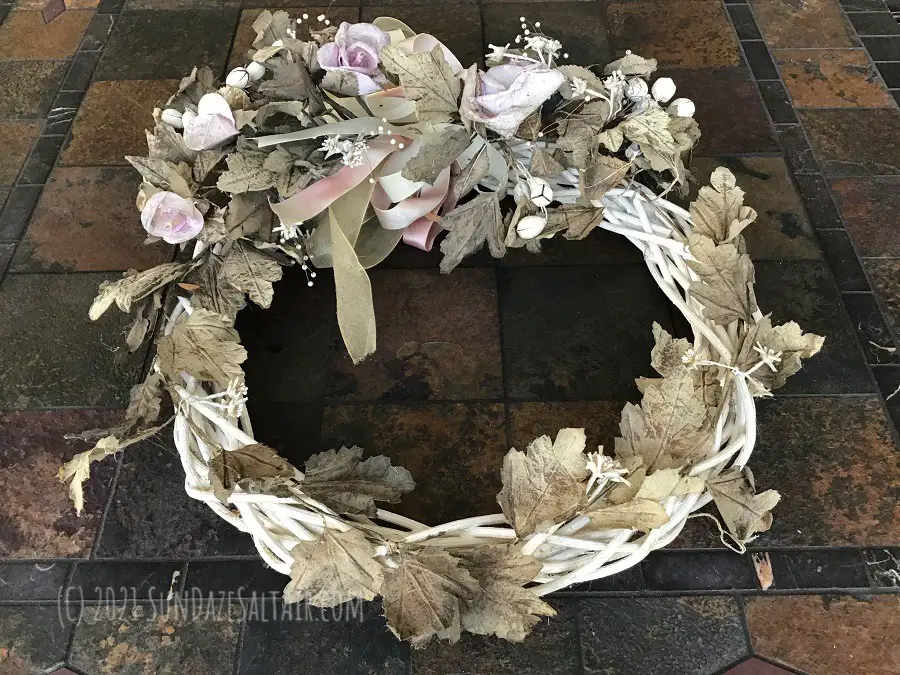 Step 2: If You Recycle An Old Wreath: Strip It
Recycling an old wreath is a chance to be resourceful, less wasteful, and save a bit of money in the long-run.  You just need to do the dirty work of cleaning it up in preparation for its transformation.  This is probably the hardest part especially if your wreath contains metal wire branches.
I began by stripping my old wreath of its faded flowers and bows and removing the branches, which were very tightly bound to the wreath with strong metal wires.  This is where a pair of sharp wire cutters came in very handy.
Step 3: If You Recycle An Old Wreath: Dust & Clean It
Once I carefully cut and removed the branches, flowers and bows, I proceeded to clean the bare wreath in a large sink, dislodging dust and dirt from any crevices.  I then allowed it to completely dry so all the new foliage and flowers would adhere well to the wreath.  Since my wreath is already painted white, it has a clean, modern look that serves as an ideal backdrop for contrasting greenery and colorful flowers.
Step 4: Select Tropical Greenery & Flowers & Outline Your Design
There are a few different approaches you can take when designing your tropical wreath.  Consider these four factors: your style; color scheme; the material your wreath is made of; and where you plan on displaying your wreath.
I decided on a balance of both greenery and colorful flowers for my wreath.  I also chose to allow the rustic white wood of my wreath to show through in spots rather than cover it completely with greenery.  Showing more of the bare wreath seems more summer-y and fresh, and less Christmas wreath-like.  Of course, covering it completely can also work well depending on your wreath material and the look you are trying to achieve.  Let your imagination guide you, and go from there.
********
Materials You Will Need
One plain wood, twig or foam wreath form (if foam, be sure to purchase enough faux greenery & flowers to cover the foam);
Tropical greenery:
Choose tropical and interestingly textured leaves such as: Faux tropical palm leaves or fronds, Monsterra, Philodendron, or ferns of varying sizes, but not too much larger than the wreath itself (some variation helps your design appear more authentic);
Tropical flowers:
Choose any tropical or colorful blooms such as: Faux orchids, Frangipani, Protea, Bird of Paradise, Passion Flower, or Bougainvillea-style flowers;
Supplies:
-Strong adhesive, such as a hot glue gun with glue sticks; Gorilla glue; E6000; or a silicone caulk;
-Wire cutter and/or scissors;
-Twine to tie sections that are difficult to glue;
-A towel or newspaper to collect debris from stripping your old wreath and a clean, large work surface;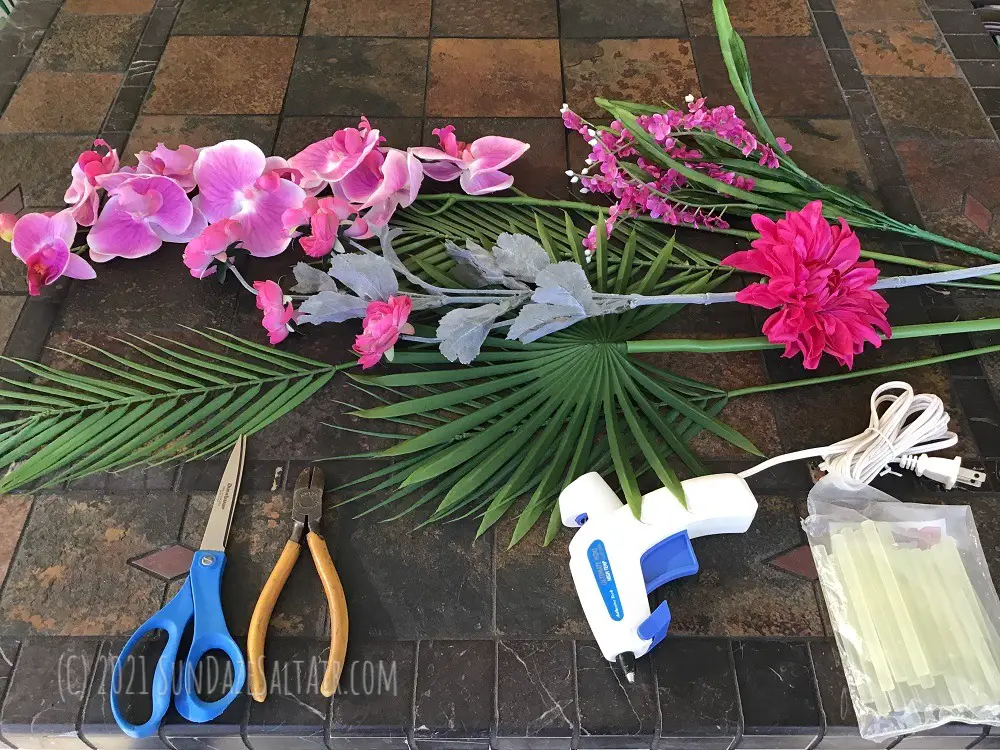 Step 5: Arrange Your Flowers & Plan Your Design
Before you adhere anything to your wreath, especially with any adhesive, be sure to lay out how you want your design to look against the wreath.  Experiment and move your leaves and flowers around until you are satisfied.  Then be sure to take a few photos so you are able to recreate the look when you are ready to apply the adhesive.
Step 6: Trim Your Stems
Once you have decided how you want everything arranged, you should use the wire cutters to cut any stems you don't need.  Alternatively, you can just trim some stems if you need a portion remaining to attach them to your wreath.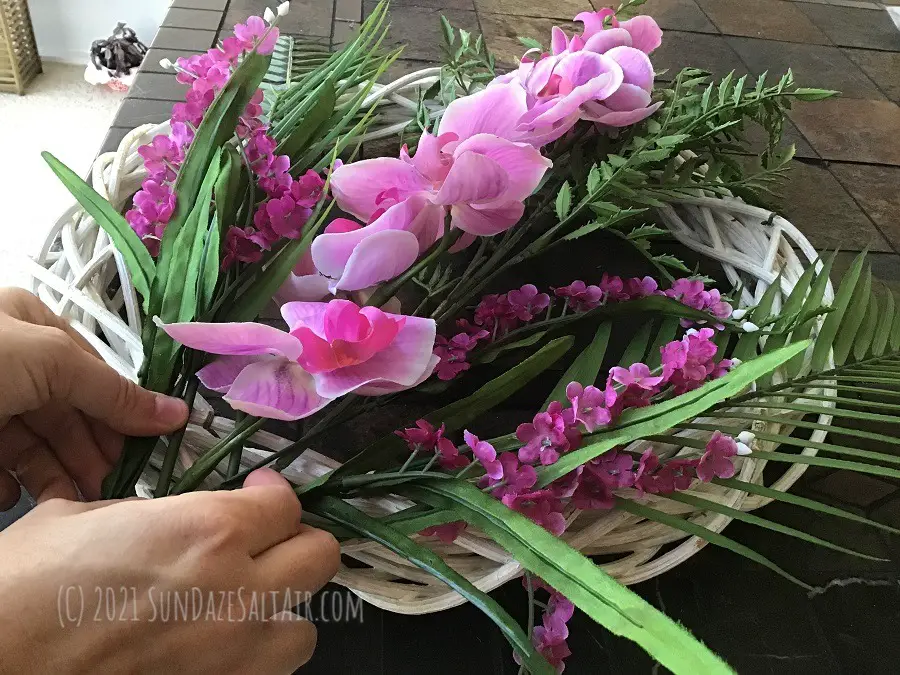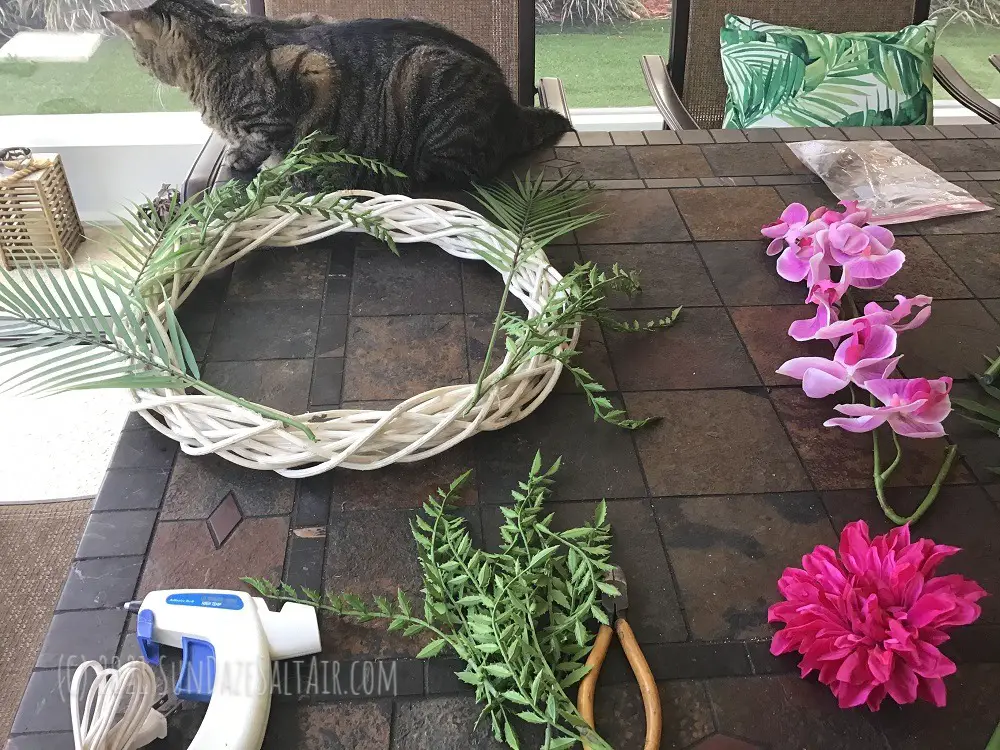 Step 7: Lay Out & Glue Your Greenery
For maximum visual impact, be sure to use a variety of of leaves for texture when you glue the greenery onto your wreath.  You can also alternate their position from facing inward to outward in relation to the wreath.  Too much consistency will result in a dull and boring display.  Cover as much or as little of the wreath as you want to display your own unique style.
You may also want to use twine at this point to help the fronds and leaves adhere to your wreath.
Step 8: Arrange & Glue Your Flowers
If you haven't done so already, use wire cutters to trim the stems off the flowers so they are not visible on the wreath.  Following your design, use your adhesive of choice to glue the flowers onto the wreath.  Feel free to hide some twine between stems where the adhesive needs a little help.
Be creative here and combine different flowers together to achieve your desired color scheme and look.
Step 9: Display!
Now brighten up your door, lanai or next party by hanging your beautiful, island-inspired wreath on a hook.  Or, if you prefer your wreath to hang or dangle more freely, just take a long ribbon and loop it around the top.  Now, leave your stress at the door, and imagine yourself transported to one of those tropical island beaches without a care in the world…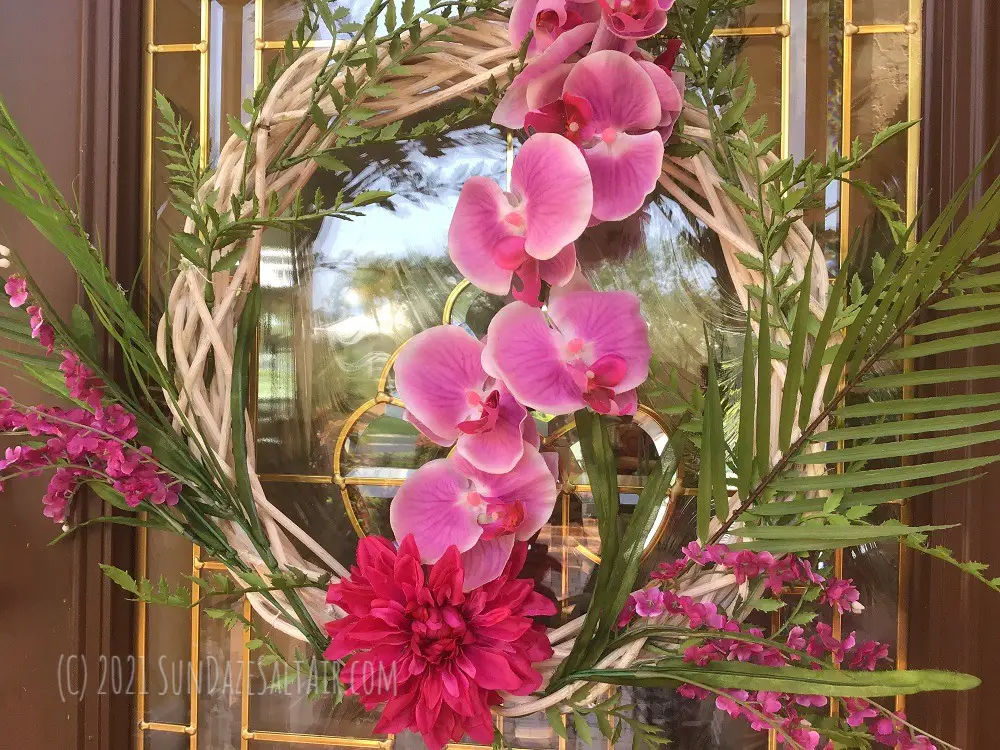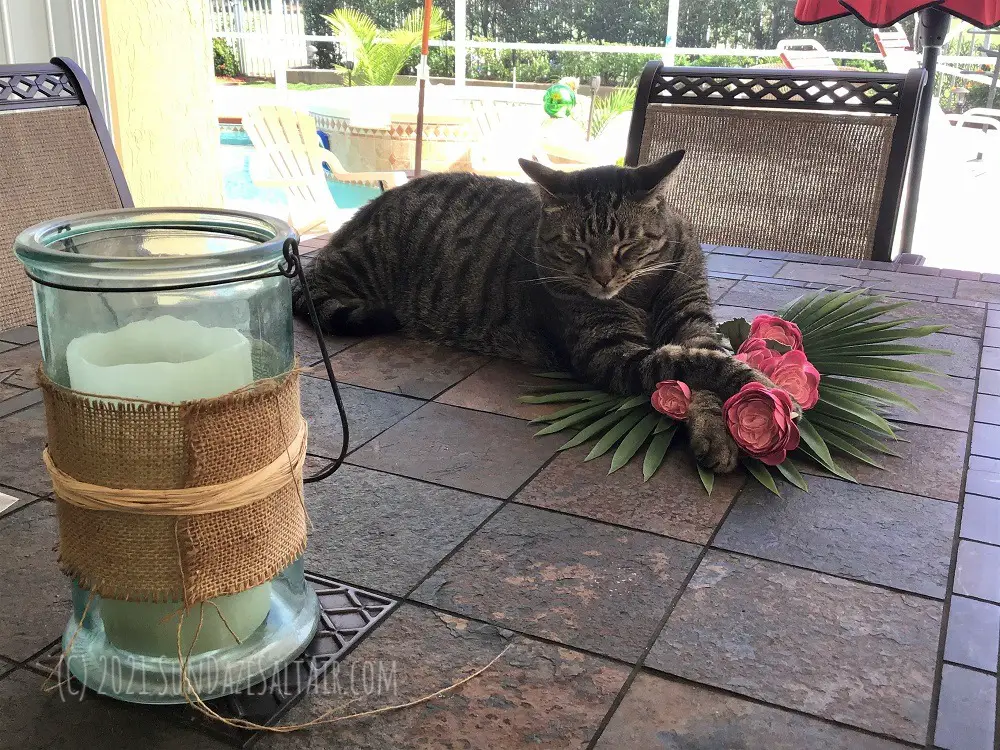 ********
Have you made your own DIY wreath?  How about a tropical wreath?  Share your best wreath making tips in the comments below.