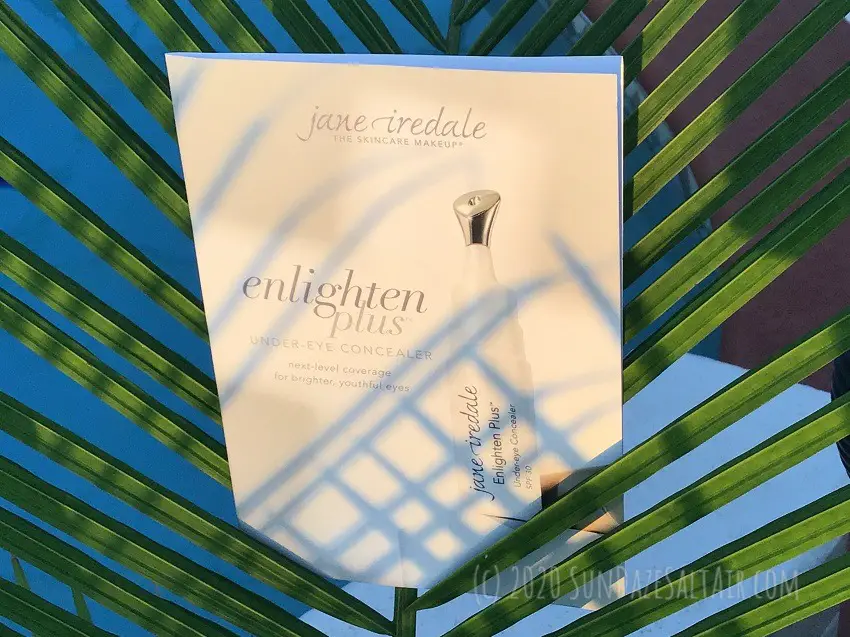 Jane Iredale Enlighten Plus Under-Eye Concealer Review & First Impression
Jane Iredale Enlighten Plus Under-Eye Concealer With SPF 30 - A Review & First Impression
I have not done much in the way of beauty product reviews, however, thanks to a chance encounter with a free sample, I think I've found a product worthy of some attention.  In this Jane Iredale Enlighten Plus Under-Eye Concealer review, I will share my thoughts on how this concealer measures up in term of color correction, wear, and skin-soothing ingredients for sensitive skin.
Like many of you, when it comes to cosmetics, my goal is to look natural and healthy while using as few products as possible.  Plus, in my ongoing attempt at becoming a minimalist, I am quite particular with the products I choose.  Therefore, when I stumbled upon a Jane Iredale Enlighten Plus under-eye concealer sample with a gift I bought, I wasn't expecting much.  Of course, since it is a high-end brand with a good reputation, it was certainly worth a try.
Jane Iredale Enlighten Plus Under-Eye Concealer: A New Addition To The Concealer Market
While I knew about the company, I had never heard of this concealer -- for good reason, since it's brand new.  It is so new, in fact, that it was not even available for purchase until mid-March, which I discovered when I looked into purchasing it.
So, how well does this new contender to the vast under-eye concealer field measure up?  Without further ado, let's take a look at how well Enlighten Plus performed and whether it earns a spot in the bag.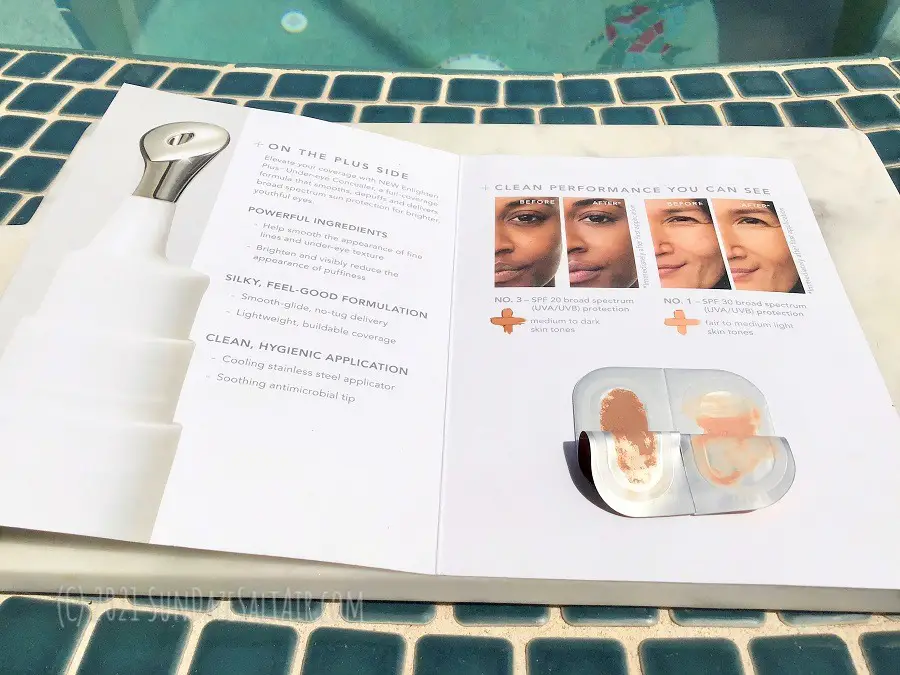 My (High) Expectations For An Under-Eye Concealer
While this review is based on a sample and therefore only short-term use, I did test it pretty hard - in the hot sun while playing tennis and sweating.  Oh, and after a long day I fell asleep in it.  I can hear the gasps now... but I was tired and these things happen in real life.
So, what am I looking for in an under-eye concealer?  For some background, there are days I can skip under-eye concealer but, like many women, I do have days where I would like to look more well-rested.  I would say my skin type is normal but sensitive and I am lucky not to have many fine lines around my eyes.  Since natural and minimal are my goals, I want a product that provides color correction to tone down any darkness without the need to use a lot of product.
I also happen to live in a hot and humid place so I appreciate anything that does not slide right off.  On top of all that, I would prefer a concealer that does not contain questionable ingredients, and one which is non-irritating to the delicate eye area.  Plus, since I spend so much time outdoors, the addition of sun protection is greatly appreciated.
Is all of this asking too much?  A tall order, yes, but, one that Jane Iredale Enlighten Plus surprisingly managed to fulfill.
Jane Iredale Enlighten Plus Under-Eye Concealer Review: Packaging - Enlighten Plus Promise: A Clean, Hygienic & Cool Application
Before I discuss my experience with the product itself, the first thing I noticed from the sample photo is the distinctive packaging that features a sleek, stainless steel applicator.  Now, for me packaging is typically of ancillary importance compared to the product itself, but this one does offer some unique benefits.  According to the sample, the stainless steel promises a de-puffing, "cooling" effect, as well as a clean, hygienic application with a "soothing antimicrobial tip."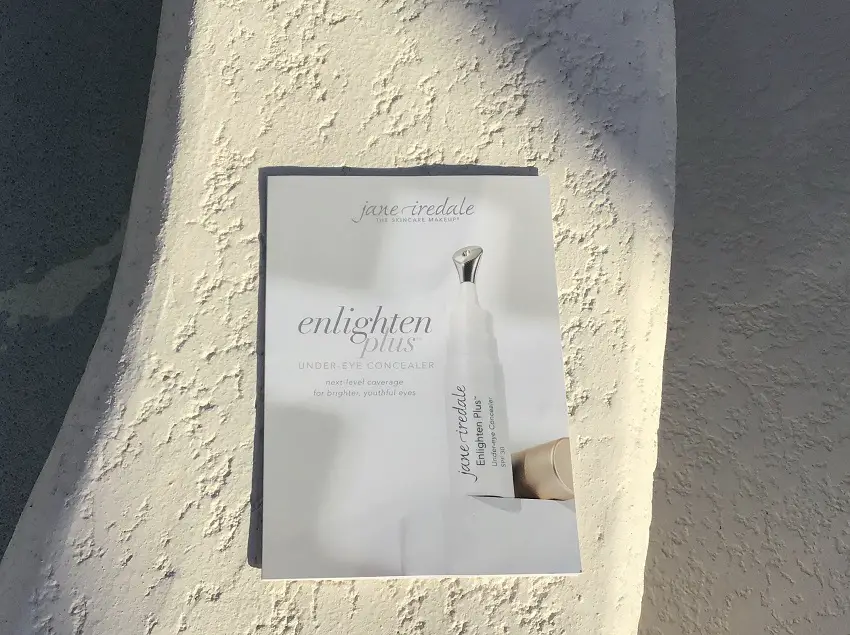 Now, obviously, I did not get to experience these benefits from my sample, but such packaging, theoretically, would provide a "clean" advantage over concealers with more open packaging.  According to the company website, product is dispensed in a pump release for easy, controlled dosing.  Since I did not get to test the packaging, I cannot comment on how well it dispenses, but it definitely offers a more hygienic delivery system.
In addition, the idea of a soothing and cooling steel tipped applicator is appealing and unique.  All in all, the packaging looks to be a sleek yet functional design as far as concealer packaging goes.
Enlighten Plus Promise: To Brighten & Depuff
Thankfully, I don't have any issues with puffiness around my eyes, so I cannot comment on the claim that the concealer helps "visibly reduce the appearance of puffiness" with the addition of quinoa-seed extract.  I would imagine, for anyone with that issue, the effects would be apparent and measured with extended use.  The fact that Enlighten Plus does not seem to contain many commonly irritating ingredients, by itself, may help discourage signs of puffiness in anyone prone to that issue.  But, more on ingredients and brightening later.
Sun Protection - Enlighten Plus

Promise: Broad Spectrum Sun Protection
Another benefit claimed by Jane Iredale Enlighten Plus is a broad spectrum UVA/UVB SPF of 20/30 -- not something you see everyday in undereye concealers.  It also touts the benefit that it is reef- safe as it apparently does not contain any nanoparticles, ultrafine particles which make their way into our oceans and potentially harm our coral reefs and other marine life.
Now, for a sunscreen confession; while I live in a perpetually sunny place, I must admit that I am terrible with remembering SPF application.  I manage to justify this by always having sunglasses and a hat around.  However, if there is one area where I would definitely appreciate the addition of SPF, it would be for the delicate under-eye skin.  So, if you, like me, are forgetful (ahem, lazy) and live in a sunny place or spend a lot of time outdoors, an under-eye concealer already containing sun protection is a definite advantage.
Jane Iredale Enlighten Plus Under-Eye Concealer Review: Color Selection
The sample I received included two colors, one for lighter and one for darker skin tones.  For the record, according to the company website, the product range includes 5 shades, ranging from 0, the lightest, through 4, the darkest.  For purposes of this review, I am reviewing the light shade included in the sample which is shade number 1, Neutral Peach, for fair to medium light skin tones.
Color 01 - Neutral Peach
One reason I am not usually a fan of many under-eye concealers is that light shades often tend to come in various shades of beige.  Beige appears pale and grey over purple tones, therefore doing little to neutralize any under-eye circles.  Which basically defeats the purpose, right?  It only results in using too much product to over-compensate.  By contrast, peachy or salmon tones, in my non-professional experience, get the job done without using a ton of product.
So, imagine my surprise when I opened the light shade sample, 01, Neutral Peach, the one closest to my skin tone, and saw what appears to be the ideal color-correcting shade.  Neutral Peach really lives up to its name -- it does resemble the perfect "neutral peach" that I look for in an under-eye concealer.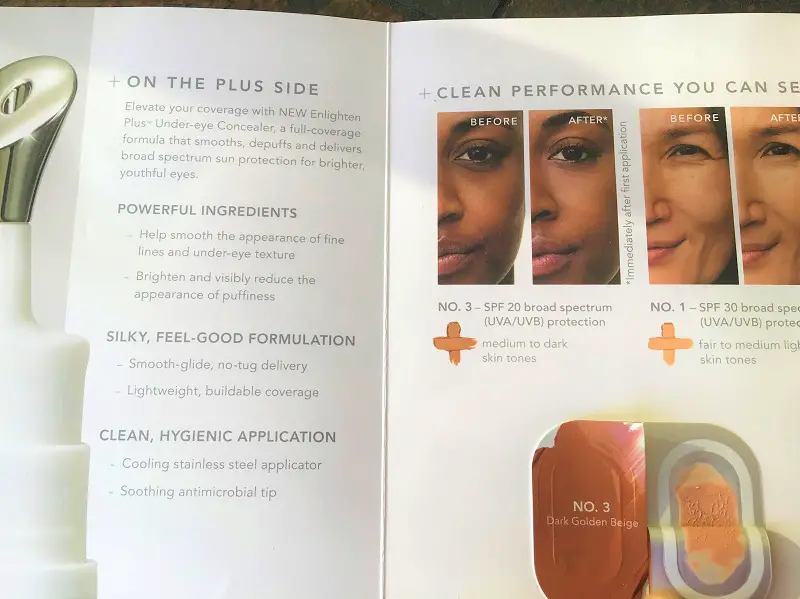 Color Comparisons For Neutral Peach
This particular color reminds me of MAC Studio Finish pot concealer in the NW25 shade.  While I recall liking the natural, peachy shade of the MAC and its consistency, I also remember not being too impressed with the MAC concealer's performance throughout the day.
For another color comparison, although I have never tried it, from what I have seen online in photos, the Eve Pearl Salmon concealer, famous for its color-correcting abilities, also looks similar to Neutral Peach.  If any reader has experience with either that they would like to share, feel free to do so down below.
Since, in my humble experience, it's not that common to find a truly peachy or salmon concealer shade in most brands' color offerings (aside from the two I've listed here), especially with skin-friendly ingredients, I am impressed by the color correcting potential offered by this unique shade.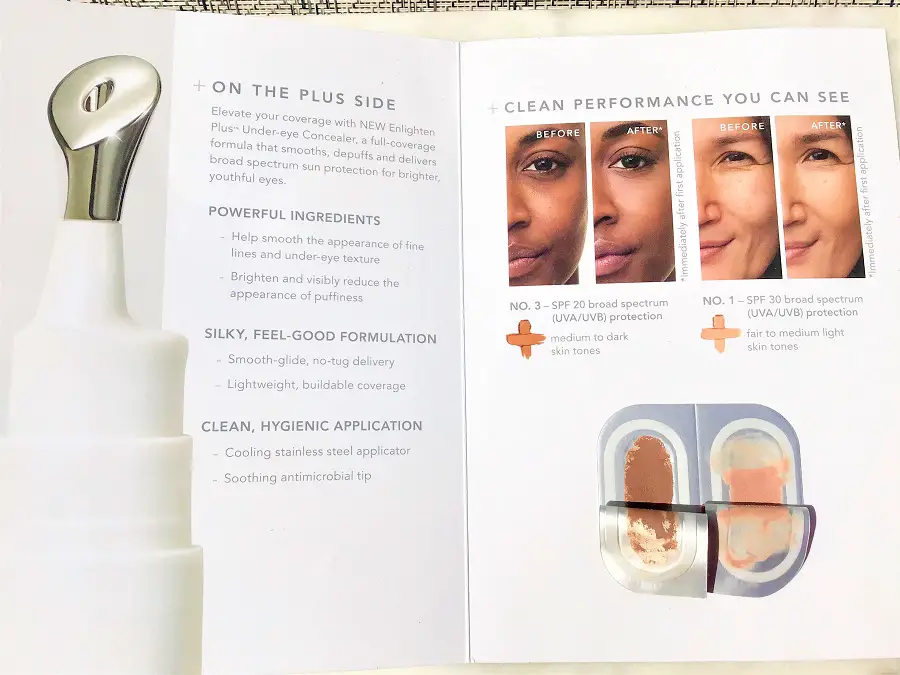 Jane Iredale Enlighten Plus Concealer Performance - Pigmented & Packing A Punch
Enlighten Plus Promise: Next Level Coverage In A Full-Coverage Yet Lightweight & Buildable Formula
To evaluate the performance of Enlighten Plus, I used Enlighten Plus only under one eye and I used my other eye and usual concealer as the "control."
Sure enough, just as I had hoped from the color and the thicker pigmentation, upon application, any undereye darkness was quickly neutralized, requiring only the smallest amount of product.  Again, for full disclosure, I don't have terrible circles, but on this day, I had some purplish discoloration on the inner corner and on the outer edge of my eye.
For a thicker coverage formula, which I personally prefer to a liquid, Jane Iredale Enlighten Plus was surprisingly lightweight and seemed to be quite buildable without getting cakey.  Because the peachy tones did such a good job at neutralizing and simultaneously brightening, I really didn't need to build very much.  Based on my experience, I think anyone with more serious circles should easily be able to build up Enlighten Plus to their desired level of coverage.
Further, the natural, neutral yet brightening peach tones blended well into the slight peachy tones of my skin.  As a result, it did not require a lot of blending so as to not resemble a ghost, as with many light concealer shades.
Jane Iredale Enlighten Plus Under-Eye Concealer Review: Wear & Creasing
Enlighten Plus Promise:

Powerful Ingredients To Help Smooth The Appearance Of Fine Lines & Under-Eye Texture
Now, as I said, I did not need to use a lot of product thanks to the concealer's thicker consistency, and I don't yet have many fine lines, so keep that in mind.  However, I did apply a small amount where lines tend to appear by the end of a long day yet -- surprise -- even when I checked that night, this area managed to be crease free.  I bravely looked into a magnifying mirror, no less, and not only was the concealer still totally intact, without any shadows peeking through, but it was still pretty undetectable even magnified.
Longevity & Smoothness Test
Now, for the ultimate test, I fell asleep without removing the concealer.  Not on purpose, mind you, I was just really exhausted.  Waking in the middle of the night, I fully expected some creasing, and I did seem to have a little just on the outer edge of my one eye.  But then a strange thing happened five minutes later.  After grabbing some water, I glanced quickly in the mirror again, only to see that the slight crease was gone.
Perhaps I slept on that side and after being up for five minutes the skin had "bounced" back even where the concealer was.  Or was it something in this concealer?  The claimed Persian silk tree extract for smoothing fine lines?  The pro-biotic ferment antioxidant protection?  Some type of magic?  Either way, whether it's one of the touted natural ingredients or a silicone or the way I slept, somehow this product managed to avoid settling into any fine lines even after falling asleep in it.  It was impressive to say the least.
Dryness Test
Now this concealer doesn't seem to be marketed as "moisturizing" and I would not say that it is particularly, but it also didn't feel too dry either; especially considering how well it seemed to cover.
I feel most under-eye concealers, except for maybe the most hydrating, such as Tarte Maracuja, will usually emphasize dryness or lines, even if you are relatively line-free, by the end of a long day.  As a matter of fact, I had used It Cosmetics Bye Bye Under Eye, which I consider somewhat hydrating, under my other eye, yet there was not much of a visible difference between that side and the Enlighten Plus side.  I would definitely consider purchasing Enlighten Plus and testing it on a longer term basis to see if this smoothness was a fluke or a consistent benefit.
Bottom-line: The longevity and smoothness even after a long day and night was a pleasant surprise.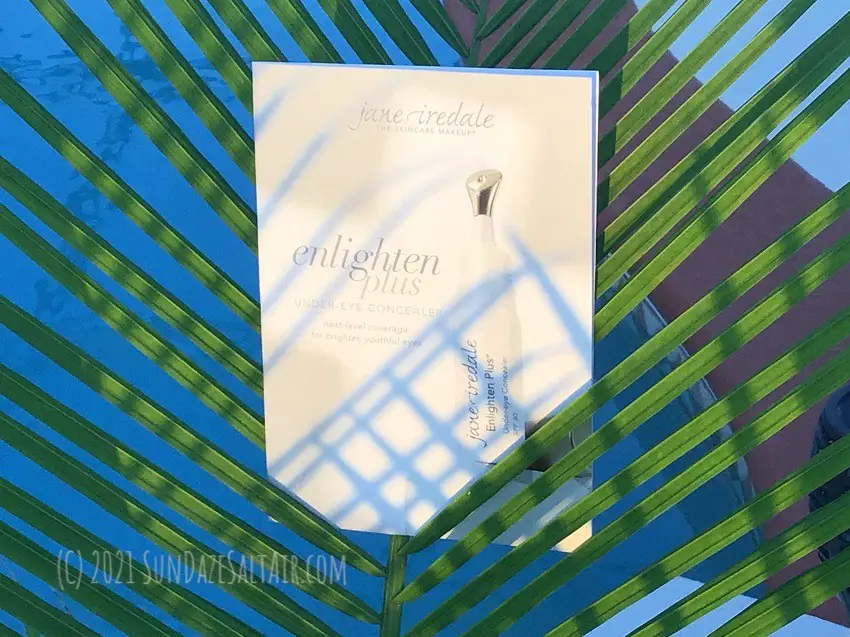 Sensitivity
Enlighten Plus Promise:

Clean Beauty That Performs
Enlighten Plus is formulated with an interesting array of natural "skin-loving" ingredients.  However, it is the ingredients that Enlighten Plus is not formulated with that helps put my mind at ease.  I was happy to see that the formulation does not include a number of common irritating ingredients that I personally try to avoid; ingredients such as mineral oil, fragrances, parabens, synthetic preservatives, and talc.  It also contains no phthalates or nanoparticles, and it states it is non-GMO and vegan.  The sample also states that it is allergy and dermatologist tested, and noncomedogenic and sensitization tested.  It is also cruelty-free.
Since I only have my limited sample, I can't attest to the concealer's extended performance over time.  I do plan on purchasing Enlighten Plus, so I will then get to test it for any long-term sensitivity.  However, in the short-term and after inadvertently wearing it for 12 plus hours, I can happily state that I had no sensitivity issues or irritation whatsoever.
Jane Iredale Enlighten Plus Under-Eye Concealer Review - Natural Looking, Color-Correcting & Skin-Friendly Ingredients
While I try to focus on accepting things without feeling the need to change them -- including dark under-eye circles -- occasionally, there will be days when you want to cover up those hints of purple.  For instance, when you will be under harsh lights, for photos or special events, or after sleepless nights.  And if you are reading this post, more than likely you appreciate the powers of a good, dependable concealer.
If you are looking for a color-correcting shade like peach or salmon that conceals under-eye darkness without requiring much product -- you may want to consider this concealer.  If you are looking for an under-eye concealer without a lot of questionable or sensitizing ingredients; one that gets the job done while still looking quite natural and undetectable, you also might really like this concealer.  You can still feel like a minimalist -- just one who looks like they got 8 hours of sleep.
Jane Iredale Enlighten Plus retails for $44.00, and you can purchase Jane Iredale Enlighten Plus here, where you also receive free returns if you are not satisfied.

********
Have you tried Jane Iredale Enlighten Plus under-eye concealer?  Share your thoughts in the comments down below.