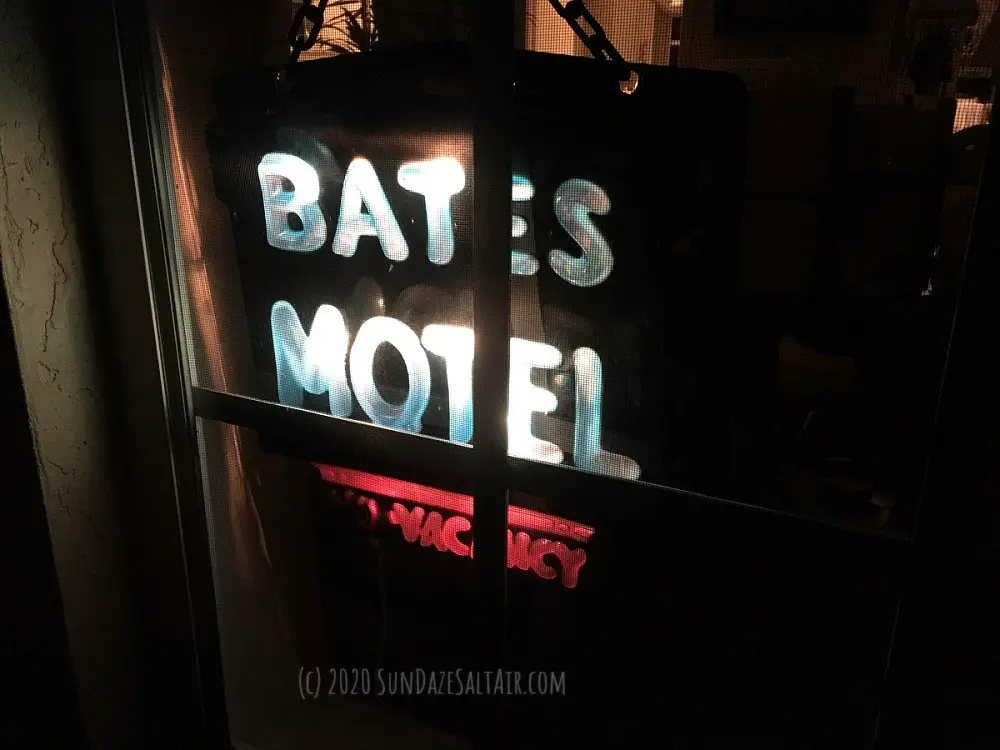 Add Some Hitchcock-Inspired Spookiness To Your Home This Halloween With A Bates Motel Light-Up Neon Window Sign & More Quirky Halloween Decor Ideas Plus Why You Should Include Alfred Hitchcock's "Psycho" On Your Halloween Horror Movie Must-See List
Give Your Home That Norman Bates Vibe This Halloween Season With A Bates Motel Neon Window Sign & More Unique Halloween Ideas For Your "Haunted" Home
"The town was full of trees.  And dry grass and dead flowers now that autumn was here.  And full of fences to walk on and sidewalks to skate on and a large ravine to tumble in and yell across.  And the town was full of...  Boys.  And it was the afternoon of Halloween.  And all the houses shut against a cool wind.  And the town full of cold sunlight.  But suddenly, the day was gone.  Night came out from under each tree and spread."   
Ray Bradbury, "The Halloween Tree"
"I don't even bother with, uh, guests registering anymore.  You know, one by one, you drop the formalities.  I shouldn't even bother changing the sheets but old habits die hard."
Norman Bates, "Psycho"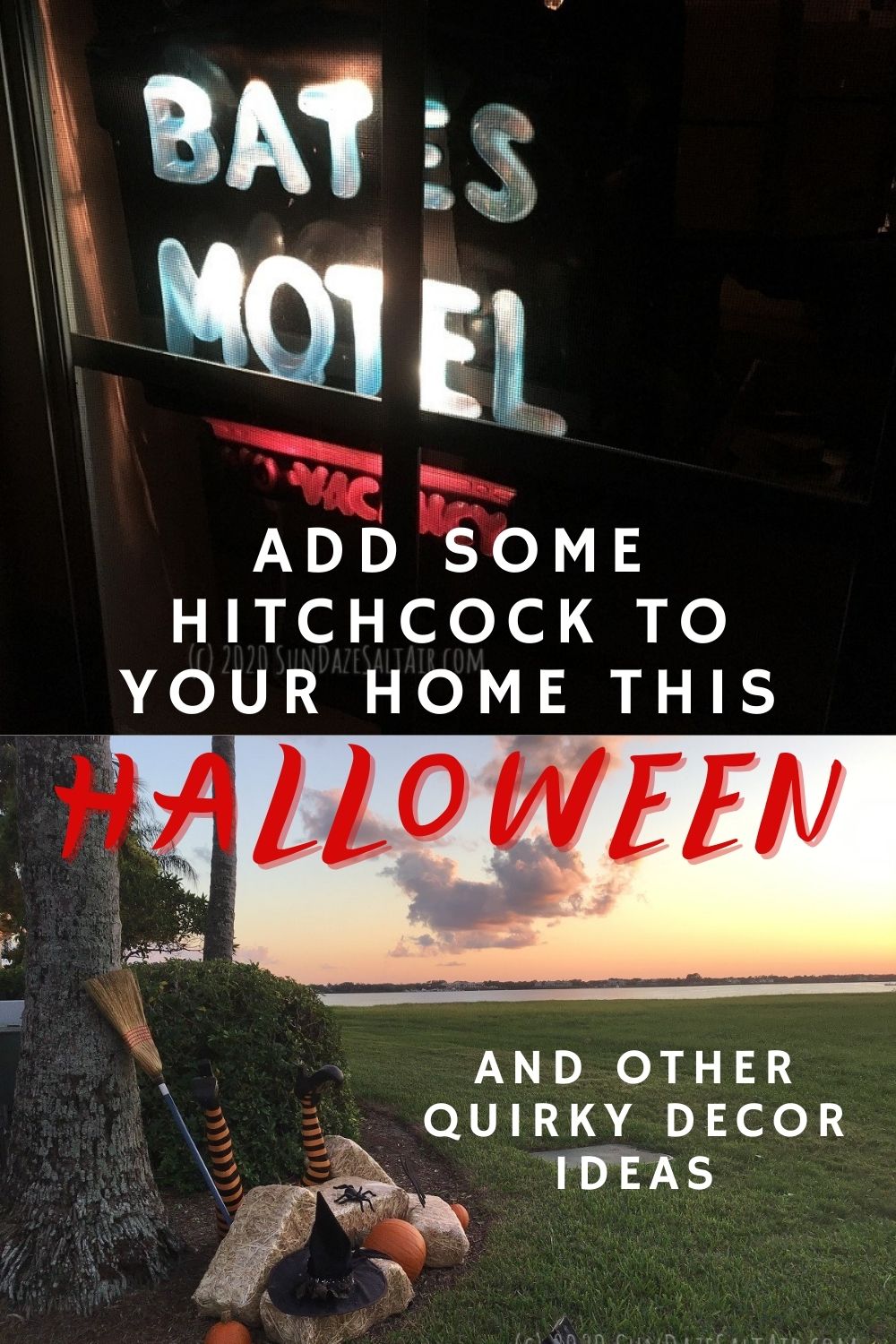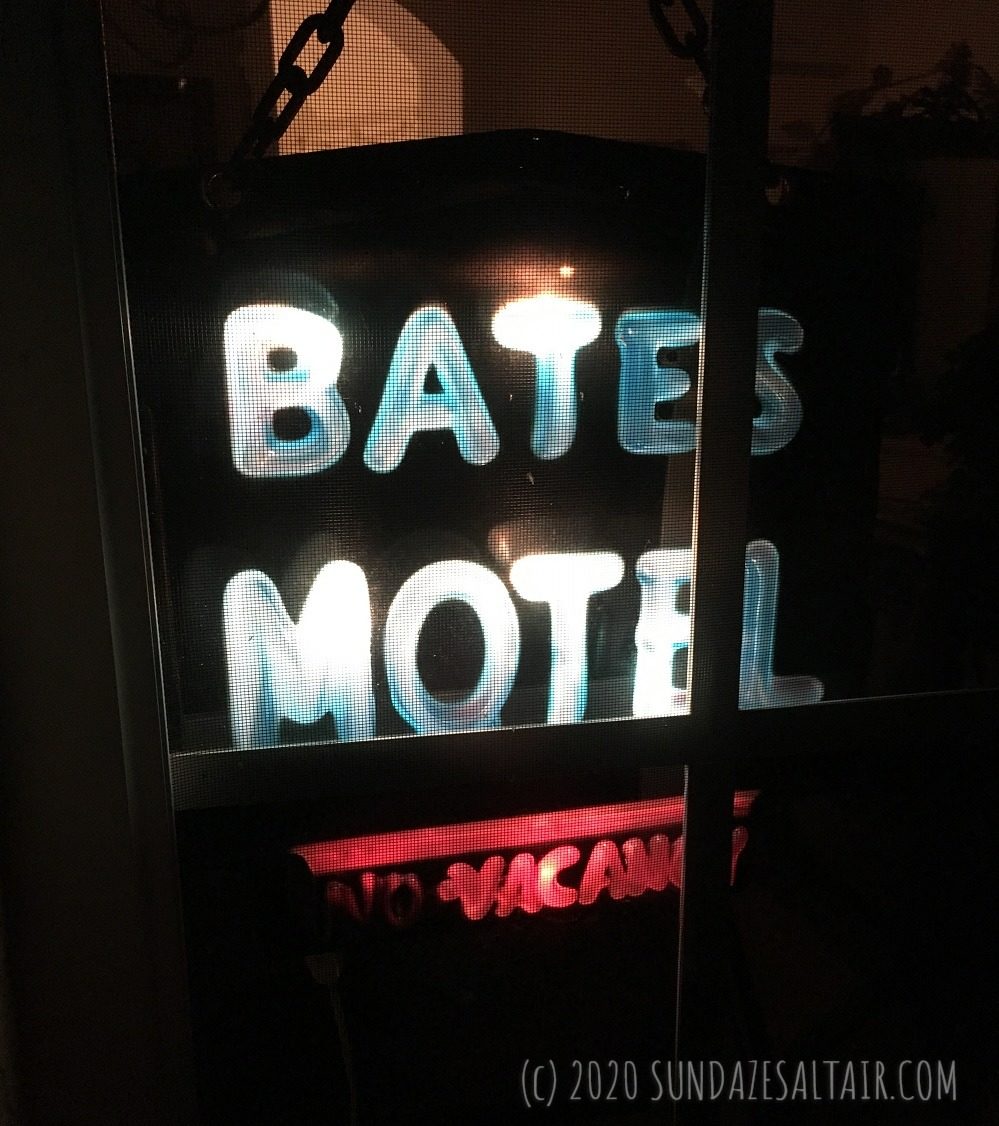 Halloween & Harvest Season Has Arrived! Show Some Spirit With An Homage To A Horror Movie Classic With A Bates Motel Window Sign Plus Other Whimsical & Macabre Halloween Home Decor Ideas
It is that time of year again...  The autumnal equinox has come and gone... The harvest moon shines, leaves crunch under foot, and glowing pumpkins gape eerily at you from windows as you hurry home racing the rapidly falling night.
It's time to pull out your favorite scary books or pop some popcorn to settle in for your favorite horror movies... the season of Halloween has arrived and preparations should be well-underway!  And nowhere is this more crucial than ensuring your home is properly decked out with some... ahem... Halloween "spirit"...
As you prepare your home to reflect the somber autumnal mood and colors of the season, a la Morticia and Gomez, you may initially be despondent if you live in a perpetually sunny, summer-y place.  Fear not!  If there are no falling or amber colored leaves crunching under foot where you live - no worries - you can easily create an authentic New England-style autumn this Halloween - wherever you live - with just a few simple props and decorations...
**Note: This post contains affiliate links for which a small commission may be earned if you decide to make a purchase through a link.
Welcome Guests With The Creepiest Doorman Ever For That Eerie Haunted House Vibe - Even In The Tropics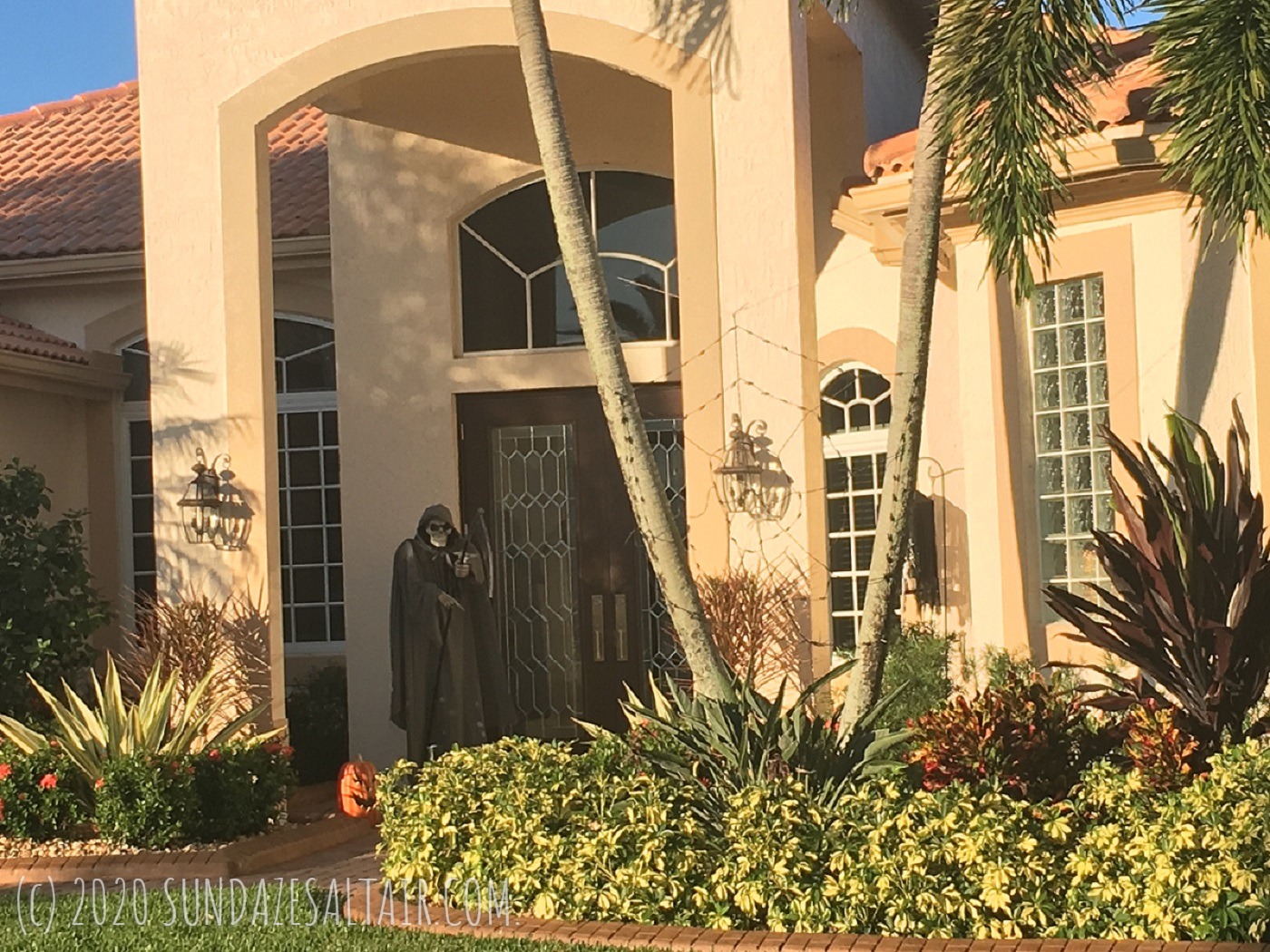 Welcome Unsuspecting Trespassers With A Former Trespasser Who Happened To "Pop" Up
Turn your house into the scariest house on the block as unsuspecting trick r' treaters and neighbors are greeted by an old friend, "Mr. Billy Bones"...  A one-time, uh, trespasser who decided to return from the dead just in time for Halloween...
The Season Of The Witch & Whimsy
In addition to all the ghoulish, "Day of the Dead" style Halloween decorations so popular these days, it's always nice to see witty and whimsical Halloween decor, especially if you have small children, or even if you don't but just prefer something more imaginative and less creepy.  How about adding an homage to the season of the witch to your front yard?  All it takes is some imaginative scene-staging, props and voila.... a whimsical take on the ditzy witch who crashed her broomstick....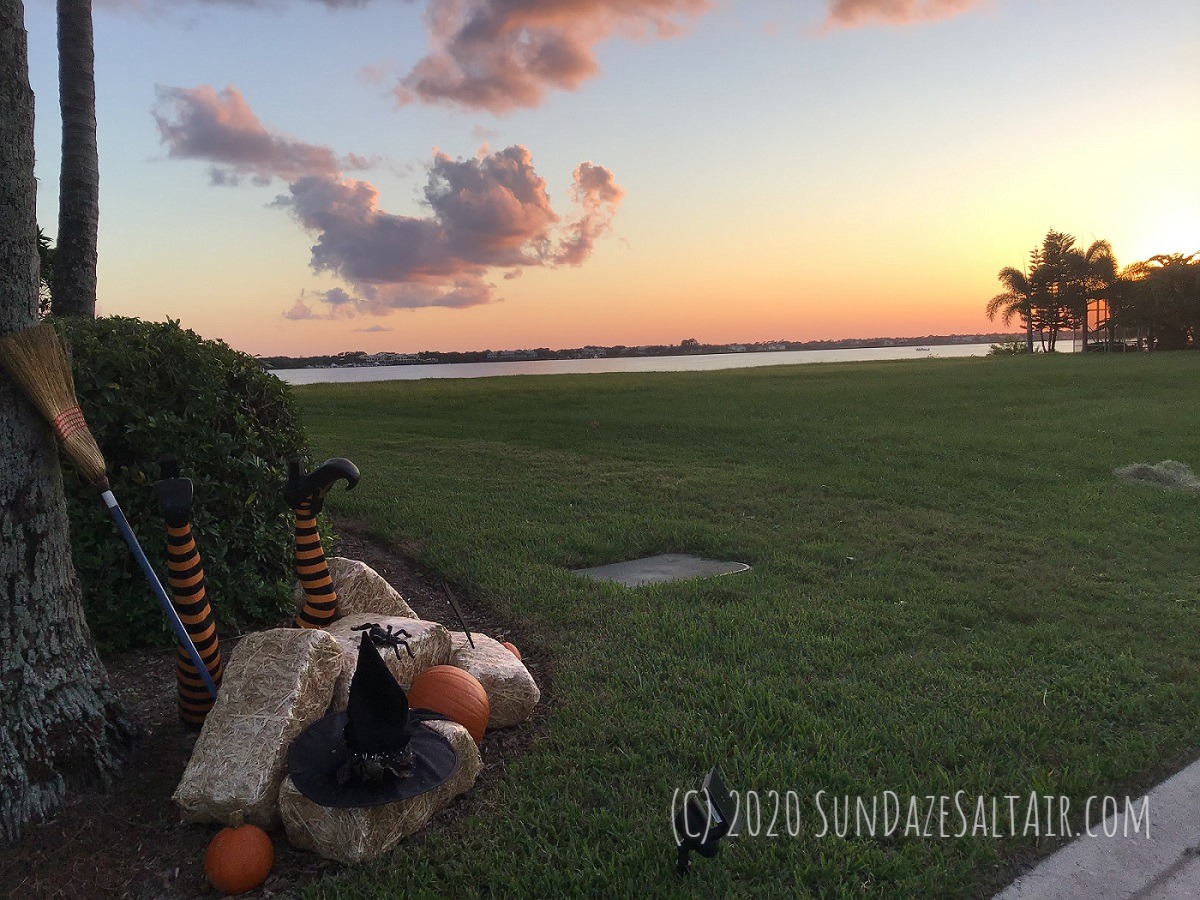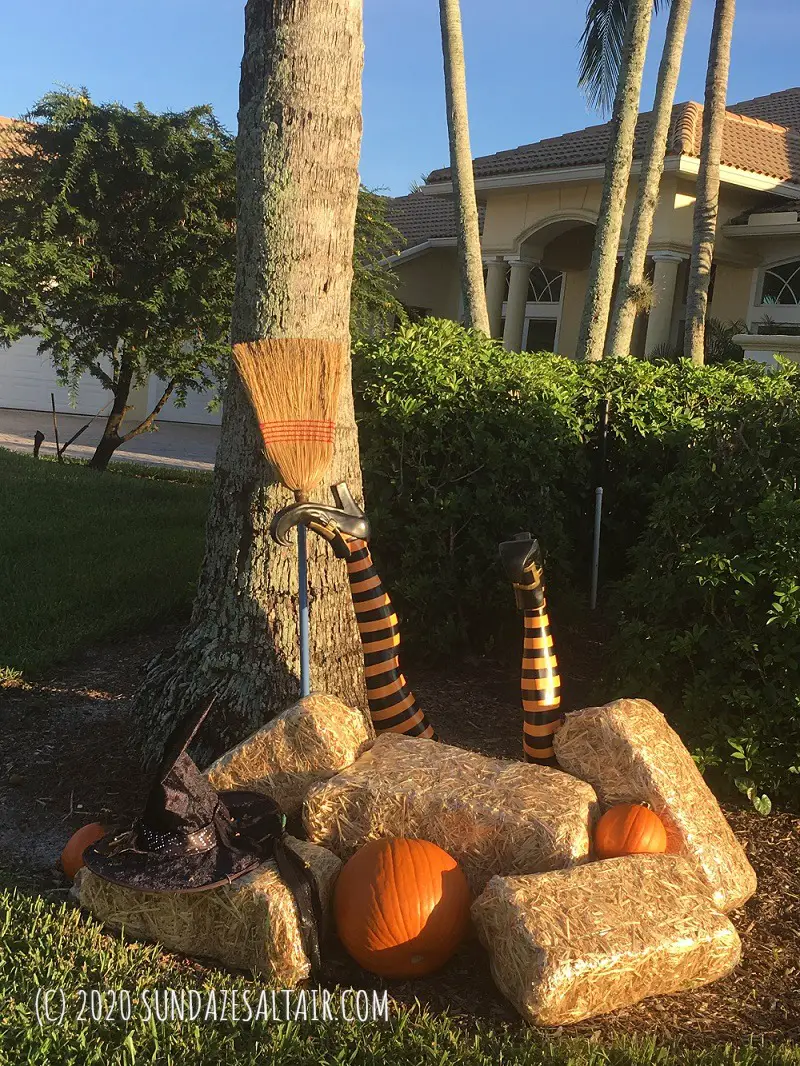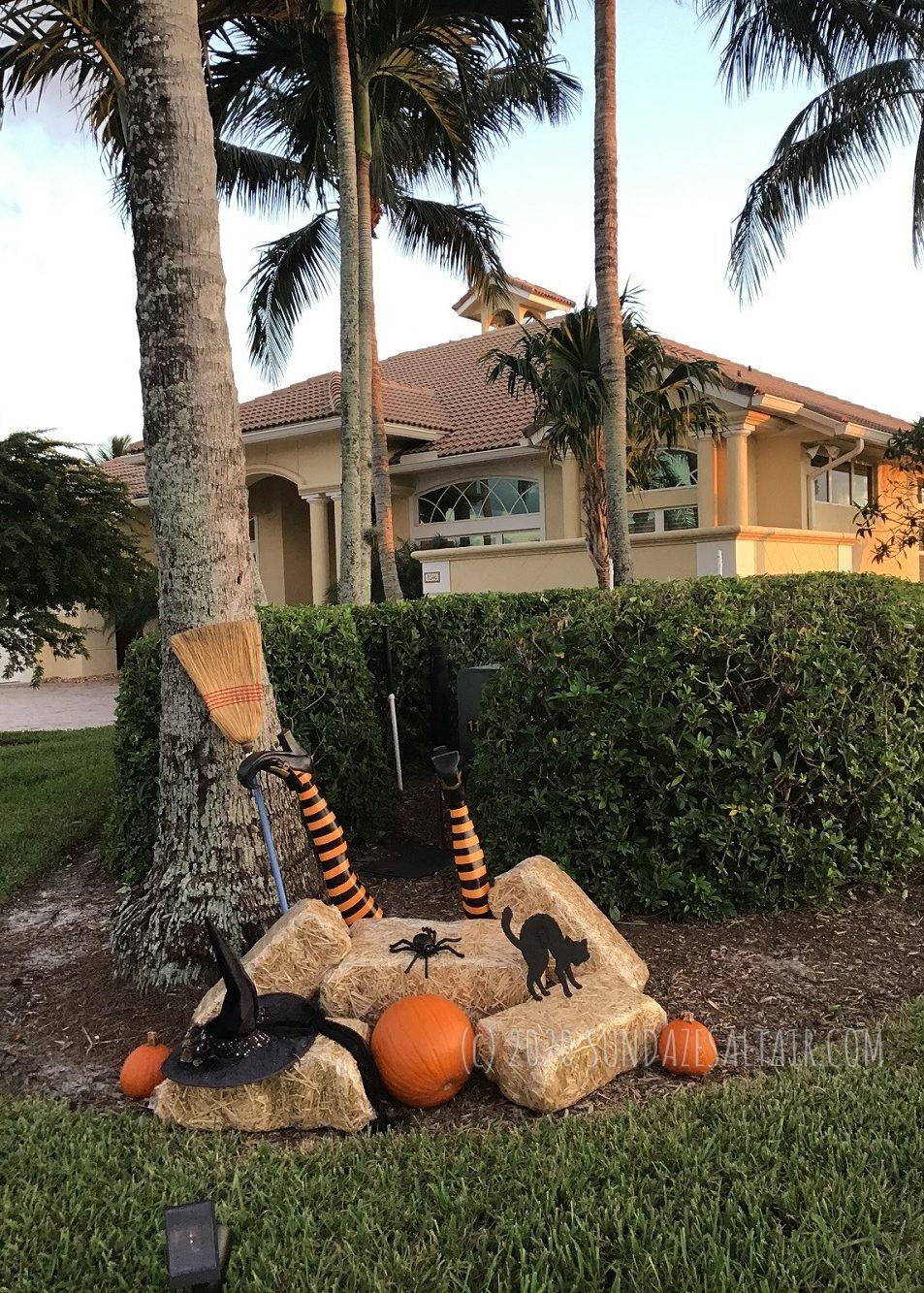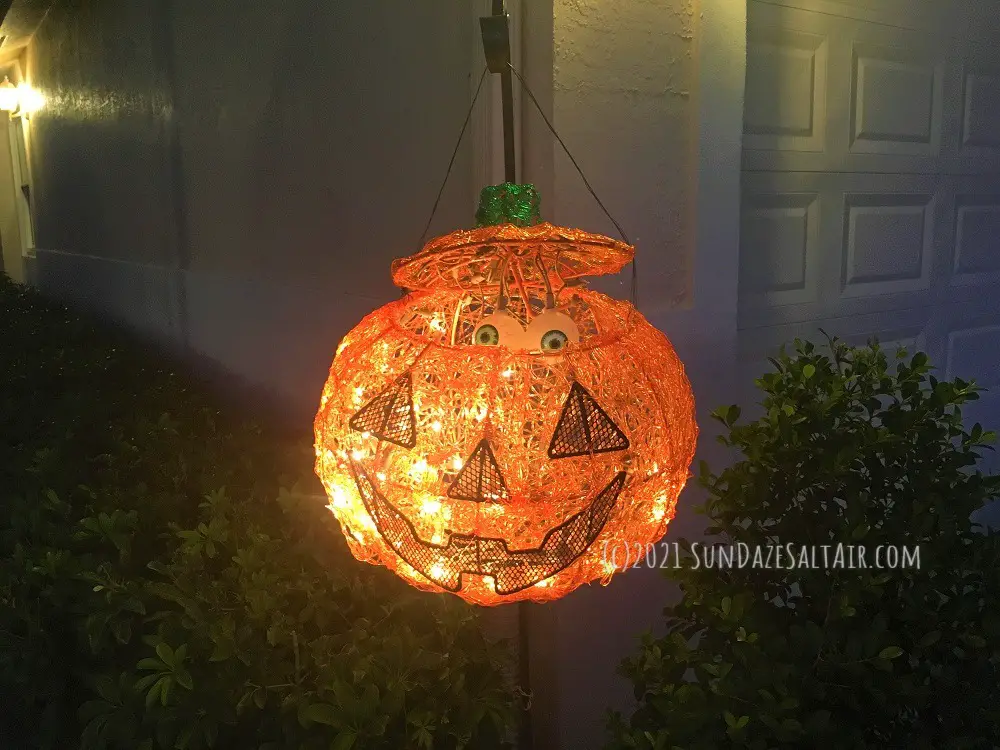 Want An Eerie, Otherworldly Effect That Will Light Up The Night From A Remote? Try LED Color Changing Lights
If you don't want to be bothered with decorations that can really only be appreciated for one season - and in daylight - invest in some color-changing LED or solar lights for your landscape and home for maximum impact.  With the next generation of "smart" lights, you can easily adjust them from a remote or even from your phone.  With a variety of color options available, you can easy tailor your lighting displays to the holiday or season without having to get up on a ladder every time.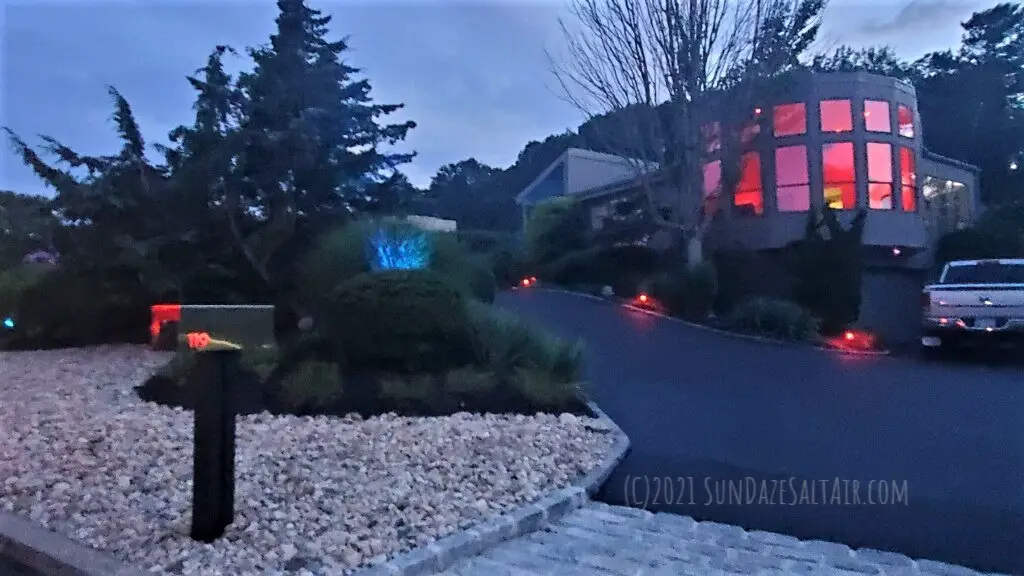 Halloween Traditions Past & Present - Gathering The Decorations
One of the first traditions of the Halloween season for me has always been the annual right and ritual of making my way down into the dark, dank basement - back when we had a basement - into the crawlspace filled with every manner of holiday decor.  It was there that I would pull out the seasonal decor du jour that had been lying in wait all year long.  Now, living in the South, there may no longer be a creepy basement to enter, but as soon as the dark grey October clouds begin to gather over the dock, I am reminded that the time has come...  When the spooky season arrives, it's time to let your home and surroundings reflect all the moods and magic of autumn...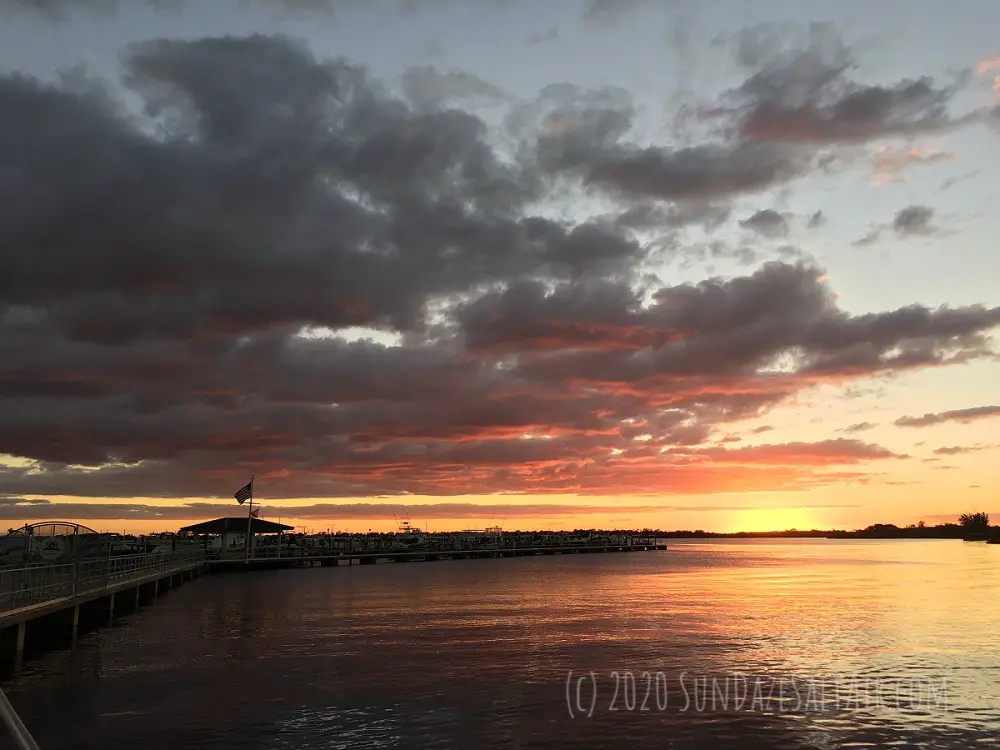 Macabre & Day Of The Dead-Inspired Halloween Decor
As a kid, one of the first pieces of Halloween decor that I vividly recall was a life-size cardboard skeleton from a dollar store, complete with flexible joints, which grinned eerily at you like something out of a horror movie.  It is actually rather macabre, especially as a little kid, thinking back now, but it was just a popular decoration of the time.  Due to its size, it often served as a cornerstone of our Halloween home decorations, usually being prominently displayed either on the door to the basement or on the front door.  Nothing like a grinning skeleton standing at your door to welcome you home after a long day at school or work...
Of course, the eerie grinning skeleton was surrounded by the usual array of grinning pumpkins and black cats and more innocuous representations of the season, but it definitely delivered that frightful Halloween scare that reminds you of the true solemn origins of the Halloween holiday, as a tribute day for the dead and the spirit realm, reminders of which we can now see all the time in the current crop of ever-increasingly macabre Halloween decor offerings...  Speaking of which...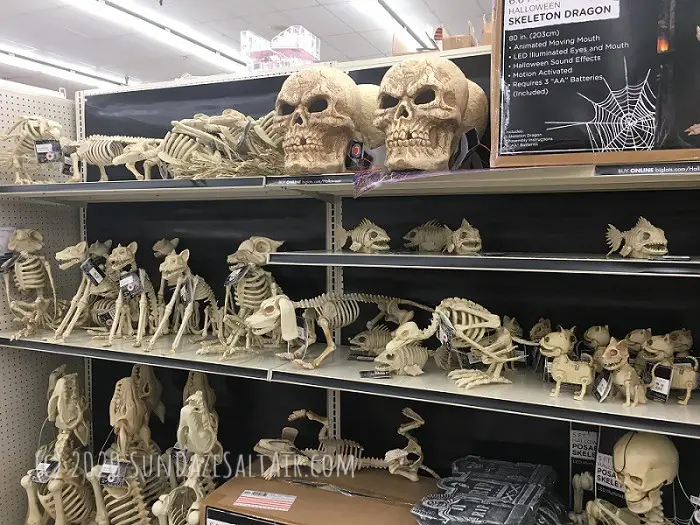 It is not uncommon these days to see an array of skulls & skeletons at your local home decor store.  For those of you who really like to embrace the "honoring the dead' aspect of Halloween, you certainly have your pick as it seems there is nothing off limits these days in the realm of commercially available ghoulish Halloween decor.
Imagine this friendly face rising up from the ground to greet friends and neighbors who dare to enter your front yard....
If there ever was a time of the year for those of you so inclined to embrace the thin veneer between the living and the dead, this is certainly the season... For the more kooky but altogether spooky, I am personally partial to the "Thing" hand lamp that looks straight out of "The Addams Family" for its creepy and kooky nod to that most creepy, kooky and spooky family...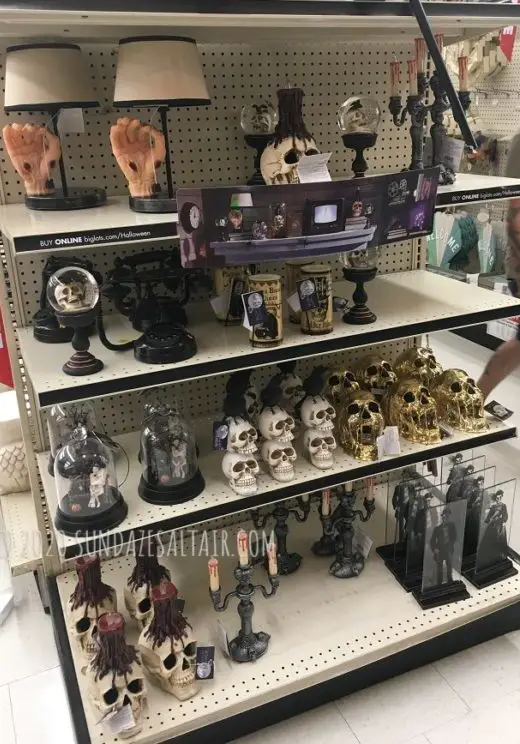 For The Transplanted Northerner Who Now Lives In The Tropics But Waxes Nostalgic For New England Leaf Peeping
As I have mentioned before, the one time of year I get nostalgic for anything from the Northeastern part of the United States is fall - and I am not really talking football anymore now that Tom Brady is down in Tampa.  Rather, the incomparable beauty of the leaves of New England as they transform from green to all manner of autumn golds and rust is just unlike anything anywhere.  So, in my feeble efforts to replicate something of a New England fall in my living room, I give you this fall leaves scatter... and yes, it may be the closest a Floridian can come to recreating the memories of a fall road trip through New England...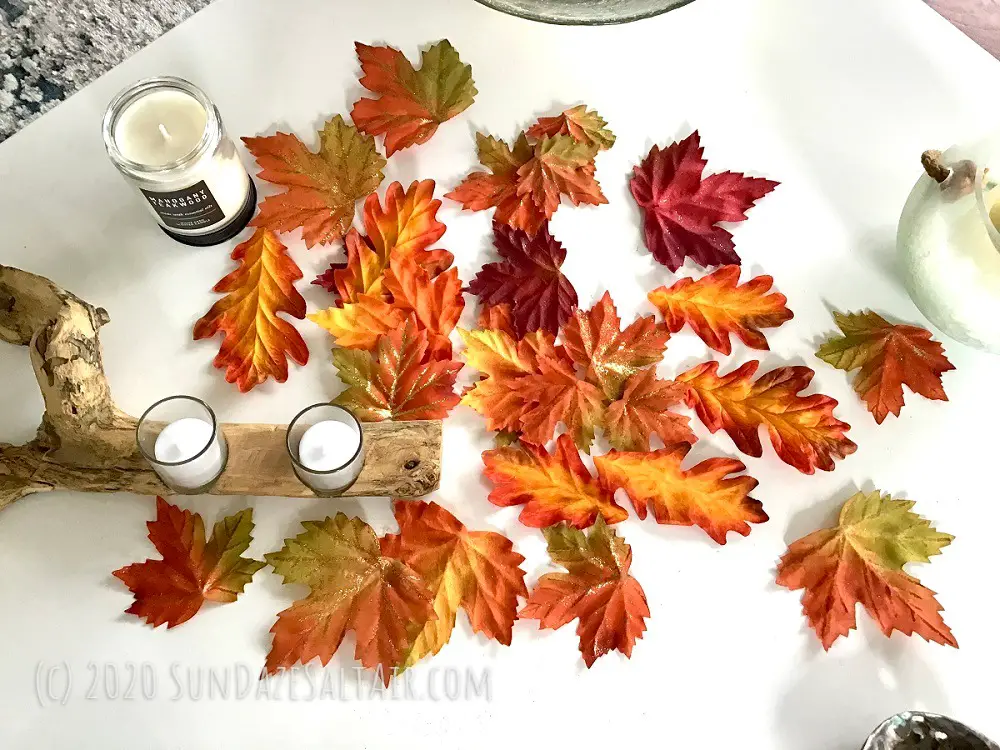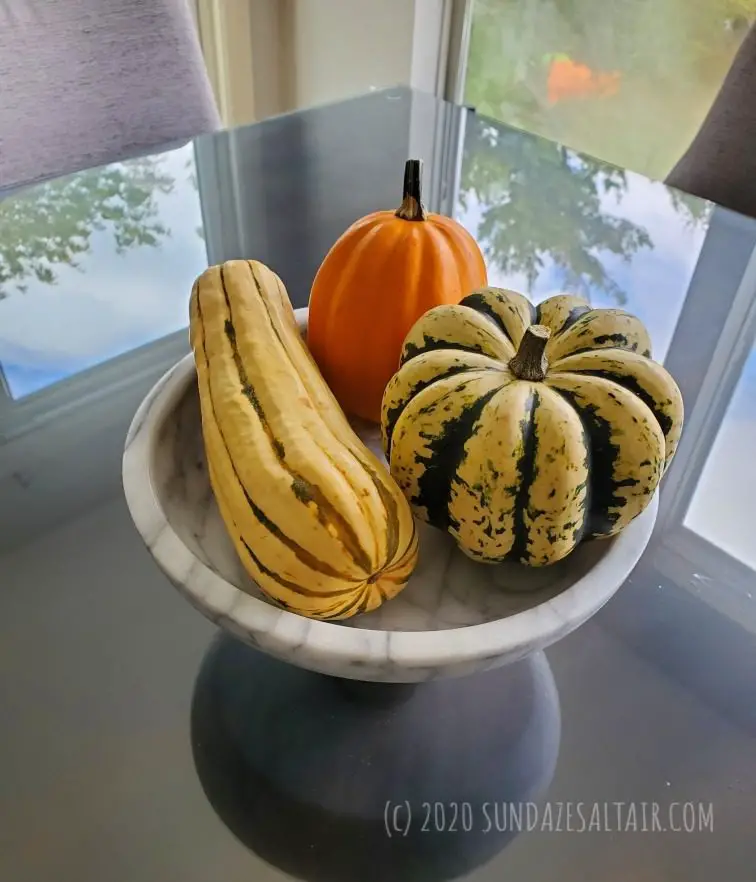 Be The Envy Of Your Neighbors With A Window Hanging Homage To The Original Classic Horror Movie, "Psycho," Plus Why You Should Include Alfred Hitchcock's "Psycho" On Your Halloween Horror Movie Must-See Viewing List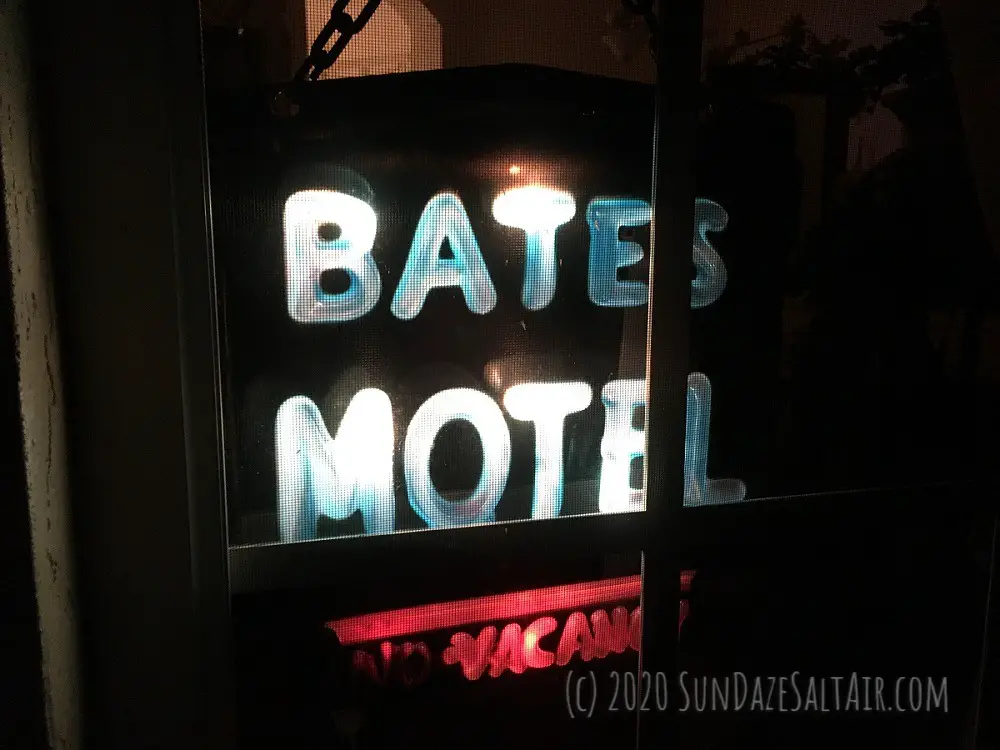 And now for one that I get asked about every fall... the Bates Motel light-up neon window sign.  If there is one piece of Halloween decor guaranteed to grab the neighborhood's attention, it is certainly this.  Glowing eerily in your front window, the Bates Motel window sign is something almost everyone recognizes immediately, and associates with the mother of all horror movies - the original, the classic - Alfred Hitchcock's "Psycho."
Why Hitchcock's "Psycho" Should Be On Your Must-See Halloween Horror Movie Viewing List
When the horror movie "Psycho" came out in 1960, it is not an overstatement to say it turned the horror movie genre on its head.  Of course, there had been horror movies for decades, since celluloid film first became commercially available, but those were mainly of swamp things, creatures of the night, zombies and other boogey men that were confined to occupying the darkest recesses of your nightmares.  With Alfred Hitchcock's seminal "Psycho," the boogeyman was no longer the supernatural or otherworldly unknown but instead was made of flesh and bone and, barring the sick compulsions, on the surface, not much different from you or I.
In this case, the "monster" was the seemingly ordinary, unassuming and quiet guy who ran the local motel along with his mother off the Old Highway in Fairvale, California.  Heck, he could even come across as friendly and good-natured if you just judged from first impressions.  But, don't ever do that - that would be a mistake... a deadly mistake.  Because all the while Norman is running the Bates Motel as the hospitable host who "wouldn't hurt a fly," he is concealing his sick and murderous impulses.  It is this that essentially brings the film and the horror genre to a whole other level of horror - the unpredictable horror of the seeming ordinary -- in this case, the ordinariness of Norman Bates.
Arguably one of the best psychological thrillers of all-time, it has influenced countless horror films that came after it, and is pretty much universally considered the original American "slasher film."  Captivating performances by Anthony Perkins as Norman Bates and Janet Leigh as Marion Crane have further solidified "Psycho's" timeless and iconic status and place in the heart of every horror movie aficionado the world-over.  Get your own special edition copy of the original horror movie classic, "Psycho," here for under $10...

Bring The Hitchcock Classic Into Your Home Decor This Halloween
What better way to celebrate the scariest, spookiest time of the year than with a nod to this cinematic classic on display in your front window?  And while the sign lights up your house, why not cozy up to the classic horror film this Halloween season?  Whether you are a first time viewer or it's your thirtieth, it will certainly cause a shiver every time you see that vacancy sign all lit up... and don't even get me started on how you will feel when you step into your shower....
For those inquiring about the availability for purchase of the Bates Motel neon hanging window sign, I am sorry to see it is so hard to find at a reasonable price currently... I will be on the lookout and if I find a reasonably priced vendor, I will definitely post it.  If anyone else finds something, please share in the comments below.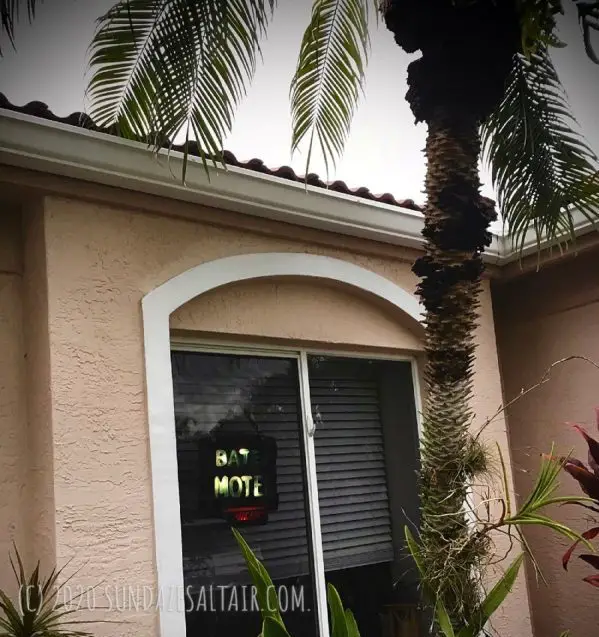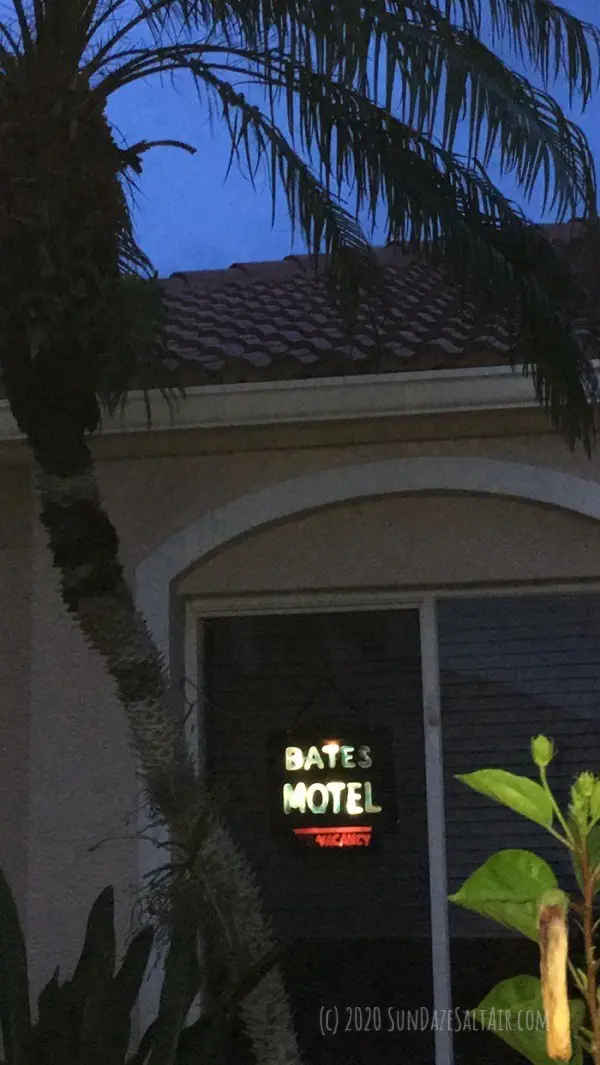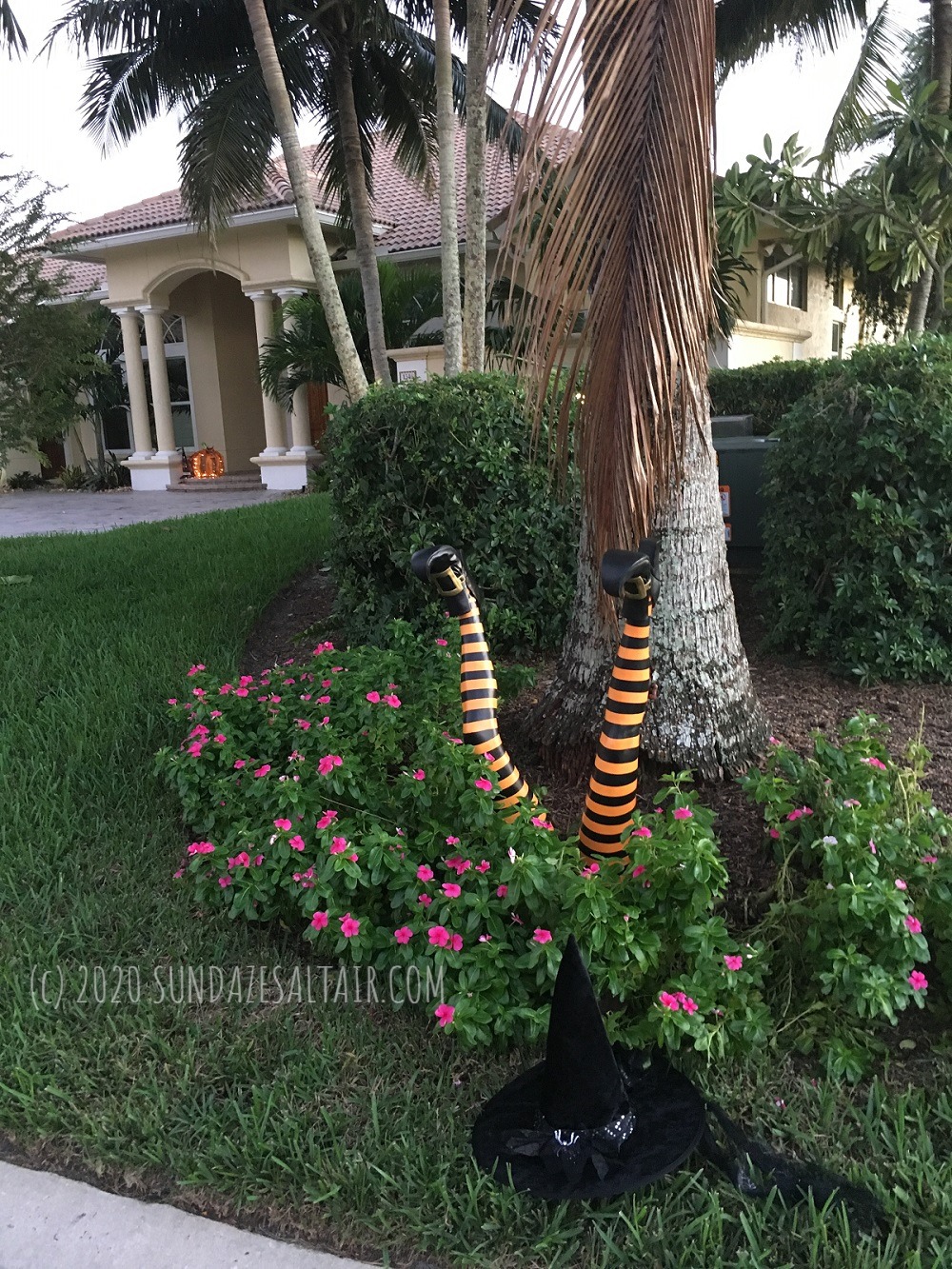 *********
Any Hitchcock fans out there?  What are your favorite ways to decorate your house this Halloween?  Share your favorite spooky traditions & decor in the comments!