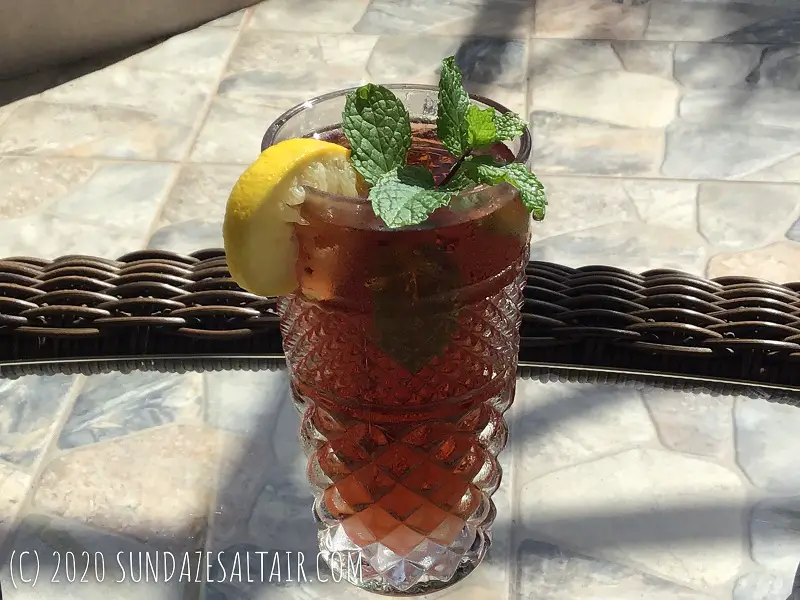 How To Grow Your Own Easy Mint Container Herb Garden For Fresh Herbs At Home — Plus Mint Legend & Lore & Delicious Mint Recipes
Grow A Container Herb Garden To Add Some Spice & Flavor To Your Kitchen
There are few things more satisfying than growing and snipping herbs from your own home-grown garden, knowing that they came from your soil and were the product of your own hard work.  Not to mention the money and time you save by not making that trip to the grocery store.  Plus, herbs can do much more than just add flavor to your food.  Herbs have long been the subject of age-old lore and wisdom, with ancient tradition ascribing many health-giving, medicinal uses to various herbs.  Well, how about we discover what all the fuss is about...  Let's find out how easy it is to grow your own mint container herb garden, which you can keep close by to supply you with fresh mint even during the cold winter months.
That's right, now is a perfect time to start an indoor kitchen container herb garden and one of the easiest herbs for a beginner is the versatile, fresh and energizing "sweet mint."  Get your seeds, select your lightweight container and prepare to have fresh mint on your window-sill all winter long.  Then, once the spring sunshine returns, easily relocate your mint container outdoors.
So, get ready to plant some mint...  But, first, let's explore some mint legend, lore, and a few surprising age-old medicinal uses of this ancient herb.  Oh, and let's not forget, a few delicious mint recipes, too....
Health Disclosure: This article is for informational purposes only, and is not to be construed as medical advice.  I encourage you to do your own research, and to always seek medical advice from your licensed medical care provider.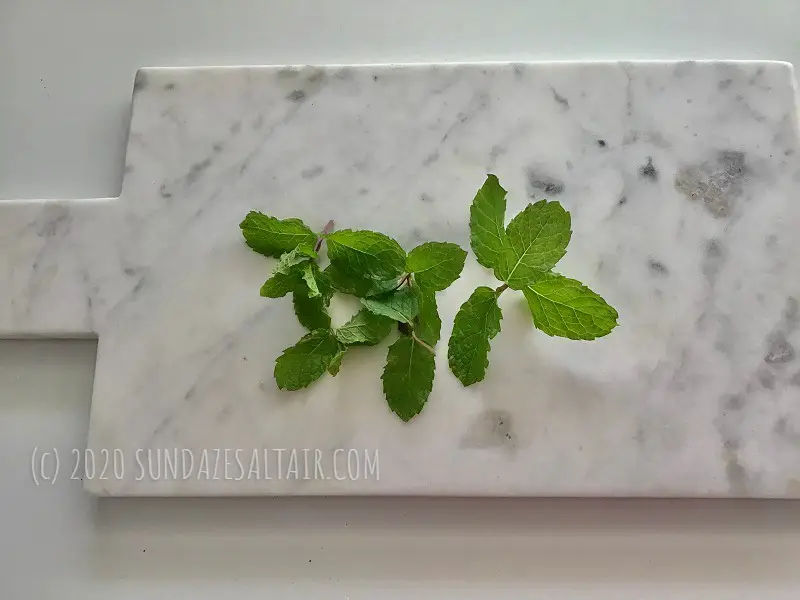 Grow Your Own Easy Mint Container Herb Garden To Take You Back To Your Roots
Back in our grandparents' days, before grocery stores made everything under the sun easily available, a kitchen garden may have been the only source for fresh herbs and produce.  Fast-forward to today, with a fast-paced lifestyle, the emergence of convenience-offering stores and even online meal delivery services, and kitchen gardens have unfortunately become almost quaint, like a relic of the past.
But now, things are changing.  With more people at home, and with many family budgets tighter than ever, it seems a good time to return to our roots with rediscovering the lost art of a kitchen garden.  And possibly the easiest type of garden for anyone to start growing is a kitchen herb garden.
Grow Herbs Easily In Small Spaces
Herbs do fantastic in containers so they are perfect to begin your starter kitchen garden no matter how limited your space.  Even if you don't have a house or garden, you can still enjoy your own herb harvest and all its benefits.
Grow A Kitchen Herb Garden In An Apartment
If you lack outdoor space, you can easily grow herbs inside an apartment by placing them near any bright window-sill.  Or if you are lucky enough to have a patio, in warm spring, summer and fall months, you can place your kitchen herb garden just outside in the fresh air of your patio.  This offers you convenient access anytime you need a few herbs to flavor a dish, while enabling you to easily relocate your potted kitchen herb garden indoors before the arrival of winter frost.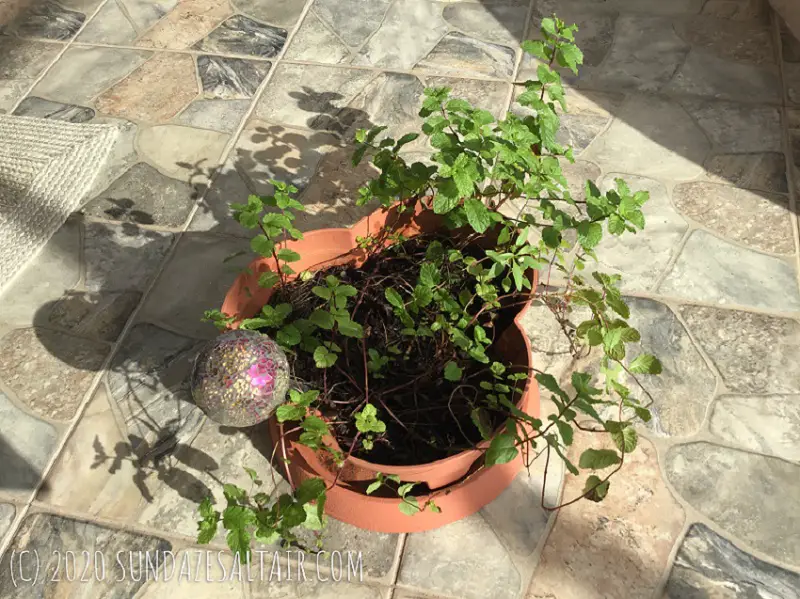 Grow Your Own Easy Mint Container Herb Garden For An Inexpensive, Aromatic Way To Add More Spice To Your Life 
Sweet Mint Is Easy & Prolific To Grow Indoors
One of the easiest, most prolific herbs with which to begin your container garden journey is the bold and versatile "sweet mint" plant.  Mint doesn't require a lot of sun and is such a vigorous grower that it can tend to take over wherever it is planted, making it ideal for growing in a pot.  A smaller-sized pot will contain the herb's growth tendencies while still providing a plentiful harvest.
With many different varieties of mint to choose from, there is one to suit everyone's tastes, but I find that sweet mint, also known as spearmint is mild enough to flavor a wide variety of dishes without overpowering them.  And, of course, by growing your own sweet mint, you will always have it on hand in a pinch, thereby avoiding having to shell out money at the grocery store every time a recipe calls for a few sprigs.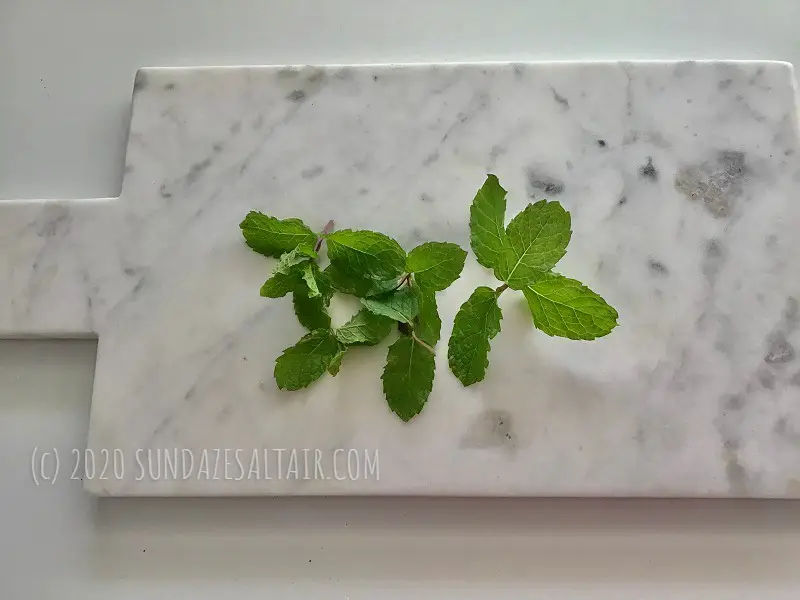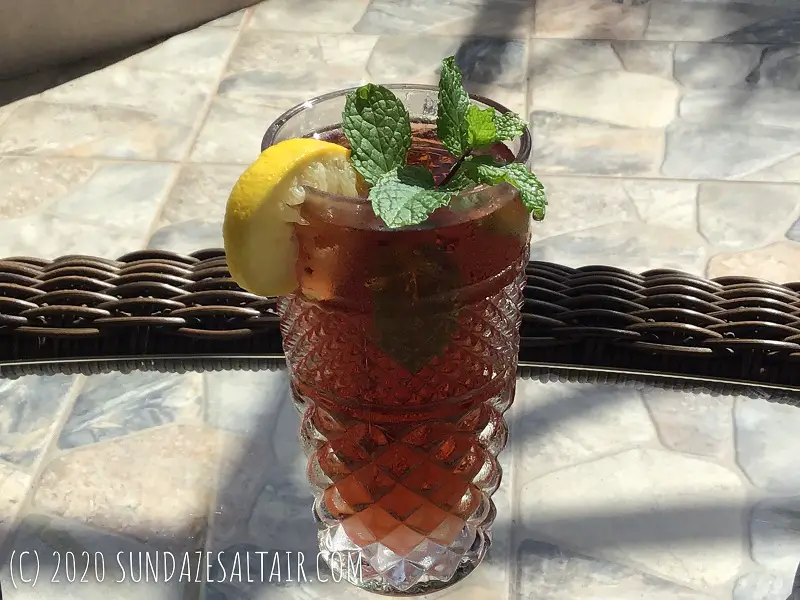 Mint Care & Flavor Basics
Mint is a perennial that will return every year, and will practically thrive on neglect provided it has moist soil and a home in a not-too-sunny, shady or semi-shady location.  Before long, mint will blanket your soil with its cool, delightfully fragrant leaves to add that herbaceous flavor to your salads, drinks, soups, sauces, fruit, vegetable, and meat dishes.  Yes, there is hardly anything in life that isn't brightened and enhanced by a kick of mint!
Legend & Lore.... Mint Is For Virtue
Like many herbs, mint has a long history intertwined in folklore and ancient wisdom.  Many medicinal practices date to the medieval ages and earlier when mint was prescribed for everything from indigestion to colds to... anger?  Yes, mint's "cooling" properties may be associated with virtue, but it possesses compounds that have a number of reputed compelling health benefits.
Mint In Ancient Medical Tradition: Age-Old Mint Medicinal Uses
Calm An Upset Stomach & Ease Menstrual Cramps
Many cultures, from ancient Egyptians, Greeks, and Romans to traditional Ayurvedic medicine prescribed mint to ease digestive ailments and act as a digestive aid.  Mint accomplishes this apparently by relaxing the muscles of the stomach and reducing contractions, thereby cutting down on cramping.
Diminish Tension Headaches & Migraines
Peppermint essential oil is a known traditional homeopathic treatment for headaches.  Between the cooling menthol, stimulation of blood flow, and analgesic and anti-inflammatory properties, the topical application of diluted peppermint oil to forehead and temples relaxes the muscles, relieving the pain of both tension and migraine headaches.  Find out here how to properly dilute peppermint oil to use for headache relief...
Open Up Your Sinuses
That cooling and stimulating sensation that you experience anytime you catch the scent of mint leaves or have peppermint gum, after dinner mints or mint tea comes from the invigorating menthol compound in peppermint.  It is those same expansive properties that expand your airways and can improve your breathing and airflow in your nasal passages, alleviating sinus congestion and breathing difficulties.
Aromatherapy & Energy Boosting
Forget about that jolt of caffeine or sugar rush, just breathing in the intoxicating mint fragrance alone is often enough to simultaneously relax and calm yet stimulate the senses naturally, improving alertness and alleviating fatigue.  Keep some mint plants or peppermint essential oil close by and watch your focus improve as the day's worries and cares fall away...
Homeopathic Help For Hair
Peppermint essential oil is also known to stimulate hair growth by increasing the growth and number of hair follicles.  While that may be hard to measure, peppermint essential oil also provides stimulation with a therapeutic tingling, invigorating and cooling sensation to the scalp, which can promote elusive relaxation during times of stress.
***Warning!  Using too much, or using undiluted essential oils can trigger skin sensitivities in certain individuals, so be sure to consult your physician when in doubt or before use.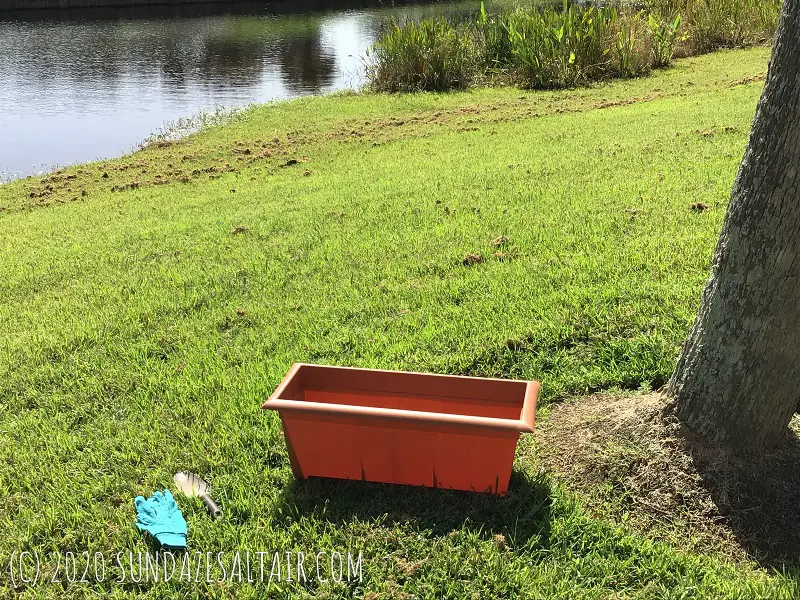 Grow Your Own Easy Mint Container Herb Garden: Everything You Need To Start Your Mint Container Garden In No Time Flat
Supplies You Will Need To Grow Your Own Easy Mint Container Herb Garden:
-A lightweight plastic container or pot with drainage holes and a tray to collect any water. I love the uniquely shaped, stackable, lightweight plastic, mock terra-cotta style pots pictured above.  The pictured container comes well-ventilated, no drilling required, and includes a tray to catch excess water.  I found them here.  If you prefer longer, more "window-sill" shaped containers, the lightweight, terracotta-colored rectangular ones pictured directly above are ideal;
-A bag of potting mix formulated for containers;
-Perlite or stones to add to the bottom of pots to further increase drainage, if needed (optional).  If using stones, be sure they don't block any drainage holes;
-A shovel for digging in the dirt;
-Your mint seed of choice or seedlings/young plants in starter pots.  The mint I am growing here is "sweet mint," which is of the spearmint variety and is sweeter and milder than peppermint.
-Kneeling pad for kneeling for extended periods to avoid discomfort;
-Gardening gloves.
Instructions.
Pour your bag of soil into your container, filling it up about two-thirds of the way.  If using, mix in any perlite or stones to improve drainage, making sure not to block holes.
Follow planting directions on seed package.  If using starter plants or seedlings, remove them from pots, gently teasing out roots to encourage new root growth.  Place the plant in the center of your container, then use a shovel to pack potting mix firmly around plant.
Water the plant in its new container home, wait a few days and watch the magic happen.  Then don't forget to harvest your mint regularly, and put your bounty to good use, starting with the delicious summer-inspired recipes below...
TIP!  Be sure your new mint is never placed in direct sunlight as mint prefers shade.  Also, never let his soil get too dry.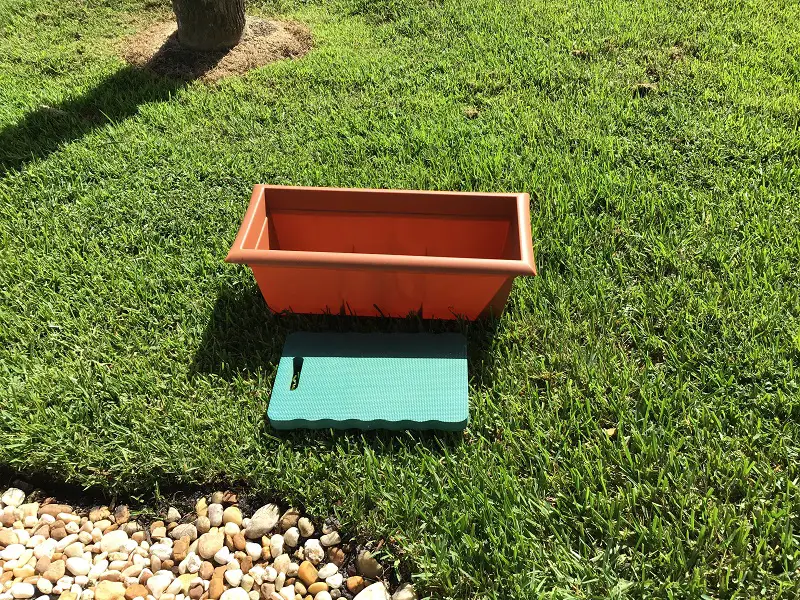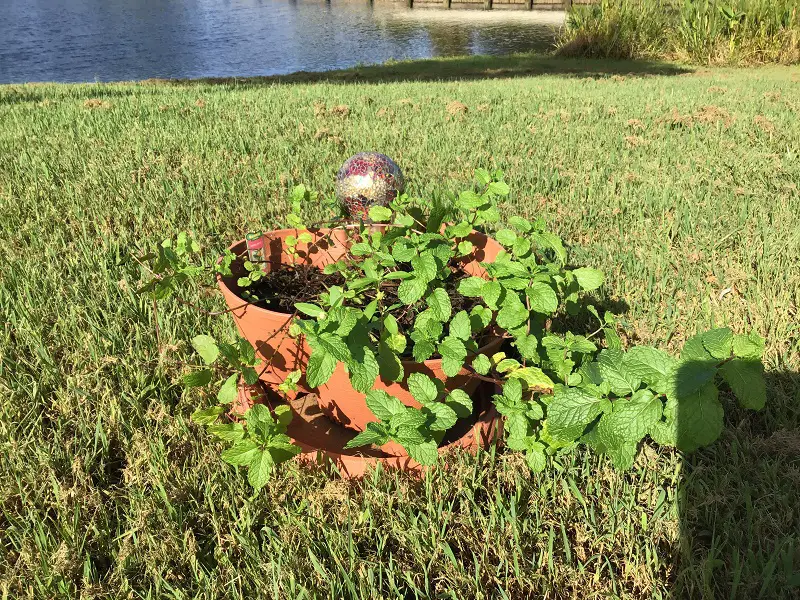 Three Delicious Mint Recipes To Enjoy Your Mint Container Herb Harvest
Now that you have your own crop of mint, what better way to  use up this abundant harvest than with the ultimate summer-y cocktail...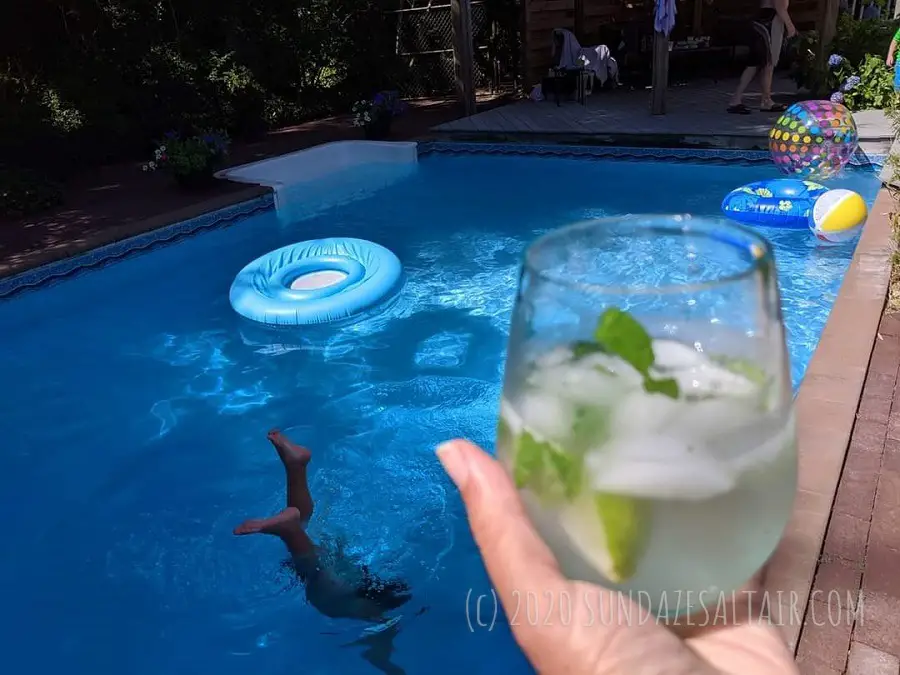 Mint Recipe #1: Magnificent Mojito
Since mint adds an irresistible freshness to anything it's added to, I would be absolutely remiss if I didn't include the ultimate refreshing and minty summer cocktail to kick off these mint recipes - the magnificent mojito!
And being that we are in the thick of summer and summer celebrations at home, there is no time like the present to whip up this easiest of summer libations to enjoy after a day at the beach, as you lounge poolside, at a BBQ or after round of golf... not to mention, the vibrancy of the colors and flavors also makes it the perfect cocktail for serving your guests in a pitcher... no need to wait for 5 o'clock!  Let's get started!
The best mojito lets the fresh and vibrant lime and mint flavors shine, and nothing detracts from that like too much sugary sweetness. This version definitely won't have you feeling like you are going into sugar shock as I only use a small amount of honey, but of course, half the fun is customizing it to your tastes, so don't be afraid to experiment.
Have fun mixing it up, and don't forget to bookmark this recipe to enjoy it with family and friends at your next summer gathering, or at your next faux tropical vacation lounging by your pool !  Cheers!
Ingredients for a 16 ounce glass
6 Fresh Mint leaves, plus more for garnish
2 Tablespoons Fresh Lime Juice (About 1 lime)
2 Tablespoons Honey or 3/4 oz. simple syrup (to make an easy mint-infused simple syrup: one cup (8 ounces) raw cane sugar dissolved in one cup (8 ounces) boiling water plus a few sprigs of mint... see, simple and minty)
2 oz (1/4 of a cup)  of White Rum
3 oz of Sparkling Mineral Water, not club soda
Ice (use crushed, not cubes, so the ice melts faster and marries the flavors quicker, plus it will be more chilled and colder summer drinks is always better on a hot summer's day)
Shaker
Muddler
For a single serving for a 16 ounce cup:
Combine mint leaves, lime juice, honey or simple syrup and rum in a cocktail shaker. Use a pestle or cocktail muddler to gently muddle the mint and release the flavor into the other ingredients.  Then proceed to shake for 10 seconds.  Strain into a a 16 oz. cup, and add sparkling mineral water, then top with crushed ice and stir. Garnish with a twist of lime and mint.  Since the mint leaves will bruise easily during muddling, you will want to garnish with fresh mint leaves.
Bonus:  If you are craving a creamier summer drink, try a "Cojito!"
Mint Recipe #2:

"Cojito" -- A Creamy Coconut-Infused Version Of A Mojito
Just add a 1/4 cup splash of Coconut Milk to the recipe above!  Enjoy!
Mint Recipe #3:

Watermelon and Mint Salad --

The Most Refreshing Poolside Sweet And Savory Salad
2 cups cut, pitted Watermelon sliced into chunks
10-20 Fresh Mint Leaves
1 Thinly sliced shallot or a quarter thinly sliced red onion
1/4 cup chopped walnuts, lightly toasted (they toast quick, so keep an eye on them!)
1/4  cup Crumbled Feta Cheese or Ricotta Salata
Juice of Half A Lemon
2 TBSP. Extra-Virgin Olive Oil
1-2 cups Arugula Leaves (Optional if you want to make it more of a salad than a fruit salad, Peppery Arugula is a good choice)
Coarse Sea Salt to taste
Freshly Ground Black Pepper to taste
Add all of the ingredients to a large salad bowl and sprinkle the lemon juice all over. Toss to combine, and let stand for a few minutes to let all ingredients marinate in the lemon juice.  Add the olive oil and toss it all together until well-combined.  Season to taste.
Grow Your Own Easy Mint Container Herb Garden For Fresh Herbs All Year Long
I hope you've enjoyed this gardening inspiration and learned something new about the formidable mint plant, and perhaps even been inspired to grow your own mint or other flavorful herbs....
********
Do you grow mint or any container herb garden?  Let us know your favorite ways to use your home-grown mint or other herbs by sharing in the comments!